I have a finished sweater that I've been meaning to show you for a few weeks.  After the 10-year sweater, it seems amazing to me that I can finish a sweater in a reasonable amount of time.   I started this sweater the week between Christmas and New Year's and after three weeks I had the front and back finished but it was apparent that I would run out of yarn, so I had to wait a few weeks for some yarn to arrive from overseas.
By the time we went to Utah, all the pieces were done and I'd started to sew it all together.  It was apparent that it was going to be too big, so I tossed it aside while I debated what to do.  Finish it or tear it all apart?  Hmmmm.
A week or so after we returned, I decided to just put it together and see what happened.  And Guess What?
It's still too big!
Bummer!!!  (Apparently, I'm not as giant as I think I am LOL.)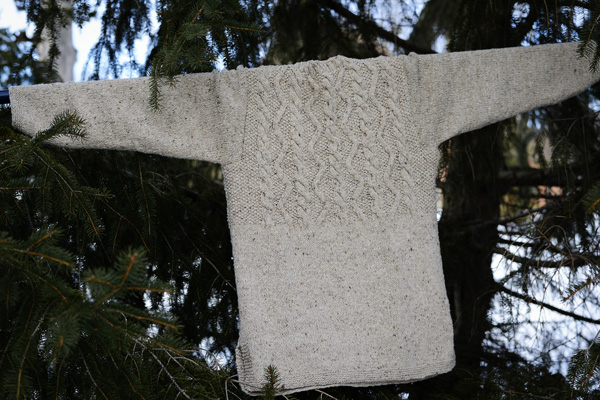 So, I'm thinking I might get it wet and throw it in the dryer and see if I can shrink it a little bit.  Have any of you knitters out there tried that?  Do you think it would work???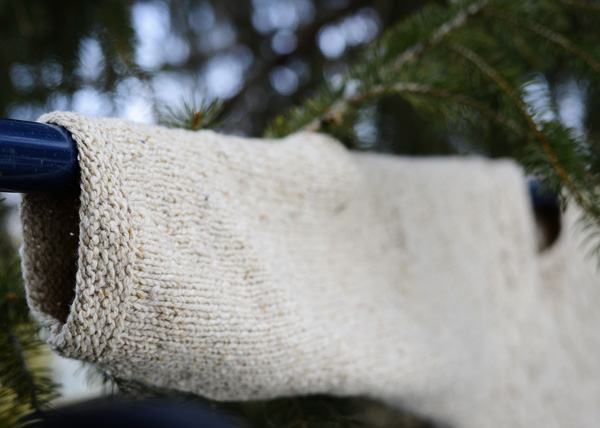 The pattern is Kilmory in the book Aran Knits by Martin Storey and the yarn is Silkroad Aran Tweed by Jo Sharp in the Beach colorway.  It was really fun to knit, in spite of redoing the front yoke three times due to careless mistakes!
(Btw,  I loooove those pockets.  That may or may not be why I couldn't tear the sweater apart.)
Anyway, if you think of any other ways to shrink my sweater a little bit, let me know!
XOXO,
Anna