If you were reading here at the end of August, you may remember that I had plans to sew with some leather purse straps, linen, and fabrics that didn't match each other.  I couldn't show you what I was making because they were for a birthday gift and I had to wait for the birthday to occur.  The birthday happened while I was in Australia and now that I'm done telling you about my trip (whew!  aren't you glad that's over!) I can show you the bag that I made.
A few months ago a little friend of SweetiePie's was joking with me and she mentioned how much she'd like to have something made by me.  She's a cutie and conveniently, her birthday was coming up, so I came up with a plan.  She lives in NYC and she walks a lot and she mentioned that if I made some sort of a bag it would be nice if it was big enough for her tennis shoes.  She also mentioned that she loves pink and aqua, and she loves to go to yoga classeses, so I decided to make her an over-sized bag with a yoga theme.
I chose the Reversible Sunday Sling pattern by Amy Butler and I raided my little etsy shop and used Up Parasol by Heather Bailey, Surprise Birthday in Pink, and an essex linen in flax.  The biggest problem that I have with bags is that the handles wear out too quickly, so I replaced the fabric handles from the pattern with some leather handles.  Then, I highlighted some circles on the front of the bag – yoga symbols from embroidery library, a flower from Up Parasol and an M for her first name.  (I think the peace sign is my favorite.  Rumor has it that she liked the yoga girl the best.)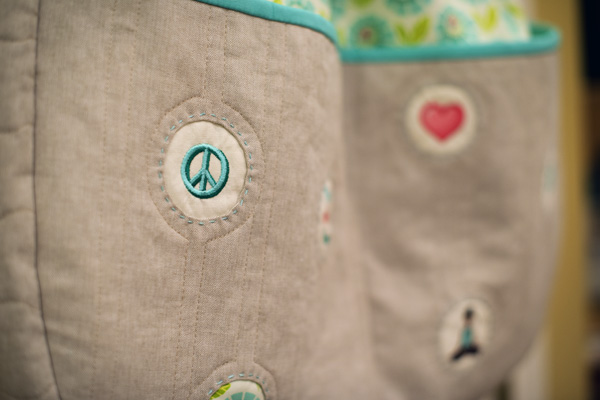 I left the back of the bag plain, to save her some embarrassment, in case the front was too much for her.  I'll admit, this bag didn't turn out exactly the way I pictured it in my mind.  That aqua (teal?) fabric is a leeeetle bit bright (I think I would have liked a subtle lime green better, but I was trying to deliver on the aqua preference).  And, while I love that Up Parasol print, it looks like it's screaming at you when you look at the bag.
But.  I LOVE those leather straps and the style of the bag.  When it's slung over the shoulder it's SO comfortable.  So, I decided I could overlook the irritants.  Especially, when you consider it really hurts the eyes to look inside the bag.  The Up Parasol and the Happy Birthday REALLY don't go together, but I HAD to use the Happy Birthday print.  It was a Birthday Present!  I figured my little friend is the only one who will see the inside, and I hope she smiles each time she looks in there and remembers that this was for her birthday.
I also personalized the inside of the bag with a "This bag belongs to ____" embroidery.  The inside pleat gets in the way a little, but it's ok.
This was a really fun bag to make and I'm hoping to make another one sometime for me.  It's such a comfortable bag to carry around and I love the little pleats here and there.  I hope my little friend will get lots of use out of it!
XOXO,
Anna