Yipee!  We got more snow today and it's a winter wonderland out there.  Old Man Winter is going to go out scratching and clawing all the way.  I love that we've finally had a real winter this year!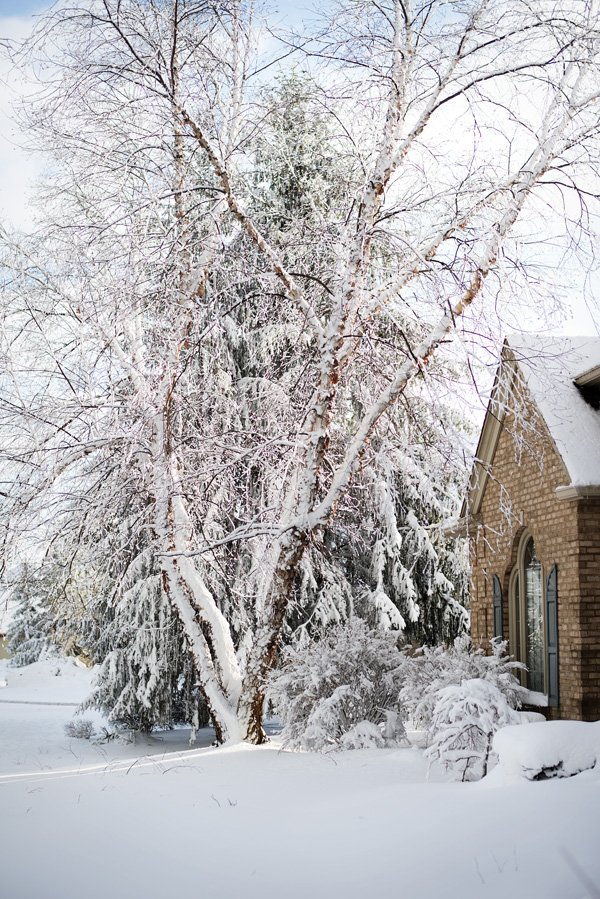 Anyway, there's been some sewing happening here.  A few years ago when we redecorated  the kitchen, I chose some fabric for the kitchen curtains.  I'd let someone talk me into doing things in red and black and gold, and while that would have been just fine, I didn't love it.  One day, SweetiePie was here and I was whining to her that I didn't love the new fabric (fortunately I hadn't purchased it yet) and I thought it was possibly because there was no blue anywhere in the new plan.  SweetiePie jumped into action and in about 3.5 seconds, she found this post on the internet.  It made me start thinking and even though my walls aren't white like those in the "model" picture, I decided that look might work for me.
I bought some fabric and then procrastinated because there were complications.  Our window is 150″ wide and the longest curtain rods are only 120″ long.  I knew I could probably custom order one, but I started thinking about alternate plans.  I finally decided I'd like a fabric covered valance.  And then I procrastinated more because I really didn't want to build said valance.  Finally, when we had the bookcase built, it occurred to me that I could have the cabinetmaker build me a valance.  He did such a beautiful job, I hated to cover it.
So, a few weekends ago, I moved the machines up to the kitchen and started sewing.
Of course, I had some help.  Paulkitty really did try.
And he was much more helpful than Scruff who just wanted to kill himself in the plastic bag that came with the roll of fabric.  Don't worry, no kitties were harmed in the making of these drapes.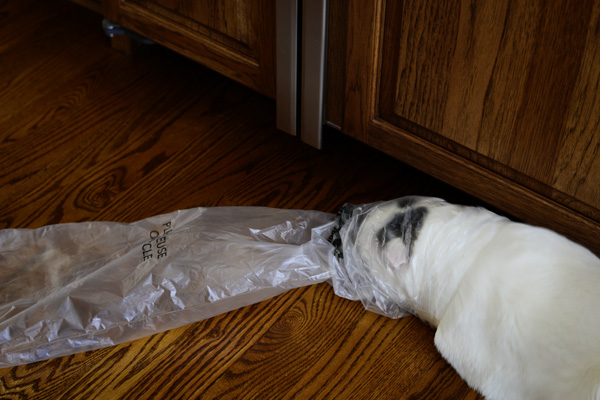 The sewing went well and didn't really take very long.  Even covering the valance wasn't particularly difficult.  But, hanging it on the wall was a jumbo pain in the rear end.  Two people, a long valance, and two poor quality stud finders meant that the hanging process almost took longer than the sewing.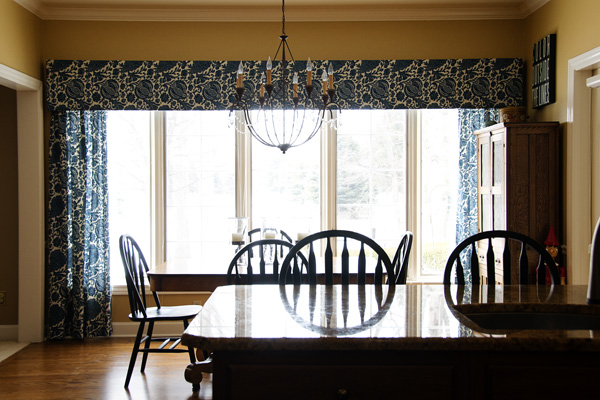 Anyway, I'm very pleased.  We've been in this house over 14 years and it finally looks like we actually live here!  Extra special thanks go to SweetiePie — without her, I'd probably be complaining about my black and red curtains to anyone who would listen.  ;-D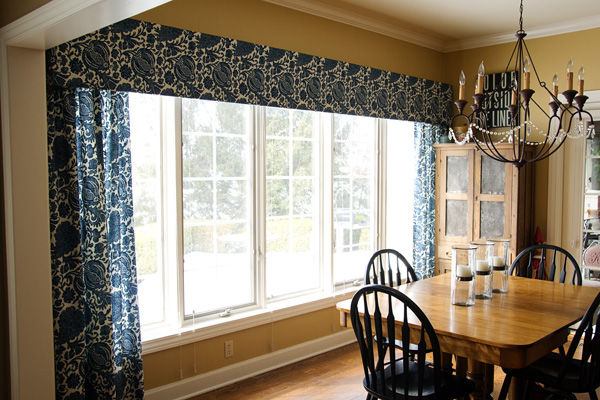 One last thing … Attention Stripe Lovers!  You've probably seen the diagonal stripes from the April Showers collection.  Bonnie and Camille's stripes are Perfect for quilt bindings.  Not to mention any other stripey needs you might have. In case you need some and don't already have them,  I've added some stacks to my little Etsy shop.
XOXO,
Anna