As I mentioned in my previous post, Kellie and her family invited me to go on their school break holiday (that's vacation for us in the US!).  The holiday started out in Uluru where we spent 5 days, followed by 5 days at Kakadu — both National Parks, for those of you not familiar with Australia.  I debated giving you a blow-by-blow accounting of what we did, but one can only endure someone else's travel pictures for so long.  So, I'll just hit the highlights here, and, like I did with my Iceland trip,  I'll eventually post more details in the travel section of my blog.
If you're like me, I didn't really know what Uluru was and I certainly didn't know that Australia is mostly desert.  My Australian friends don't live in a desert, so I didn't really have any reason to suspect that such is the case.  Anyway, Uluru is a big red rock smack dab in the middle of Australia and it's a sacred area to the Australian Aboriginal people.  We were in the area for five days and it was Oh. So. Hot!  We mostly did things in the mornings, hung out at the pool in the afternoons and then did things again at night.
We saw and hiked around Uluru: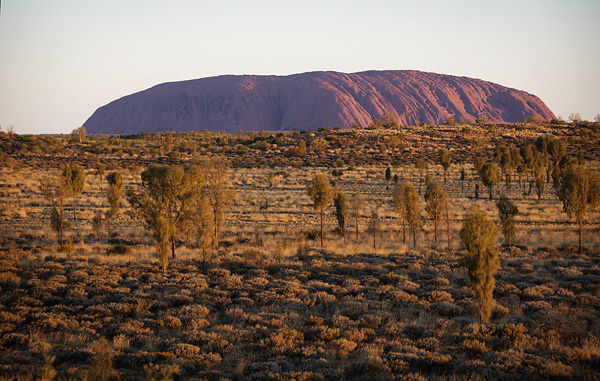 Went on a camel ride: (Did you know Australia has the world's largest feral camel population?  I thought it was all koalas and kangaroos!)
Had a dinner in the desert, watched the sunset and enjoyed a spectacular evening under the stars: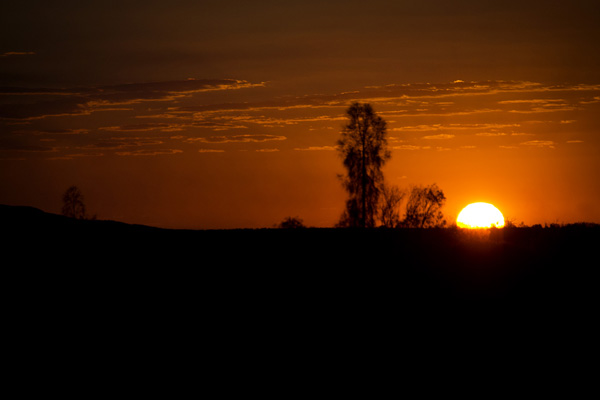 Hiked around the Olgas:
And saw a hat tree out in the middle of nowhere.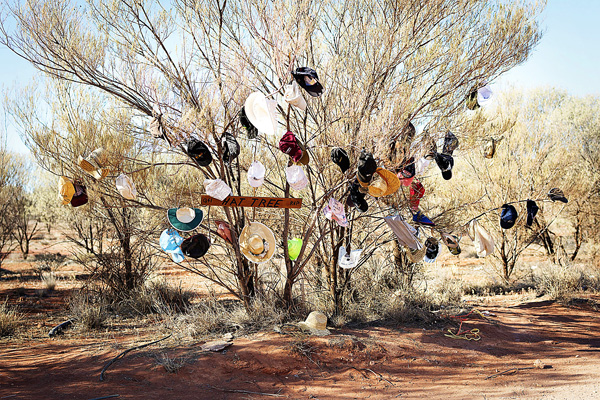 What we didn't see were kangaroos, in spite of the traffic sign!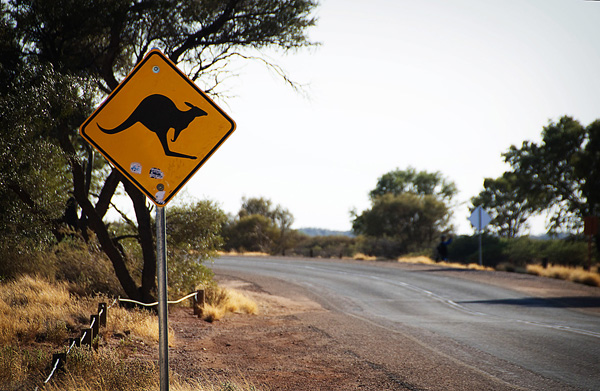 After Uluru, we flew to Darwin and spent 5 days in Kakadu.  Kakadu is at the northern end of Australia and if Uluru was Oh. So. Hot., Kakadu was Hotter. Than. Hades.  It was around 100 degrees everyday and because it's pretty tropical, it was humid.  Our schedule here was much the same as in Uluru — afternoons near the pool!  A wetter climate in Kakadu means that there was a lot more wildlife to see, which I loved.
The first day we were there, we took a river cruise. There were two boats on our cruise — the other boat was full of cute little aboriginal children who were being taught about their heritage: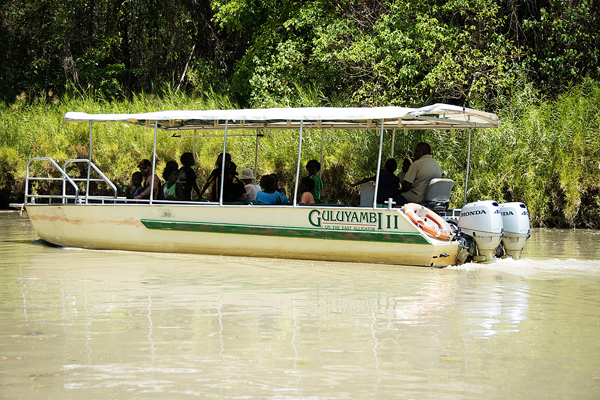 We saw LOTS of crocs in the water and on the river banks: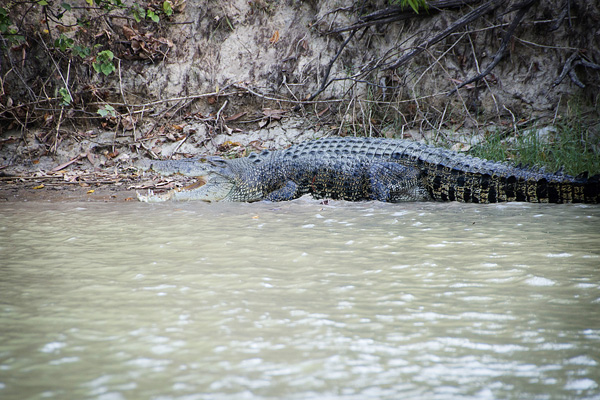 The rest of our outings at Kakadu were hikes in different beautiful areas.
We saw a TON of bats hanging from trees:
Amazing birds:
Enormous termite mounds:  (Look!  Native Australian Children!)
Stunning scenery: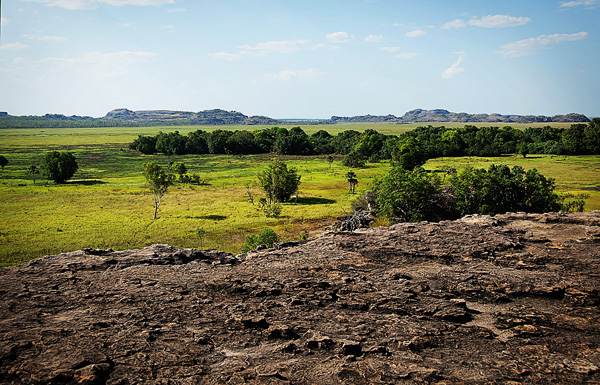 Warning signs everywhere: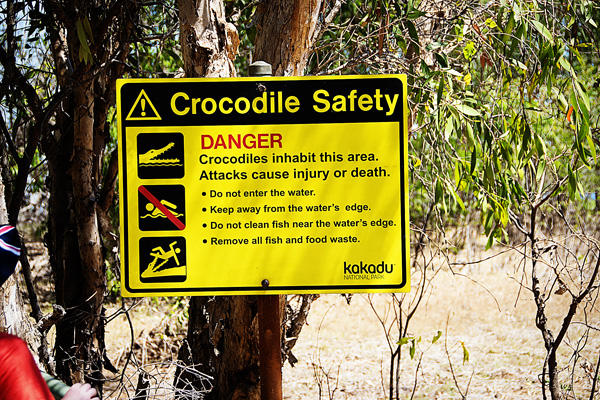 Aboriginal art: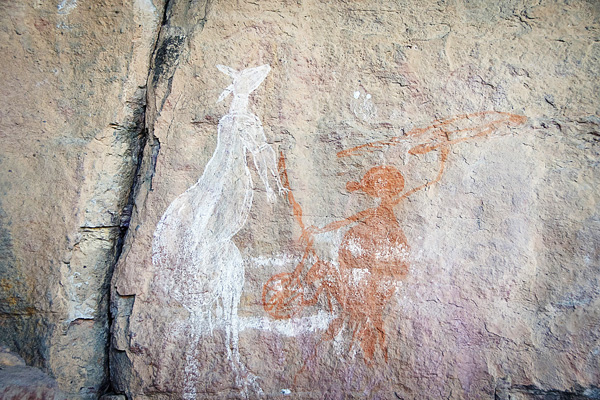 And, on our last day in Kakadu, I asked a park ranger where oh where could we go to see a kangaroo in the wild.  He said they only had wallaroos in Kakadu and they generally didn't come out until dusk.  So, we headed to a billabong at dusk.  It. Was. Divine.  It was so fun to see all the wildlife that seemed to hide during the heat of the day — it was like a scene at an african water hole that you see on National Geographic (minus the big animals!).  We even saw a few wallaroos!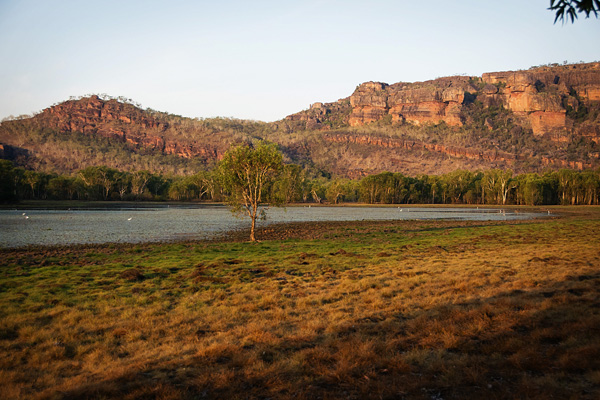 Whew! Tired yet? Thanks for sticking it out through all the pictures.  My pictures don't even come close to doing justice to the beauty that is Australia!
Just one more Australia post left — Fabric — and Friends!
XOXO,
Anna