Ohmygosh you guys.  I'm sure this isn't news to anyone, but it's November.  Already.  I've been cruising along thinking that I won't be making much for Christmas this year, and then last night I remembered a gift that I really want to make.  I had a mild panic attack when I realized that there are only 50 days to make a project that's going to take some calculating and work.  Ouch!
Anyway, while I slowly breathe in and breathe out to calm myself … I had some questions about the picture I posted of Winston the other day, so I thought I'd try and answer them.  Our little picture taking adventure all started when MyDadLovesMeBestSister asked me if I'd take some senior pictures of CuteNiece2.  We'd all been thinking about what we wanted to do, and at the last minute, I suggested that we grab the dog and some goggles that I gave CrazyBIL last year for Christmas and see what happened.  We ended up with this fun picture of a girl, her car and her dog.
I love that picture!  (Oh, and hey — while we're on her pictures — CuteNiece2 went to all the work to become a certified Yoga instructor last year.  Hey all you yogis out there –can you do this pose???  My arms hurt just looking at it!)
Anyway, back to the dog pictures.  The next week Winston came to visit and we thought we'd try to get some more fun goggle pictures.  (For those of you having trouble keeping up (ha!), Teddy is 4 years old and belongs to MyDadLovesMeBestSister and Winston is 1 year old and belongs to TheFirstChild and SweetiePie.  They're both F1 Goldendoodles.)  So, we put the dogs where all dogs love to be, near a fire hydrant.  With balloons and goggles.  (Teddy on the left, Winston on the right.)
Winston did NOT want to wear those goggles.  Like the senior photo, we tried the dogs in the car.  First with both dogs in the front seat.  That definitely wasn't working.  However, we did get proof that Winston would wear the googles over his eyes for a minute or two.  Teddy on the left, Winston on the right.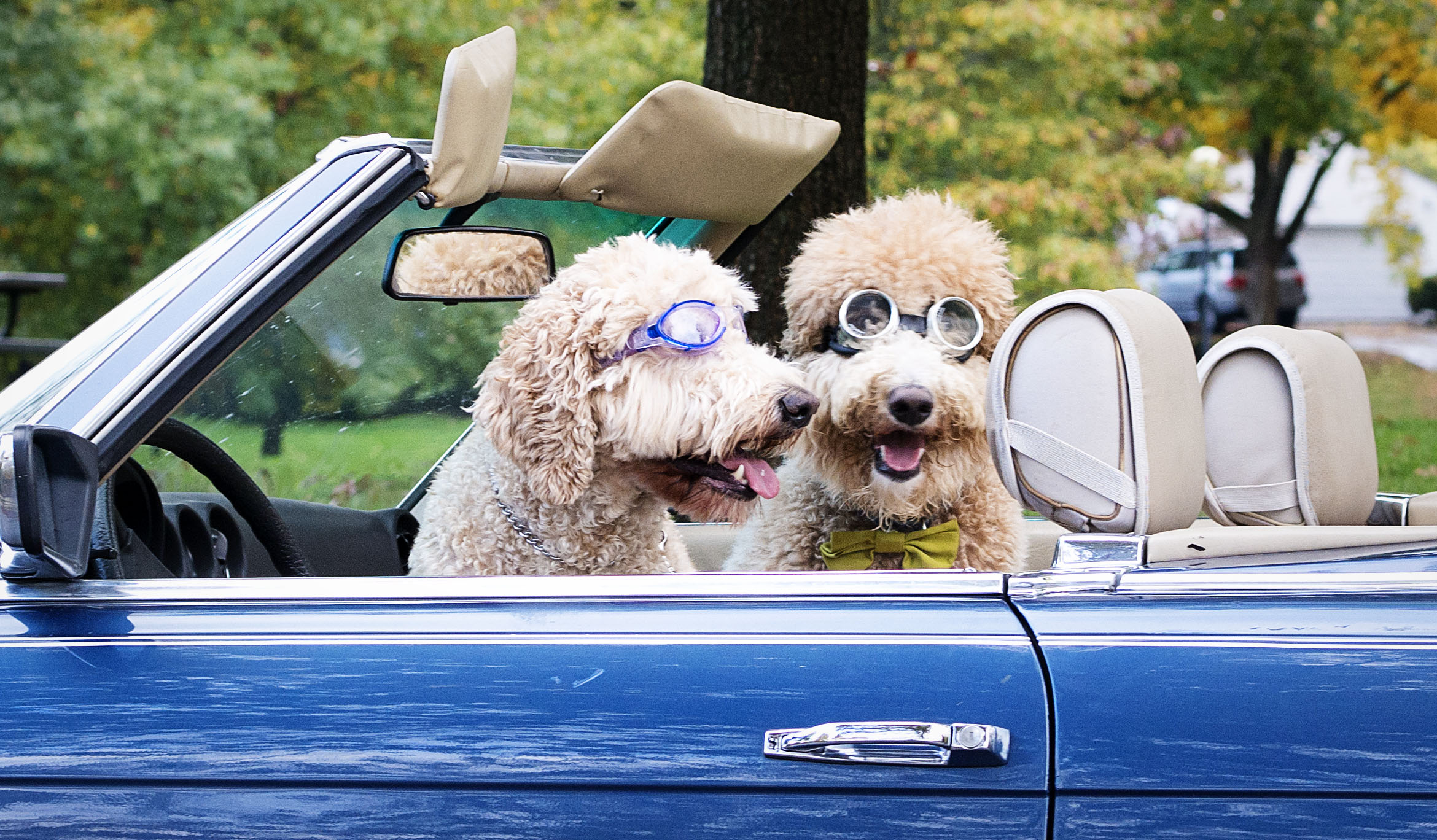 This was my favorite dog photo that afternoon.  Both dogs happy.  Teddy driving his good buddy around for the day.  (And by the way, it wasn't totally ridiculous to get balloons for the dogs — they were both celebrating their birthdays that week!)
Hopefully, dogs in goggles with balloons brightened your day a little.
Btw, how are you Auntlets (that's what I'm going to call you if you're participating in the Aunts' Quiltalong!) coming with your quilts?  Have you made a good start?  I'm almost done with my assignment this month.  Plus, I made a list of those of you participating over there in my sidebar.  I KNOW I've left some of you out.  I know for sure that I've forgotten one of you — I can see your e-mail but I can't find it and I can't remember your name.  I'm SO sorry.  PLEASE e-mail me and remind me and I'll add you to the list.
XOXO,
Anna