I hope you've had a wonderful weekend, especially if you're in the US or Australia or other places where it's Mother's Day weekend.  We've had the very best Mother's Day Weekend, courtesy of this:
TheFirstChild is now Dr.FirstChild and it's been a fun and emotional weekend.  We all gathered for the looong graduation ceremony and then SweetiePie treated us to a wonderful lunch back at their apartment.  She did such a great job preparing all the food and cute Dr./Graduation decorations.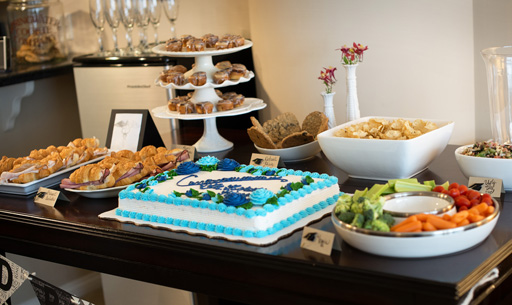 She served Ham and Turkey Croissants, veggies and dip, ugly bean dip, a hot chicken dip, mini cinnamon rolls, oatmeal raisin cookies, and a decorated cake.
She thought of everything — right down to a champagne toast to celebrate the new graduate.  It was all delicious and hit the spot.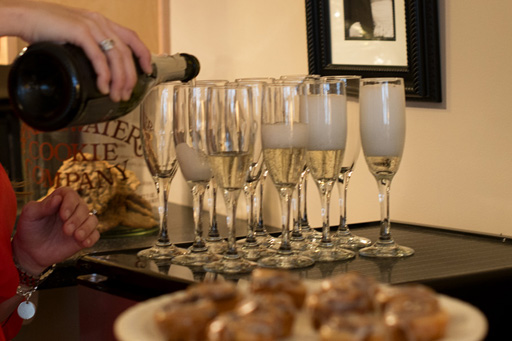 At the beginning of Med School, just after the white coat ceremony, I posted the picture below of SweetiePie and TheFirstChild.  It was the beginning of their journey and I love that picture because I'd inadvertently caught the construction sign in the photo.  It hardly seems possible that the construction phase is now over.  SweetiePie and TheFirstChild probably don't share our disbelief — it was long and grueling and I'm sure they're glad it's over.  They've taught our little family a lot about hard work and perseverance and it's been amazing (if not painful at times) to watch.  A few days ago, TheFirstChild posted on his facebook page and said "As of this very second, I AM DONE WITH MEDICAL SCHOOL! The first thing that comes to mind is that it was slightly more difficult than I first anticipated."  He's a funny guy.
I'm sure I don't have to tell you how proud we are of our little chicks.  And, after last fall, how lucky we felt that all of our local family was together to celebrate the reward for all of their hard work. I sure do Love these boys.
I am One. Lucky. Mom.
Happy Mother's Day!
XOXO,
Anna