I'm very excited today because the super nice people at Stitch Craft Create have invited me to review Louise Walker's new book Faux Taxidermy Knits. (Thank You super nice Stitch Craft Create people!)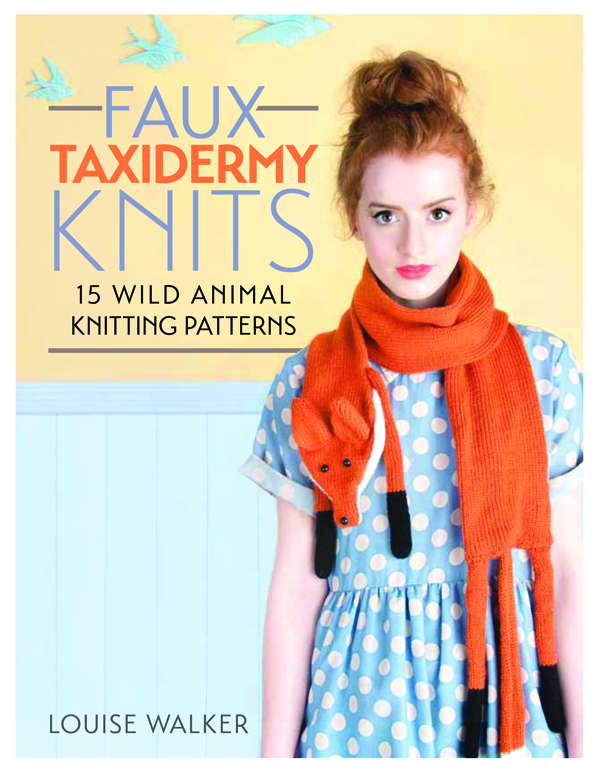 Now, I'll admit, the initial invitation was a surprise to me, as my first thought was "Hmmm, I'm not really the type to hang animal heads on the wall." (You might recognize Louise Walker as the creator of some really fun faux animal heads for Boden ). But, my apprehension dissipated as soon as I took a look at the patterns in this cute, upcoming book. Taxidermy isn't just for hanging animal heads on your wall anymore LOL!
Faux Taxidermy Knits contains 15 patterns divided into two sections – fun stuff to wear and fun stuff for your home. I thought I'd give you a little peek for yourself – here are a few of my favorites:
A Tiger Rug – wouldn't this be cute in baby's room with a wild animal theme?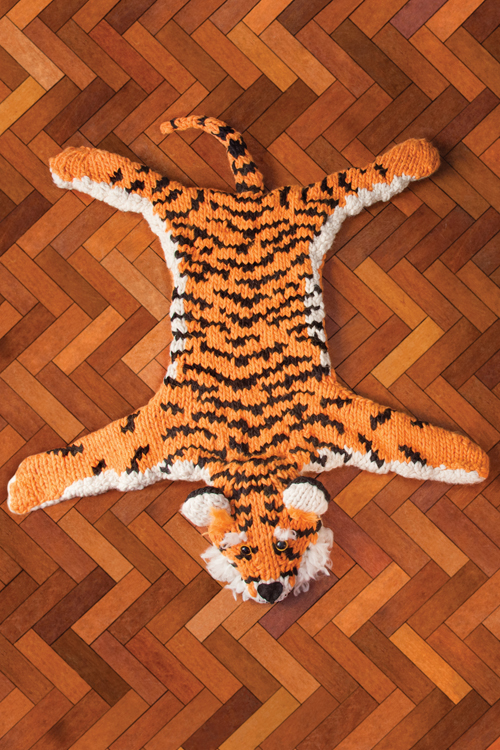 Baby Bear Coasters (or mug rugs, if you prefer).
Hedgehog Slippers – you know how I love me some slippers and these look super cozy!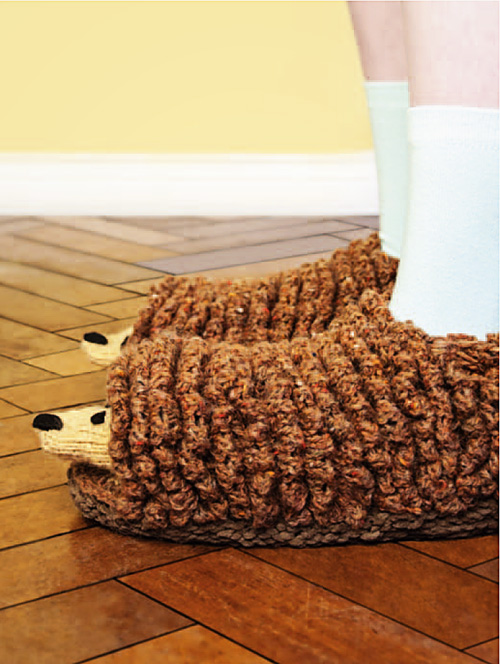 An Owl Tea Cozy.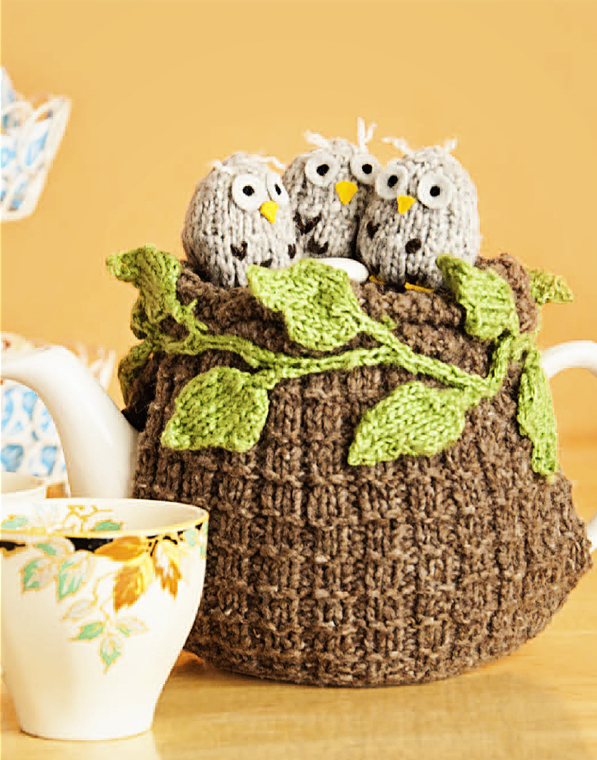 I've tested out one of the patterns for you, just so I could check out the instructions. Unfortunately, I was limited on time, so I had to choose the quickest project in the book. Do you remember those little rabbit's foot keychains we used to carry around as kids? (Ewwww. Really? Were those real rabbit's feet? What were we thinking?) This little rabbit's foot is the kind I can handle.
The instructions were clear and easy and it probably took me a whopping 45 minutes to make this little foot – an hour if you count the hardware. The picture doesn't come close to doing this little rabbit's foot justice – it's really cute and it feels so soft in my hands. I'm thinking I'd like to make another one and hide one of those GPS things in it, so that I can find my keys when I lose them (which is all the time thankyouverymuch).
If you're a knitter (or even if you're not), this is a really fun little book to add to your library. But, don't just take my word for it – check out these other reviews on the September blog hop:
Mon 1st – Louise Walker
Tue 2nd – iMake
Wed 3rd – Knit Happens
Thu 4th – SCC
Fri 5th – Thimbleanna
Mon 8th – Yarn Demon
Tue 9th – Greedy for Colour
Wed 10th – Knits and Crosses
Thu 11th – The Yarniad
Fri 12th – Crafts from the Cwtch
Mon 15th – The Creations of Crazy Dazy
Tue 16th – Knitted Bliss
Fri 19th – Lapdog Creations
Mon 22nd – Slugs On the Refrigerator
Here's a little bonus for you – those super nice people at Stitch Craft Create  are offering a hard copy of this book to one of you. Just leave a comment on this post and I'll draw a winner sometime around October 1st.
And if you don't win, don't despair – the book is available HERE (oooh, and while you're there, check out this PAGE for some other fun knitting books!)
But WAIT, there's more (haha)! I forgot to show you one of my very favorite projects in the whole book.
Behold.
Mr Wolf.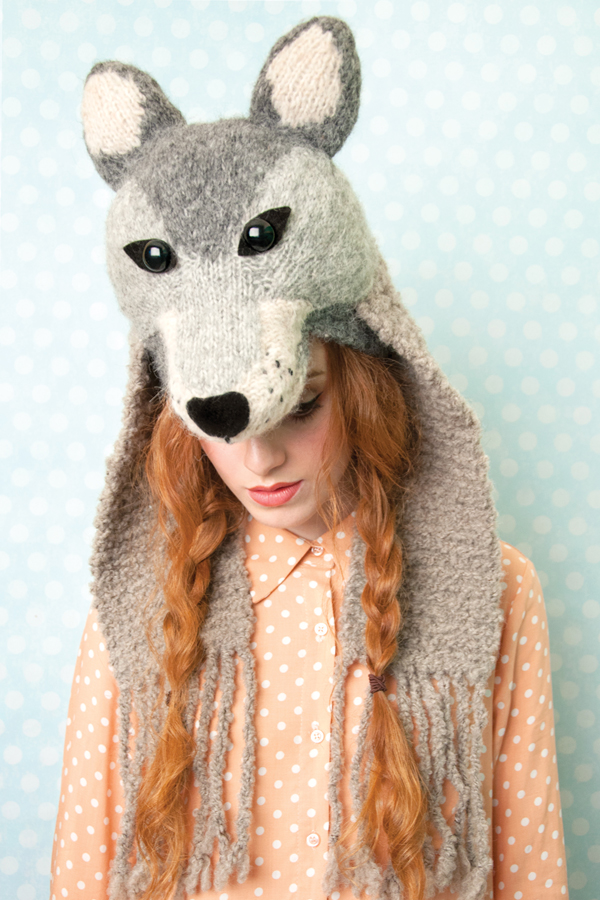 How fantastic would Mr. Wolf be for the costume in a Little Red Riding Hood play? Three Little Pigs anyone??? Or, how fun would it be to have the big bad wolf accompany your cute Little Red Riding Hood while Trick-or-Treating??? Bring On Halloween!!!
Ok — remember to leave a comment if you want to enter to win a free copy of Faux Taxidermy Knits.
Good Luck!
XOXO,
Anna