Oops, I meant to post in the middle of the week, but its was kind of busy around here this week.  I blame it on this little guy:
TheFirstChild and SweetiePie were gone for a week and we got to dogsit.  Cute little Winston is still a high-energy puppy and he took up all of my extra time.  We had lots of fun taking walks, playing with his cousin dogs, and taking a few pictures.  He did NOT want to wear those goggles, poor little guy!  (But, ever the gentleman, he's always wearing his bow tie.)
Anyway, one last post from Australia.  I saved the fun stuff for last.  Kellie took me to some beautiful shops.  First up was Sunspun — not a fabric shop, but since I love to knit, just as good!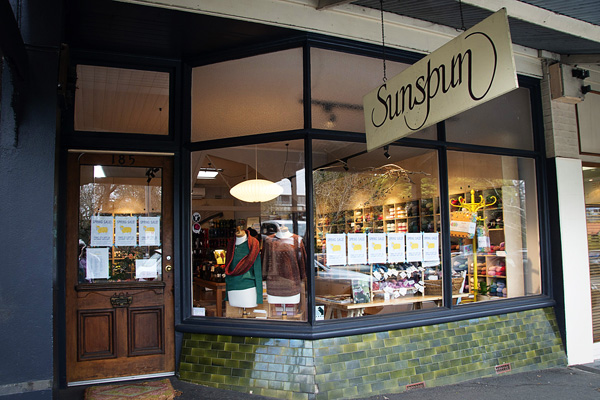 What a fun little shop — packed FULL of pretty yarns and samples.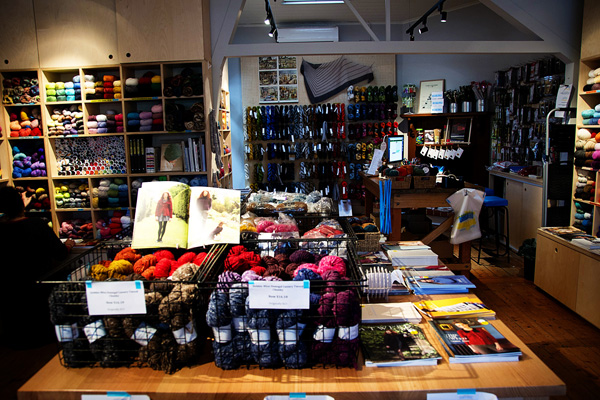 Yarn shops confuse me.  I can't buy yarn like I do fabric — maybe because I'm not a scrap knitter like I'm a scrap quilter.  I have to have a specific project in mind when I buy yarn.  So, in spite of all the beauty, I walked away with just a pattern book.  I'd like to chalk it up to self control, but confusion is the true story!  It was a wonderful stop though.
Then we were on to Amitie where we met up with Jan.  And I met Louise – SO fun!  Oh, and Judy Newman was there too, so it was really fun to meet her.  I know I'm forgetting someone else — I was in a fabric stupor.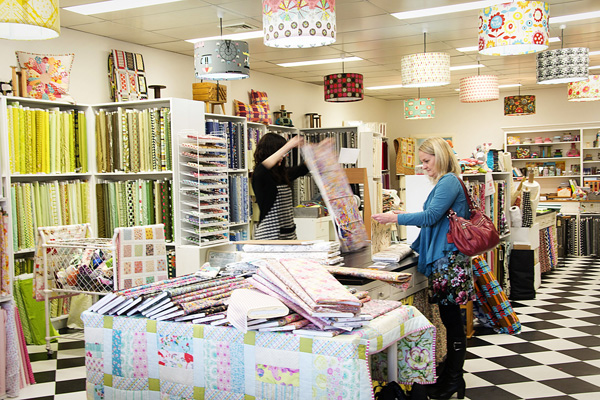 Look at all that gorgeous fabric — and all in Amitie style.  Shelves of Liberty!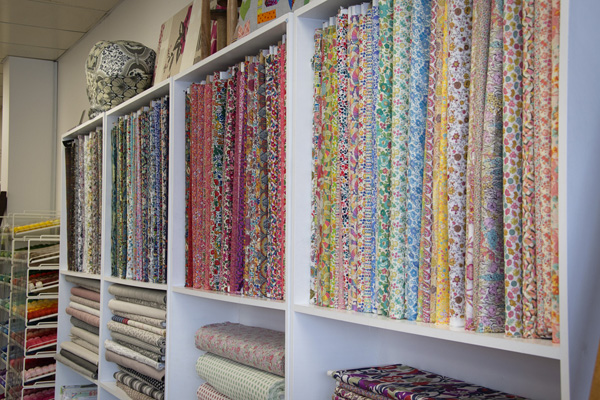 A pile of fabulous quilts, with our star, The Aunt's Quilt on top of the pile.  I don't know what I was thinking — WHY didn't I get a good picture of THE quilt???  Or any of them, for that matter!
Here's a shot of the lucious quilts in the front window.  I was so busy looking at everything and just enjoying it all and I'm sad that I didn't get more pictures.  ;-(  It was SO amazingly inspirational though — I was overwhelmed.  Amitie certainly lived up to her reputation!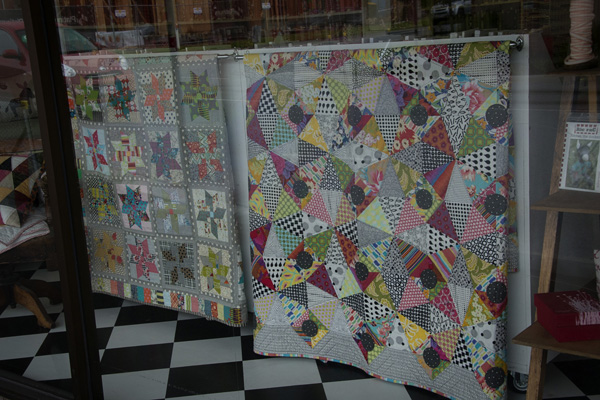 After Amitie, Kellie, Jan and I had a fun lunch catching up and then Jan took me for the afternoon and evening.  I have to stop here for a minute and rave about the food that Kellie and Jan made for me while I was in Australia.   We don't eat much lamb (well, any, really), but in Australia they have it quite a bit.  The first night Kellie made delicious lamb chops (I bought some for TheManoftheHouse to try when I got back and they're not called lamb chops but that's what they look like — it's more like a roast) and roasted potatoes.  Later in the week, Kellie also made lamb strapback (I hope that's what you call it) with the most delicious fruit salad I've ever had — she drizzled it with some sort of basalmic molasses (that I sadly can't find here).  Words just can't describe those delicious meals!
Then, the night Jan took me to her house, she plopped this jumbo bowl of grilled pineapple and prawns in front of me.  I thought it was our main meal, but it was the appetizer.  And, being from the landlocked midwest, it was my first experience actually peeling the shrimp, which Jan's girls thought was hysterical.  They were probably wondering how I escaped from my corn field!  Dinner was a delicious roasted lamb (which I thought was beef until the next day) with roasted pumpkin and vegetables.  And THEN, Jan had invited Meredithe to dinner and it was so fun to meet her.  We were so busy talking that I didn't get any pictures of all of her beautiful quilts. (And trust me, that's a tragedy.  Because, you guys.  These girls are all Australian quilters.  By default, all their quilts are beautiful!)   Since we were having an all Aussie dinner, Jan requested that Meredithe bring an Aussie dessert, and what's more Aussie than Pavlova?  It was amazing — I LOVE bananas and raspberries — maybe I was an Aussie in another life!
Such a fun night and I was sad to leave the girls, but time was short and there was much to do.  The next day, Kellie took me out to the country.  We had the best day and went to another beautiful little quilt shop.
Mill Rose is just full of fabric.  Feast your eyes on all that Liberty!  There was some serious drooling and fondling going on in this room.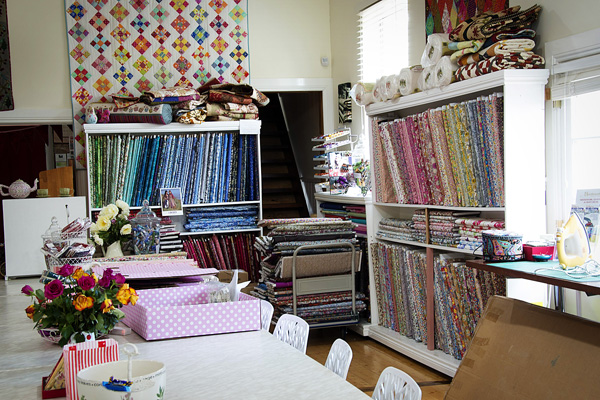 Another big room of fabric — behind that brown row of fabric is another double-wide aisle of beautiful prints.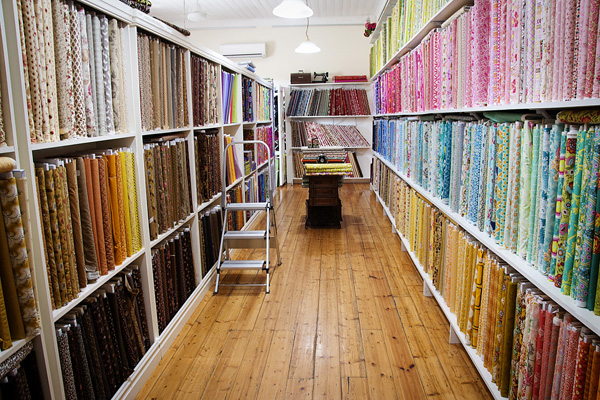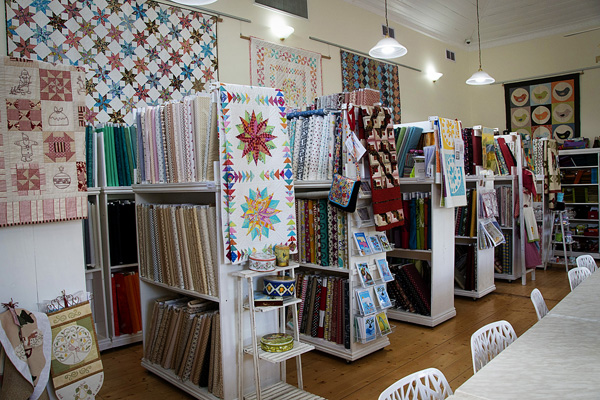 What a fun little quilt shop.   After all that fondling and shopping, we were parched and hungry, so we went next door and had a delicious lunch in the Mill Cottage.
I didn't buy much fabric.  It's easy to be restrained — not that I didn't LOVE all the fabrics, but we're so spoiled with prices here in the states — we pay less than half of what fabric costs in AU.  I couldn't resist buying just a little though, so, here's a picture of my purchases.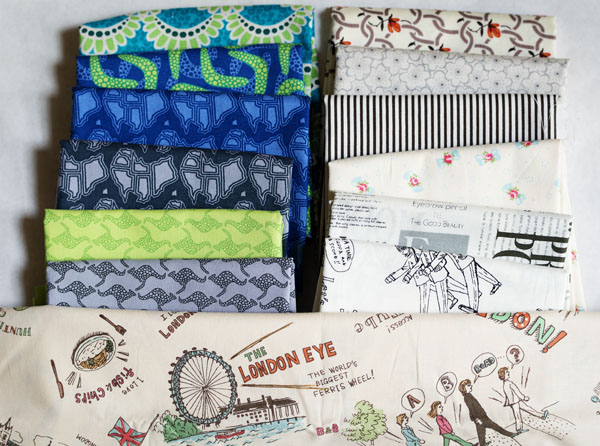 From Mill Rose, the six prints on the left are Terra Australis by Emma Jansen.  Can you see the boomerangs, kangaroos, and Australian continents?  I had to have a little souvenir!  And the prints on the left and across the bottom are from Amitie — just some low volume prints that I loved.
So, that's it.  Whew!  What a fun trip, made all the better because I was able to see Australia with friends.  Kellie is always so good to me, and I miss her and her cute little family.
Oh, one last picture. You can't take all those road trips and fondle all that fabric without some sustenance. I now have two new candy favorites (which I can't find here boohoo!) — The fantales are sort of like a big milk dud — caramel and chocolate, what's not to love?   And the Babies are like Gummi Bears — only WAY better. Way, way better. And, in case you didn't know, they're pronounced "Baaayyyyybies" — as in "The Dayngo ayte mah Baaayyyyyby!"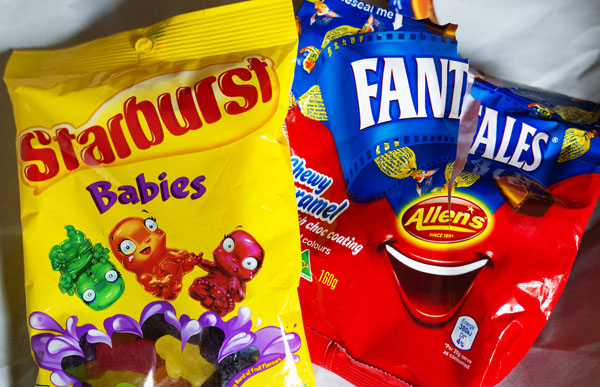 XOXO,
Anna