To quote one of my fellow American Trip Around the World Challenge bloggers, "I'm totally obsessed with this project".  That's why it's been so quiet here — I've had my head down hand stitching these little blocks.  It's really starting to get time-consuming now — it takes me at least an hour to do one side of one round.  Our challenge this month was to complete rounds 10 – 18 by today.  July 15th.  I put the last stitch in round 18 with 45 minutes to spare.  I know I didn't really have to get it done by today, but I really want to try to stay on track.  It's been my experience that a little slip in schedule can quickly become a big slip.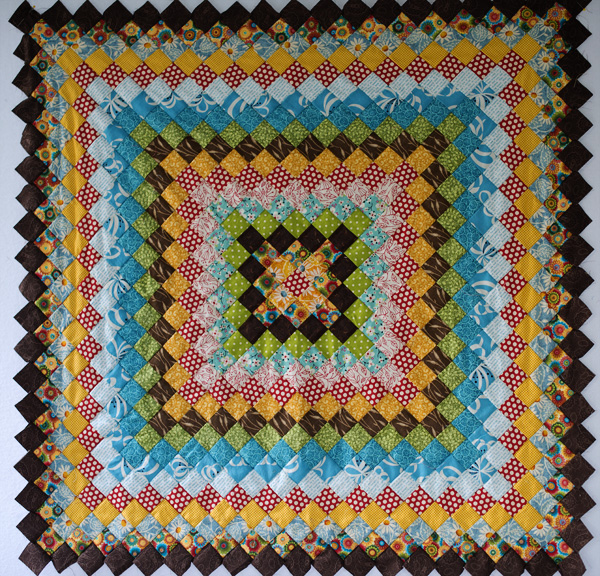 I did have a little burp in this month's task.  I had cut out rounds 13 and 14 and then I had to clean up the fabric that was on every flat surface in my house because people were coming over for the 4th of July.  When it came time to stitch those rounds, I couldn't find the little cut squares anywhere.  That's what happens when I clean stuff up and cram it all into my sewing room.  I ended up re-cutting the fabrics in order to continue on.  And then, somewhere around round 17, I found the little devils (pictured below) neatly tucked away in the new train case sewing box.  Doh — didn't think to look in the obvious place!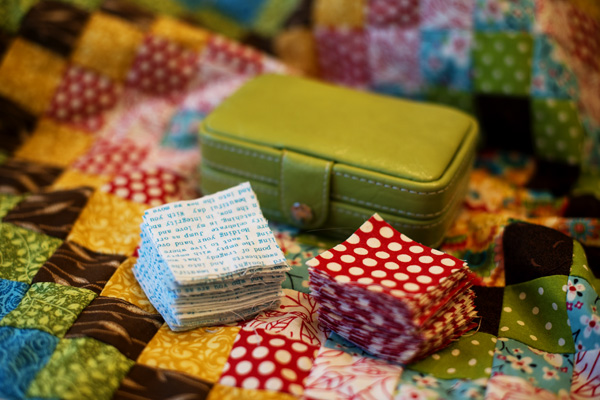 I've long since stopped finger-pressing the seams on the back, but I wish I was still pressing them.  They're flopping all over the place and shedding threads.  I feel like I spend half of my stitching time plucking little threads off of the back and it's driving. me. crazy!  The back does have a sort of pretty texture to it though.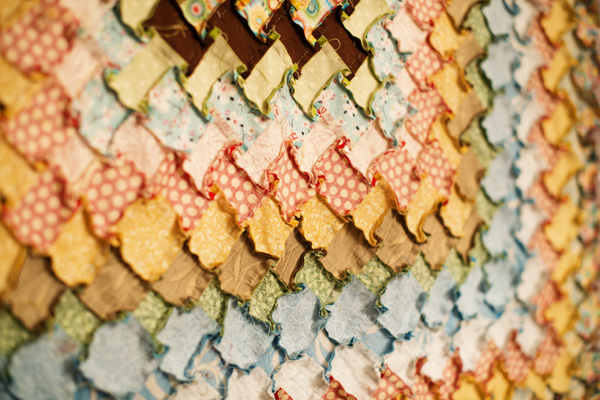 Jan eloquently wrote about viewing your colors out-of-focus, so I thought it would be fun to look at my block that way.  It's so funny to me how this block is taking shape — I don't feel like these colors are "me" at all.  I'm not sure what "me" colors are,  and I like these colors, but they don't quite feel right.  I'd love to make another version in different colors.  Or maybe ten more versions — then maybe I'd find "me"!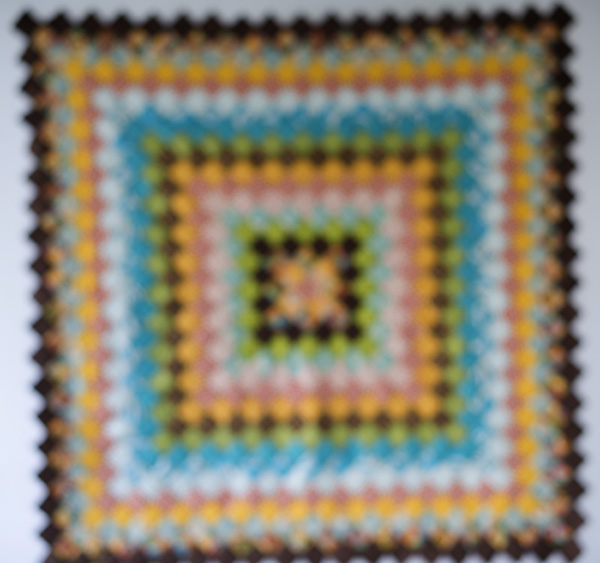 A little closer look and you can see some of the prints a little better.  I love the Alison Glass text print so I had to try to use it here.  I threw in three blue rows in a row in an attempt to "blue up" this block, but it doesn't seem to be working.  I still see predominately yellow and brown.
I might have to get more aggressive with the blue this next month. We have a fun new twist to the challenge. A partner will send us each a quarter yard of fabric and we have to use it in a round. I'm afraid to do any more rounds until I see my exchange fabric so I hope it will arrive soon!
We're having the most beautiful summer this year. This week we're experiencing another polar vortex and let me tell you, a polar vortex in July is a whole lot more fun than a polar vortex in January! I'd gladly suffer through the brutal winter that we had this year in order to have a beautiful, cool summer. As a snow lover, I feel like we hit the weather jackpot this year. I wish I could share our cool summer with those of you who are burning up here in the northern hemisphere– come for a visit!
XOXO,
Anna