By now, I'm pretty sure you're probably getting tired of seeing my little trip around the world quilt, so I'll just apologize now.  We get our assignments monthly, so I like to document the stages of this fun project.
Our assignment this month was for rows 24 through 30.  We technically have until the end of the month to reach row 30 (if you're trying to keep up like me), but I'm getting ready to go on vacation and I didn't want to return and be behind.  The rows are really getting time-consuming now, so, to be behind just a few rows means to be behind a lot in time.  I've been working like a crazy person to get this far and I'm so pleased that I made it before I leave on my trip.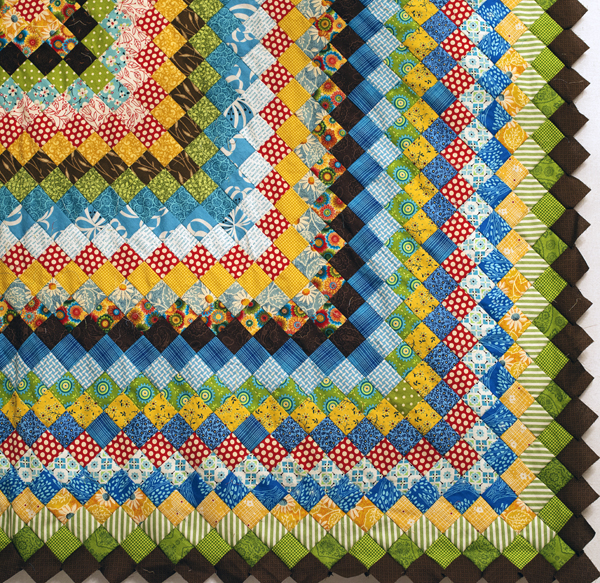 It's been amazing to me that I'm not tired of this project yet.  I love picking out fabrics for new rows — even though I don't really know what I'm doing anymore.  I'm basically just trying to stick with the basic colors that I used in the first 9 rows.  It's really surprising to me to how it changes personality as the rows are added.  I really liked the way rows 1 – 9 started out (upper left), but I worried after rows 10-18 (upper right) that it was looking a little too yellow/red/brown.  (Btw, sorry for all the different lighting — ideally, I'd take the pictures in the same setting, but it doesn't always work out.  I was hoping to go outside tonight, but it's been pouring most of the day, so I had to stay inside.)  Then, by rows 19 – 24 (lower left) I'd managed to add more blue in which made me happy.  I thought maybe I should tone the blue down a little, and now (lower right) there's maybe a bit too much green going on.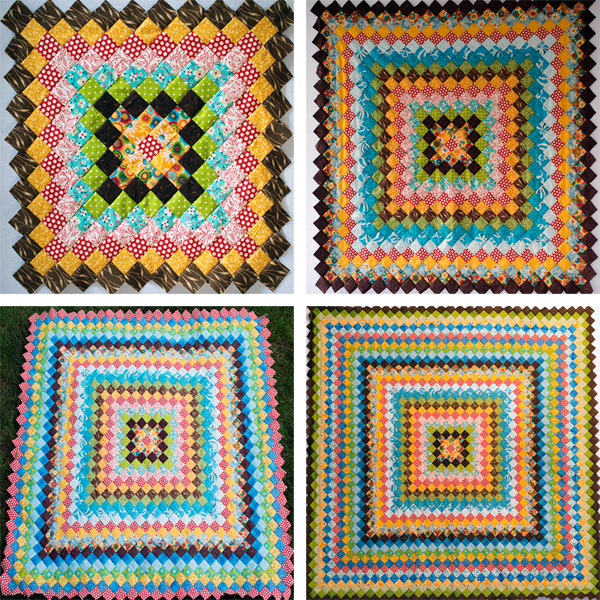 I'm guessing I'll have 10 – 12 more rows, so I need to take more time and figure out how to finish it up to get the effect I want.  As if I even knew what I want.  That might be part of the problem.  I'm pretty far out of my comfort zone here!!!
Anyway, if you're still here, thanks for sticking with these TAW posts.  If you've never tried a TAW, you might really love the adventure!  This little quilt is getting pretty big now — it's just a bit bigger than the top of a double sized bed.  And, as you can see, when it's rolled up, it pretty much fills my little train case.  I'm going to need a bigger case!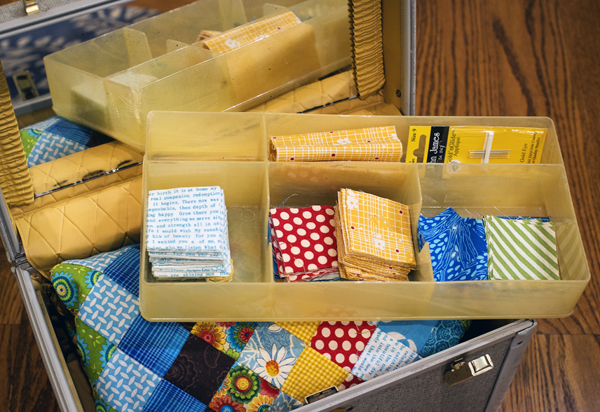 That's a good problem, right?
XOXO,
Anna