Finally, there's been a little project finishing here in ThimbleannaLand.  I managed to sneak in some crochet time last weekend and finished the fun rainbow stripe bag from Attic 24.
While was working on the stripes for the body of the bag, I really didn't like the way the colors were stacking up. Even up to the top of the bag I was a little worried. But, the scalloped edge seemed to pull it all together and now I love it.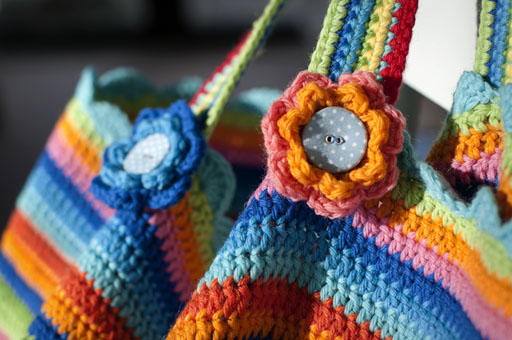 The pattern is very easy to follow and it was pretty darn fun to work on. It's a perfect pattern for tv watching, as it doesn't require much concentration. It's fun to have a bag now to carry my balls of yarn — while I was working on the bag, the yarn was just in a big ol' plastic bag.
So, blowing kisses and a big fat Thank You to my Brilliant Invisible Friend who selected all the yarns and sent them to me in a swap. 
In other news, we had a bit of excitement around here the other night. TheManoftheHouse happened to glance out the window and he scared me when he said "Holy Cow! There's a turkey in the backyard!". I jumped up, grabbed my camera and rushed outside to take pictures of not 1, but 4 turkeys.  After 3 or 4 shots, I realized I didn't have a memory card in my camera. Doh! I rushed inside, grabbed a card and ran back outside.  By which time, the turkeys were two houses away — so … sorry for the blurry shot.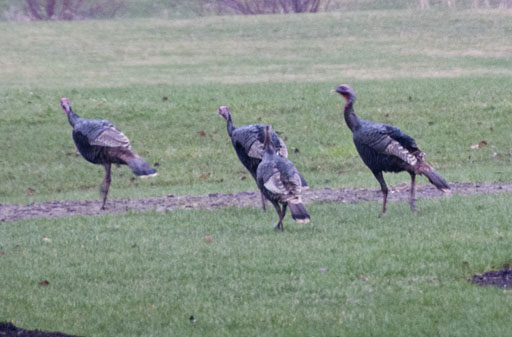 In all the years and houses we've lived in here, we've never had the fun of seeing wild turkeys. They aren't cute like deer or furry animals, but it was still exciting!
Oh! And have you seen the "new Pips"? Aneela has shown a sneak peak of her new fabric line and it's adorable. And here's a little Pip Tip (ha!) — I don't want to cause a stampede or anything, but if you see Pips and you think you want them, you should probably get them. It used to be that you could find quilt fabrics for years after their debut, but now, they don't seem to last very long and that drives me crazy.  I don't think the hype was intentional in this case though (or I should say, more intentional than normal) –  I just think someone seriously underestimated how well-loved the Pips were going to be!
XOXO,
Anna