It's Official!  Spring has sprung in ThimbleannaLand.

Our DuckCouple is back.  Yipee!  I love it when our little DuckCouple returns.  They'll be here for another week or so and then they'll move on.  I wish they'd have their babies here.  Apparently, we're good enough for a stopover, but not the nursery.  I hope they'll be safe while they're here, too.  We got a neighborhood notice that someone a few streets over lost a small dog to coyotes.  The fact that we have coyotes around here is always startling to me — I'm mostly from out west and I thought coyotes were a western thing.  I mean think about it — you always read about coyotes and cowboys, not coyotes and cornfields.

Last month, I participated in a spring/fall swap hosted by the ever so lovely Trashalou.  It was a really fun swap for me, as my partner was new to me — the very sweet Catherine of Calidore.

I made a little bag for Catherine to keep her hand sewing things in — scissors, thread, needle, thimble, etc.  I have a little stitchery bag and I carry it everywhere.  I drew up the pattern for this one — if I were to do it again, I would use Janet's fantastic tutorial – I LOVE her little bag.  She published her pattern just after I finished this bag.  Catherine got better pictures of the goodies than I did and she wrote me such a wonderful thank you.  Thank YOU Catherine!  The package to me is on it's way — I'm not sure if it will be from Catherine or someone else (the partners were a surprise), but I'm excited to find out!  Thanks for hosting Trashy!

Flat Stanley has paid us a visit!  Beth's young son's class is doing a Flat Stanley project and I offered to host him here in ThimbleannaLand.  While he was here I took him to see Johnny Appleseed's grave.  It was a beautiful day and I think he rather enjoyed it (I certainly did)!  If you'd like Flat Stanley to come and visit you, I'm sure Beth could hook you up.  ;-)

Finally (!), Make Life Bunny is so excited about the giveaway, he's all packed and ready to go.  And look!  In addition to that 1/2 yard of fabric, he squeezed a card of those cute Make Life Simple buttons into his suitcase!  Don't forget, if you're interested in a chance to win him you

have to make sure the giveaway appears on your local evening news

just have to comment on the giveaway post.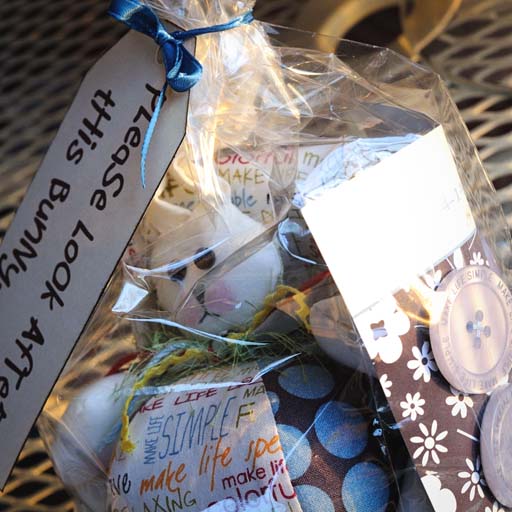 I hope you're all having a great week!
XOXO,
Anna