Well, tomorrow is the big day — the official end of summer and therefore the day when I'm officially done with my 10 Things this Summer List.  Just in the nick of time, I managed to get two more items completed.
1. Get Together with the Quilty Peeps.  Finally!  It took us over a year to find time in our schedules when we could all get together and we did the deed yesterday.  I love getting together with my long-time BFFs and I love that they'll let me take pictures of their projects.  Our collective memories have gaps (ha!) so it's nice to be able to look back on the blog and see when we got together and what we were working on.  So, for future reference, here's what we worked on yesterday:
Jewels came with enough projects to share LOL.  We wanted to see all the fun stuff she's working on and she kindly obliged.  Here's her newest project — a quilt she found in a magazine this summer.  Aren't those colors gorgeous?
Then she had a ton of blocks completed for another quilt she's making.  She showed us the flyer for the pattern and of course, I forgot to take notes.  (Maybe she'll tell us in the comments.  ;-D )  I LOVE this star block and Jewel's work is perfect.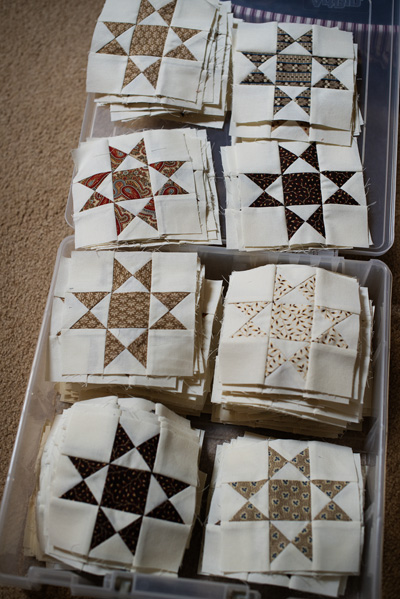 And then we teased Jewels that she's still working on her dresden plate project, which she was working on when we got together almost three years ago.  We were laughing with her, not at here 'cause I'm pretty sure this would be a 20-year project for me.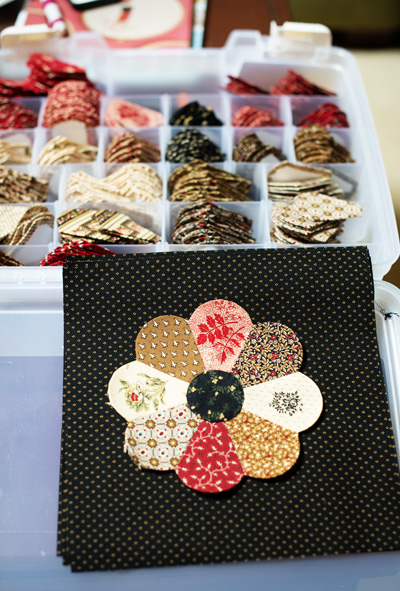 Oh, and look at the darling little snack mix bags Jewels made for each of us — she's a sweetheart!
Gurney was finishing the hand work on the binding for a Cat in the Hat quilt for her grandson.  It's SO cute!  I LOVE this fabric and I'm hoarding some of my own.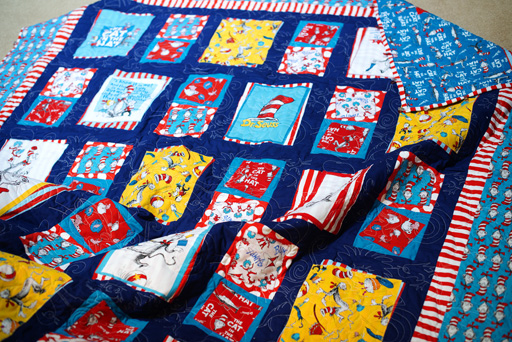 Look at the cute back too.  Gurney took all the fabrics that she had left over from piecing the front and used them on the back.  So fun!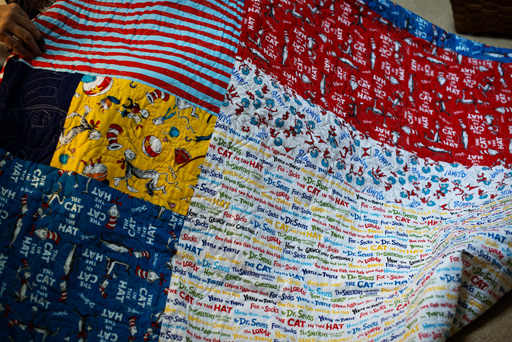 Junie was our hostess with the mostess and in addition to waiting on us hand and foot, she was cutting fabric for a baby quilt.  Isn't this fabric cute?  I'd never seen it before.  The line is Backyard Baby by Patty Sloniger for Michael Miller.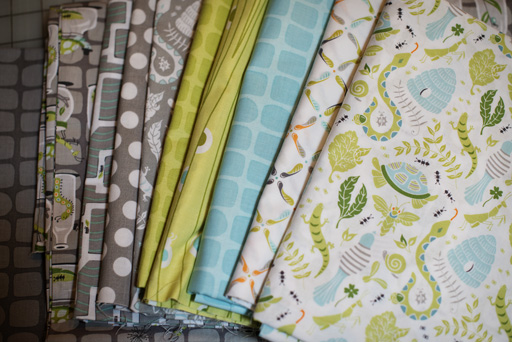 Did you see that beehive???  I need some of that fabric just for the beehive.  Here it is in the gray colorway too.
Thank you Ladies for such a fun day and for all the good food.  It's always great to catch up – hopefully we won't have such a long gap before our next get-together!
And lastly, during our Quilty Peep Fun Day, I worked on stitching down the centers of my Steampunk blocks.
Which brings me to,
8. Make Enough Blocks for a Quilt Top.  All done.  48 blocks.  Turns out I only needed 41 whole blocks and 7 partial blocks.  I thought I needed 48 whole blocks and I'd decided not to use the partial blocks in my version of the quilt.  But now I have extra blocks to cut up for the partial blocks.   It's going to be hard to cut them through the middle!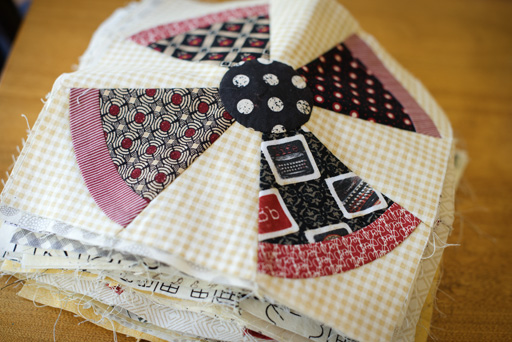 So, that's the end of my summer list. I completed 9 out of 10 of the items. Can you regular readers remember which item didn't make the cut? Ok, I'll tell you. It's that *&*&#@# 10-year sweater! It's sitting out nagging me and winter is on the way, so hopefully I'll work on it this winter. For now though, 90% is good enough for me. Making a list has been fun and making it public actually made me work on it. If you made a summer list, how did you do?
XOXO,
Anna