I know everyone is posting about fall. About how the weather is changing, the leaves are starting to turn, and Halloween will be here soon. But I'm not ready! Summer went by too fast. And we just got that darn new grill!
So, in its honor, I'm posting one last summer/grill recipe. Grilling season isn't over yet. We still have Indian summer. And besides, there are a bunch of you down under who are just getting ready for summer. So, this recipe is for you. It's a recipe for grilled potatoes wrapped in foil. They make a great side dish and since they're grilled in foil packets, the clean up is very easy.
Grilled Potatoes in Foil
1/2 c. Miracle Whip salad dressing (don't let this scare you, it melts and disappears while cooking)
3 garlic cloves, minced
1/2 t. paprika
1/4 t. each: salt, pepper
3 baking potatoes, cut into 1/4-inch slices
1 large onion sliced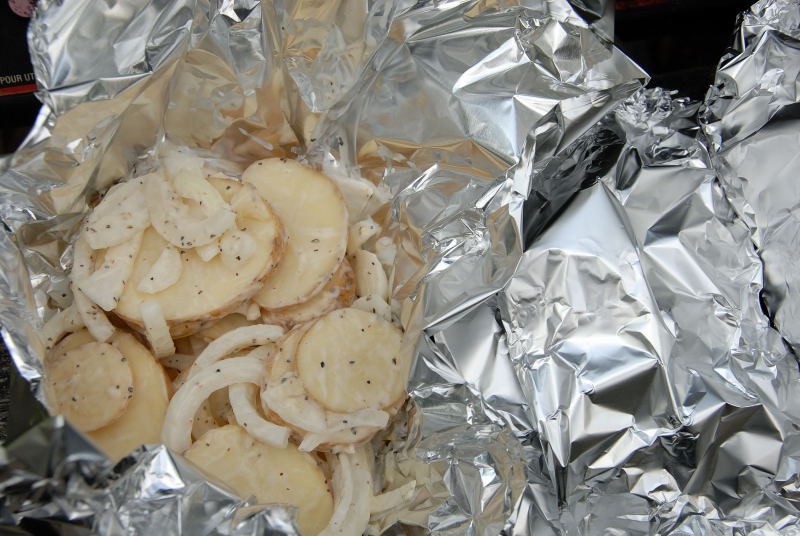 Mix together salad dressing and seasonings in large bowl until well blended. Stir in potatoes and onions to coat.
Divide potato mixture evenly among six 12-inch square pieces of heavy-duty foil. Seal each to form packet.
Place foil packets on grill over medium-hot coals. Grill, covered, 25 – 30 minutes or until potatoes are tender.
Makes 6 servings.
Throw those potato packets on the grill, burn your pork chops and you're ready for dinner!
We're off to see TheSecondChild tomorrow for parents weekend.  I hope you all have a wonderful weekend.
XOXO,
Anna
P.S. Are all the rest of you being killed with spam comments?  I can filter out most of the drug spam (so if you decide to send me a comment containing "viagra", "levitra", etc., your comment will go into moderation!) but I'm having trouble with the Paris Hilton spam.  What words do I filter out?
Paris – what if someone wants to comment on a great trip to Paris?
Hilton — a comment about a great Hilton to stay in?
Crotch — there is occasionally sewing content here — what if we need to discuss crotch seams?
Photos — Hello?  We discuss photos all the time!
Send advice!  ;-)