One: Thanks for all of your roof sympathy. Among the great e-mails, I actually did get some advice for making a 15 year roof last 16 years and for those of you who may also soon be needing a new roof, I thought I'd share:
Just consulted with the TJBMOTH (TheJukeBoxManoftheHouse). I had him take a look at the curling roof picture on your blog. He said that the way to make 15 year shingles last for 16 years is to go to Home Depot and purchase one of those blue tarps. Also buy a tall ladder while you are there. … Have TheManoftheHouse help you place the ladder at the side of the house. Have him hold the ladder so you don't fall off. Make sure he has the camera with him so he can take a picture of you nailing the blue tarp to the roof so you can place it on your blog. In one year (after tuition hell is over), you can hire a roofing contractor to replace your curled roof and then you can finally remove the blue tarp that your neighbors have complained about all year.
Thanks for the laugh TJBMOTH — you're awesome and I heart you!
Two: After a wonderful honeymoon, the newlyweds came home late Sunday night. To welcome them home, we had a family get together yesterday and watched them open gifts. I included this pillow I made to go with the wedding quilt that didn't make it in time for the wedding (it's hard to tell how big it is — the pillow form is 12″ x 16″):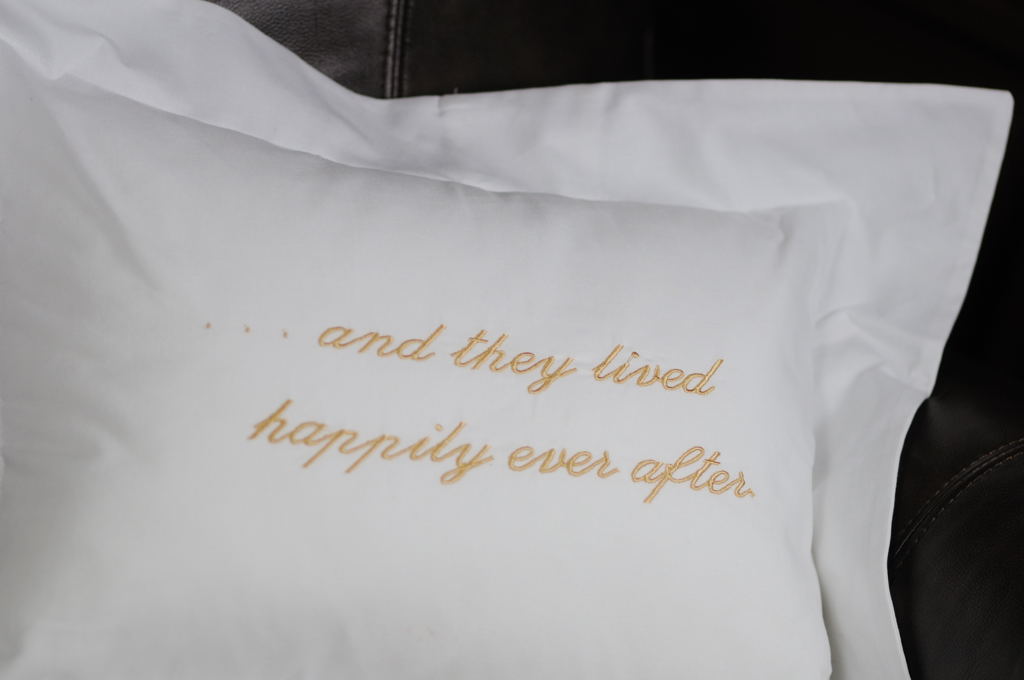 Three: Erin gave me a no-pressure tag which I thought looked fun.
1. What was I doing 10 years ago today? We were living in Minneapolis and spending most of our time re-doing a 60′s style house. It was lots of fun and a great learning experience. That house was butt-ugly, but boy they sure knew how to build houses then. All the walls had two layers of sheetrock (wonder what they were thinking) and we replaced the roof for the first time — it was 32 years old — which the roofer said was a testament to how solidly the house had been built.
2. What five items are on my "to do" list for the day? Well, the day is over, but here's what was on my list:
1- Fly to NJ (again!)
2- Work on two socks on one circ while flying (yay!)
3- Call a certain someone and admit I was wrong in a discussion we had a few months ago (sorry!)
4- Catch up on blogs in hotel room (not even close!)
5- Figure out where I've misplaced my expense credit card (gulp!)
3. What are my favorite snacks? Holy Cow. Do we want to be here all night? How 'bout Twinkies, Ding Dongs, Cracker Jacks, Cupcakes, Cookies, Almonds, Fruit with fruit dip, M & M's, ….. hey…I have fruit in there!
4. What would I do if I were a billionaire? Probably pretty much what I'm doing now. Well, except that I definitely wouldn't have a job and I'd travel more. I'd just enjoy staying at home. Homemaking. And "Do Good Works."
5. What are the places I have lived? Logan, UT; Ogden, UT; Lancaster, CA; Dayton, OH; Manti, UT; Orem, UT; Huntsville, AL; Lawton, OK; Hanau, Germany; Ft. Wayne, IN; Minneapolis, MN
6. Who are some people you would like to know more about? Nanette took the words right out of my mouth. My ancestors.
Ok, Four things: Shame on me for not posting yesterday, on Memorial Day in the US. I managed last year, but I didn't touch the computer on Sunday or Monday. Thanks to several of you who did post.
XOXO,
Anna