WooHoo! In the states we have a holiday on Monday and I have today off — so it's a four-day weekend for me. Yipee!!! As Gail says, "Breathe In, Breathe Out"!
There. At last, some excitement around here — 'cause this week has been pretty darn Sa-Low. Fortunately, Sharon saved me from myself and opened the cupcake swap package that I sent her. She waited until she had the package to me in the mail — and now I'll have something to look forward to receiving next week. Anyway, here's what I sent her: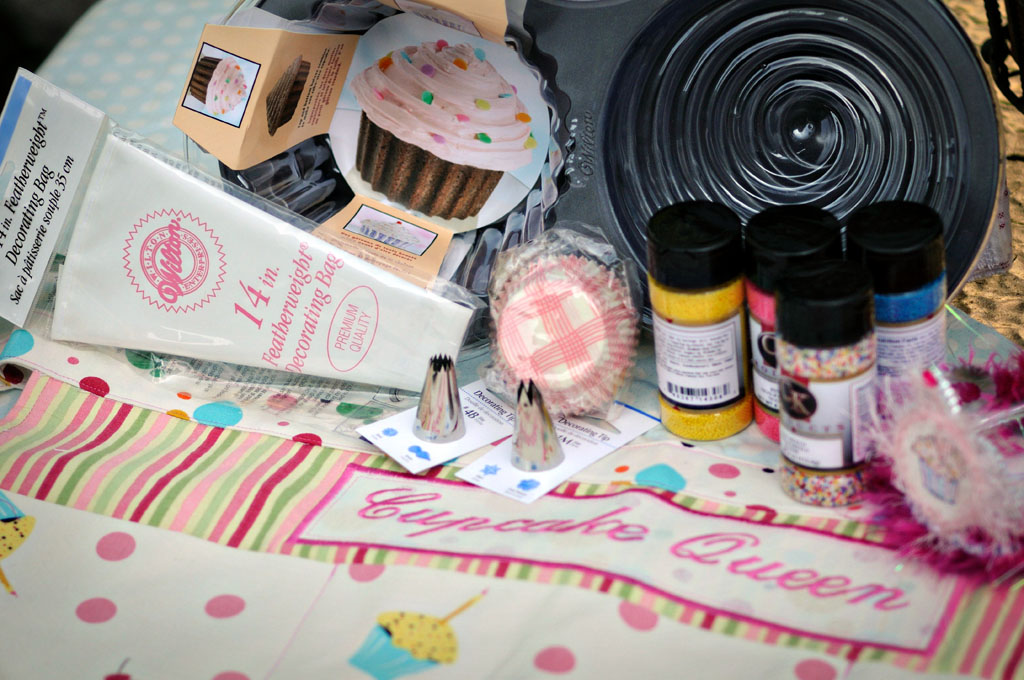 A jumbo cupcake cake pan, sprinkles, cupcake papers, tips and bag for frosting, an apron (which I thought maybe she could use to hold her tools when she's machine quilting), and a little cupcake tiara.
I was sitting at my computer one Saturday morning getting ready to descend into the dungeon to make Sharon's apron and I got an e-mail from Nan. She suggested that maybe Sharon might like a Cupcake Queen tiara. That Nan is BRILLIANT! I loved the idea, thus the Cupcake Queen on the apron and the tiara. After all, as the swap organizer, Sharon is definitely the Queen!!! Thanks Nan for the great idea! (And btw, you should go check out the FABULOUS cupcake hat Sharon got from her other swap partner — I'm So Not Worthy!!! That hat is awesome — we must know who it's from!)
So…off to the weekend. What do YOU have planned? I've got a little cleaning (does it ever end?), a get-away tomorrow, and then hopefully, finally, some sewing time on Sunday and Monday. I've missed my sewing room!
I hope you have a wonderful weekend and manage to soak up the waning days of summer!
XOXO,
Anna
P.S. Some of you have asked for more information about the soldered pendants. I found a bit of a tutorial HERE and a good video HERE. (Skip through the collage stuff if you're in a hurry to get to the soldering — she also gives some good supply tips.)
P.P.S.S. Have you seen THESE adorable cupcakes??? They're bakerella-on-a-stick!