Thanks for all the Bunny Love!  Every now and then, we have to get a little silly around here.  You know … it keeps TheManoftheHouse rolling his eyes.  (And speaking of TMOTH, have you guys seen these funny Scottish Toyota commercials, here and here?  Not sure why I thought of that … maybe it's the man-car relationship?  Then again, if that runner were TMOTH…LOL)
Anyway, while I was busy sewing this weekend, I made a table topper for MeMum.  We were shopping this summer and she bought this vintage looking border fabric and gave it to me to make a table runner.  'Cause we all know MeMum can't quilt LOL!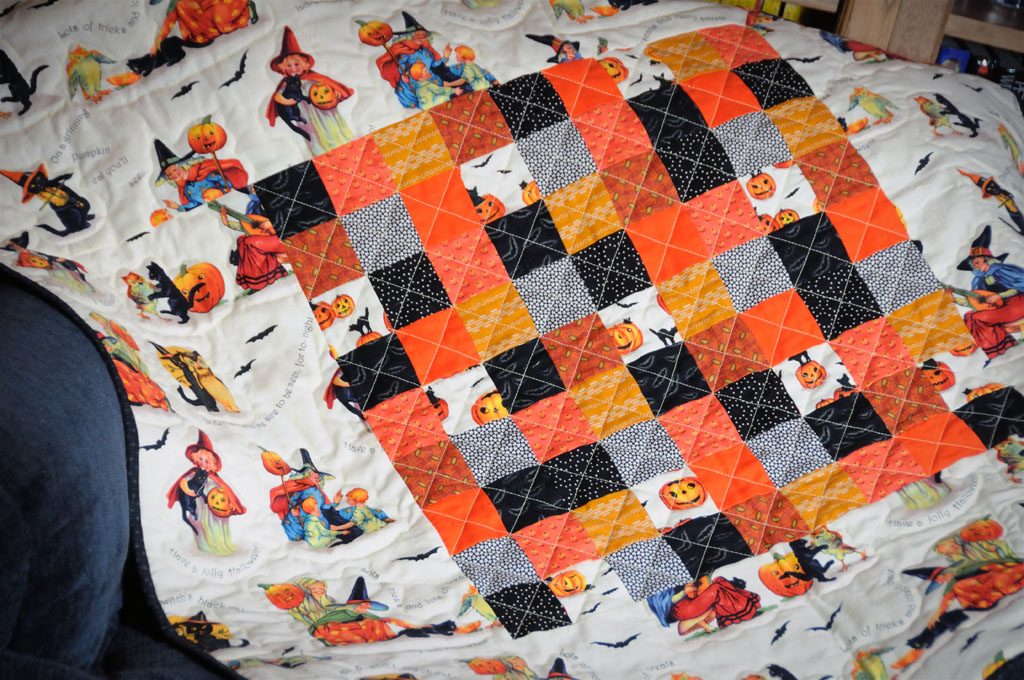 I usually put the vintage-y print in the center and piece in the borders, but I thought I'd switch it up a little this time.  I think I'd like it better this way if I had one more dark border around the outside.  I'll know for next time.  All of the little prints in the middle are from a fat quarter pack that I bought at Judy Rothermel's booth at the Chicago Quilt Show in April.
I love the little black bat fabric and the tiny pumpkin print on the right edge of the picture.  Each of those patchwork blocks is a 2 inch square.  I'll give this to MeMum tomorrow — Don't Look MeMum!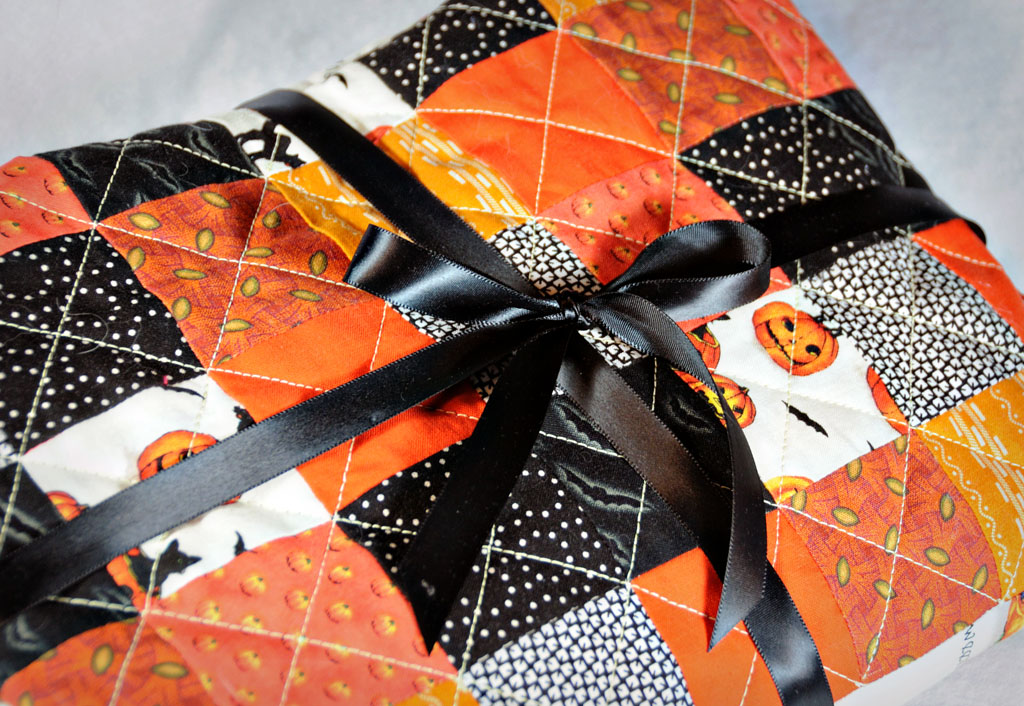 And while I was in the Halloween mood, I made up a few quick candy corn gift bags using this Halloween Clip Art from Martha Stewart.
Now, Boys and Girls, I'm going to take a little bloggy break. I'm going to turn off ye old computer and hopefully when I return I'll have some fun stuff to show you. In the meantime, if any of you want to take a break, now would be a good time and then I won't have so much to catch up on when I return.  Really, it's the least you could do — I'm taking this little break out of consideration for all of you.  If I'm out of the picture, you'll all have a better chance at winning the giveaways that occur in the next few weeks!  So, go forth, win,  and behave yourselves!
XOXO,
Anna