Well Hello there!  If you're in the US, are you sprinting to the finish for Thanksgiving?  I've lucked out this year and won't have to do any baking, as we're visiting the in-laws.  I will miss my pie baking though — my family always lets me bake the pies, which is really fun for me.  So…….sorry, there won't be any fun Thanksgiving pictures here!
Anyway, as I mentioned in my last post, since dear Hester is out of commission and I'm not in charge of any holiday cooking, I'm going to try to squeeze in a few hats for Jean's hats for the NYC homeless.  I started knitting one yesterday and it's moving along pretty quickly.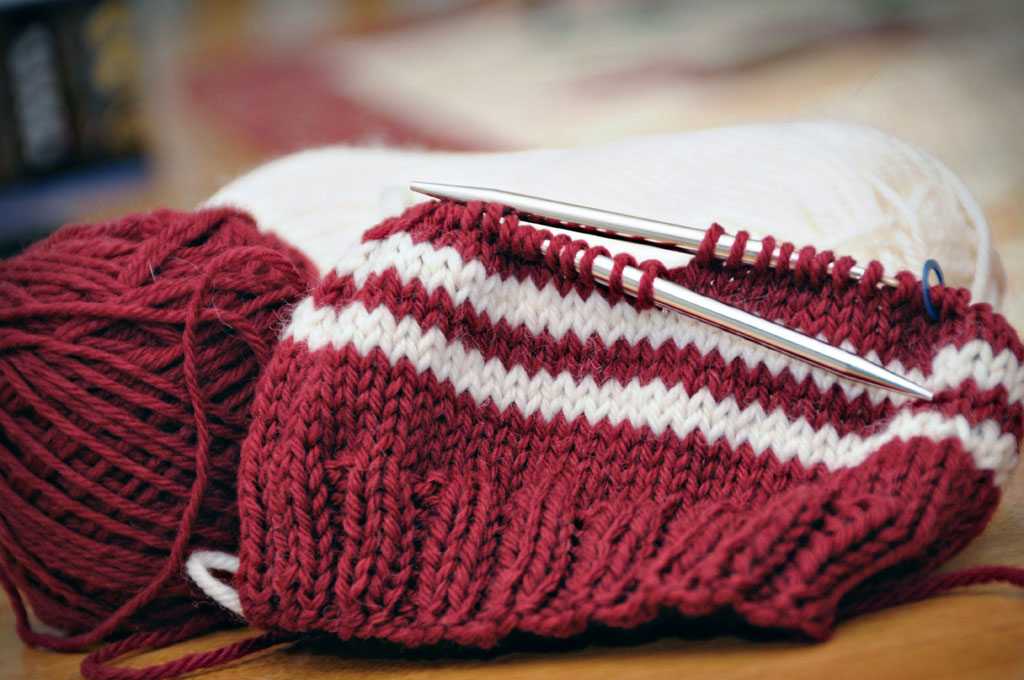 TheManoftheHouse says this will be too small, but not to worry. I've made these before and they fit just fine.  If they'll fit my big-headed boys, they should fit most people.  In case any of you might like to knit some of these hats for Jean, I thought I'd share my favorite easy pattern.  Although, I must say, taking a peek at the hats already starting to arrive at Jean's, I'm thinking I need to go in search of that rolled brim hat too — it's pretty cute!  Oh, and check out this exciting post — Jean is giving prizes and some of them are REALLY cool.  Go on — go check it out — it will make you want to knit hats.  I'll wait.
Tap…Tap….Tap…
Ok.  Are you excited now???  So, here's the pattern I'm using.  I got this several years ago from our LYS, which, sadly, is now out of business.  They used to give this pattern out for free if you purchased the yarn at their store.
Beginning Knitter's Basic Hat
Materials:  1 skein of yarn + scraps if you would like to add a stripe.  Light worsted weight (Cascade 220 is nice).
Instructions are for knitting on straight needles, but I like to knit them on circular needles so that I don't have to sew up a seam at the end.  If knitting on circs, start off with 80 or 84 stitches, depending on where you fit on the gauge spectrum.  Also, if knitting on circs, and adding stripes, there's a fantastic tutorial here for making jogless stripes!
Gauge:
4.5 sts = 1″ on #8 needle
Beginning at lower edge cast-on 82 sts.
Row 1 (WS):  P2, *K2, P2, repeat from * across.
Row 2(RS): K2, *P2, K2, repeat from * across.
Repeat last 2 rows until piece measures 1″ from cast-on, ending with a WS row.
On next RS row dec 2 st evenly across row.  80 sts remain.  Continue in st st until piece measures 6″ from cast-on edge, ending with a WS row.
To shape top of hat:
Row 1(RS): *K8, K2tog, repeat from * across.
Row 2 and all WS rows: P.
Row 3(RS): *K7, K2tog, repeat from * across.
Row 5(RS): *K6, K2tog, repeat from * across.
Row 7(RS): *K5, K2tog, repeat from * across.
Row 9(RS): *K4, K2tog, repeat from * across.
Row 11(RS): *K3, K2tog, repeat from * across.
Row 13(RS): *K2, K2tog, repeat from * across.
Row 15(RS): *K1, K2tog, repeat from * across.
Row 17(RS): K2tog across.
Cut yarn leaving a 20″ tail, thread through remaining stitches, pull tight and sew back seam.
Abbreviations:  dec-decrease, inc-increase, K-knit, P-purl, RS-right side, st st- stockinette stitch, sts stitches, tog-together, WS-wrong side.
It will be a few days before I can do my normal blog visiting, but if you're in the US, I hope you have a wonderful Thanksgiving.  (If you're traveling, travel safely!)  And if you're not, you should make a pumpkin or pecan pie just because they're so darn good!
XOXO,
Anna