… is the color cast by the shadows at dusk yesterday when I took this picture of all of our new snow.  Isn't it pretty?  I love the snow.  Too bad Mr. Spikey Haired Snowman didn't stick around…there could have been a Spikey Haired girlfriend in it for him.  (My yummy new snow needs an awesome Melly to adorn it with snow angels!)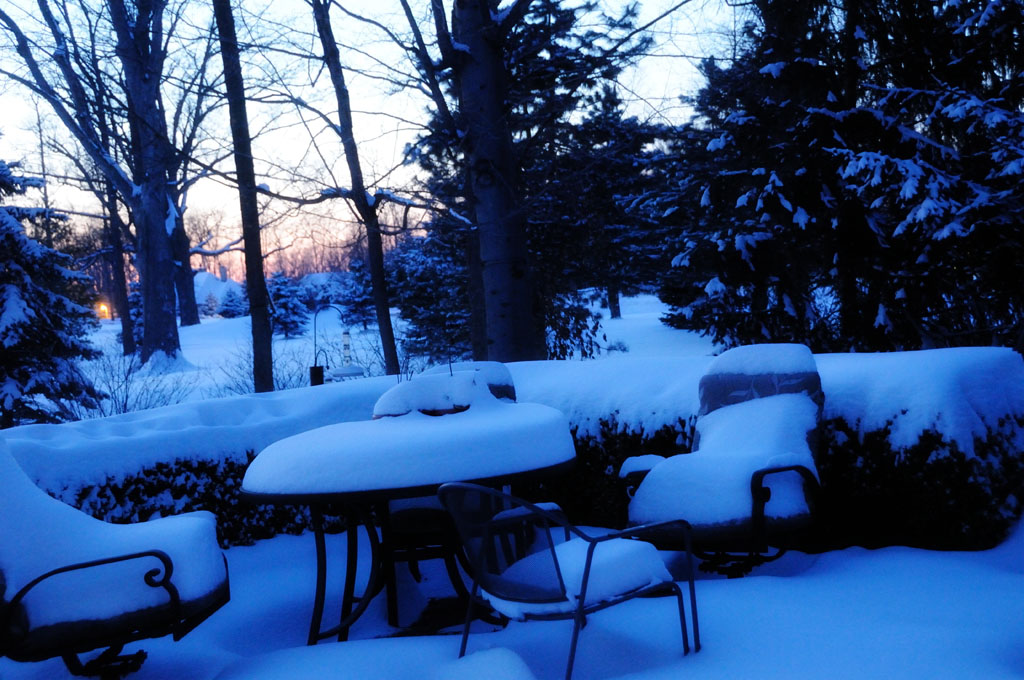 Blue is also the color of blueberries.  Or so they say.  I personally think they should be called purpleberries, 'cause they don't look very blue to me.  But whatever.  Diana is hosting a food challenge where each week they cook foods made from the 11 best foods you aren't eating.  This week's challenge is blueberries, so I thought I'd play along.  I haven't always been a fan of blueberries, but after I found out a few years ago that they are a superfood, I found a new appreciation for them.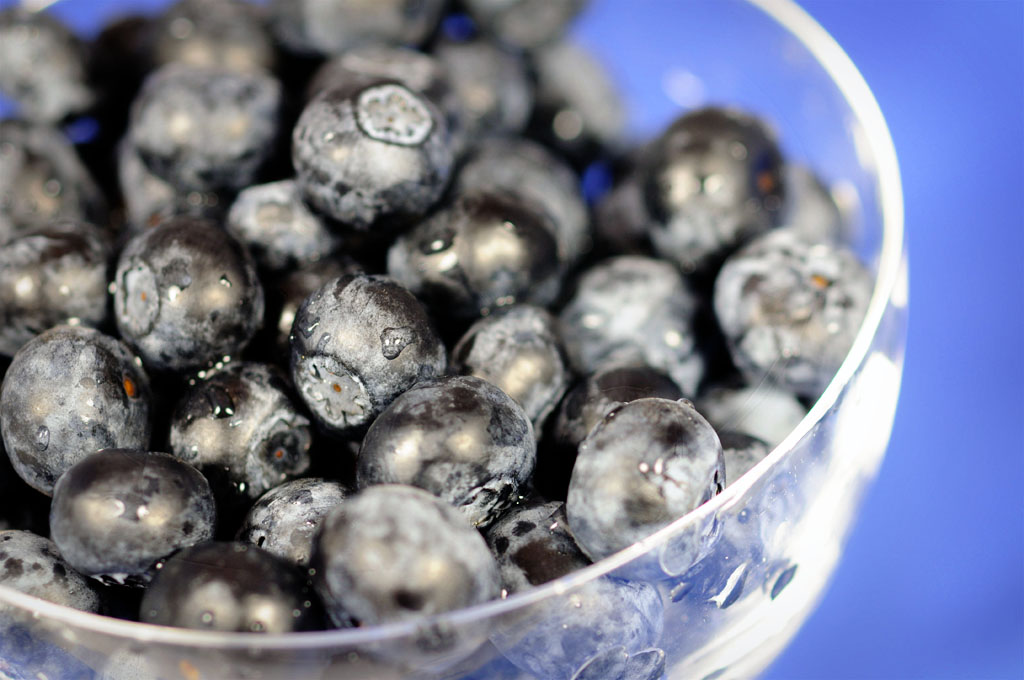 Oh, and just to get sidetracked here, while I was taking blueberry pictures, I decided I needed a plate with some blue on it to make my little blueberries look a little more…blue.  It reminded me of a story I've been meaning to tell you about these plates.  I realize a lot of people don't like blue, but do you like my pretty plates?  (The answer is yes, LOL.)
When MeMum and her sister were young and starting their families, my grandmother said to them, "If one of you will name a daughter after my mother, that baby will inherit my pretty blue china."  My aunt had a little girl first, but she passed on the offer (perhaps because her name is Ann, which might be confusing?) and being the next-born granddaughter, my great-grandmother's name became mine.   But, the sad thing is, when I was a little girl, my grandmother died in a house fire and most of the china was destroyed in the fire.  For many years, I only had a few place settings of that blue china, but one day, MeMum found Replacements.
The whole point of telling you this story is to tell you about Replacements.  Do you know about Replacements?  They are a fantastic company located in North Carolina and they specialize in replacing lost dinnerware (china, sterling, silver, etc.)  Over the years, MeMum has given me Christmas presents of replacement pieces of the blue china.  She found Replacements before we even knew what the internet was, and she used to place her orders over the phone.  They have incredible, helpful customer service.   The internet has made their service so cool — now you can search for your dinnerware pattern and see if they have any of it in stock.  And, the really cool thing is that once they know what patterns you're interested in, they generate lists of what they have available and mail them to you.  They've grown into an incredible service — their website says they have over 13 million pieces in their inventory and they even ship outside of the US.  They have a huge showroom too … one of these days I hope to visit.  (Note:  Replacements is NOT like going to the thrift shop.  It's a service for hard-to-find items and they aren't cheap!)
So.  File that little tidbit into your little tidbit file.  That could be the most valuable thing I'll ever tell you.  Someday, if not already, you're going to need Replacements.  Now, back to the blueberries…
Oddly enough, Diana mentioned my VERY favorite blueberry recipe in her posting with blueberry recipe ideas. It's Ina Garten's Blueberry Crumb Cake.  I'm pretty sure the healthy blueberries cancel out all the butter and sugar, so if you're dieting, don't worry.  I LOVE this recipe, and you already know how much I love Ina.  As much as I love Sawyer, when they tell me I can only take one person to that desert island, he's getting dumped and I'm taking Ina.
Because, look what she's done for my patisserie dome. Ina's little blueberry crumb cake completes my patisserie dome.  Have a great weekend — and for a complete one, make this blueberry crumb cake!
XOXO,
Anna