Well, how's the weekend going?  It's slow and lovely here.  I was off of work yesterday and it Rained.  All.  Day.  It was a beautiful, steady downpour — just perfect for quilting or knitting.  I spent the day holed up in the dungeon sewing and came up for air long enough to take a few pictures of the raindrops on our pretty Rose of Sharon.
It seems to be slow out there in blogland too.  I'm sad to see more blogs being lost to twitter and facebook, which are just too busy for me.  I'm much happier with the slower pace of blogs.  Oh well, it's good to have so many choices, right?
Since my sewing wasn't productive enough to have any show and tell, it's time for a recipe.  My little recipe section provides me with a repository of recipes I don't want to lose.  I have a stack of recipe clippings that need to be cleaned out (which pales by comparison to MeMum's I might add), and it's much easier to find them if they're on the internet.  More than once, I've been in the kitchen and pulled up a recipe on my blackberry — very convenient!   So — here's a recipe for Corn and Blueberry Salsa.  MyDadLovesMeBestSister brought it to our last family get-together and we all loved it.
Corn and Blueberry Salsa
1 1/2 c. cooked and cooled fresh or frozen yellow corn kernels
1/3 cup chopped red sweet pepper
1/4 cup snipped fresh chives or thinly sliced green onions
3 tablespoons thinly sliced fresh basil
2 tablespoons pure maple syrup
2 tablespoons lemon juice
1/4 teaspoons salt
1 1/2 cup fresh blueberries
Combine corn, sweet pepper, chives, basil, maple, syrup, lemon juice and salt. Add blueberries and toss gently to combine.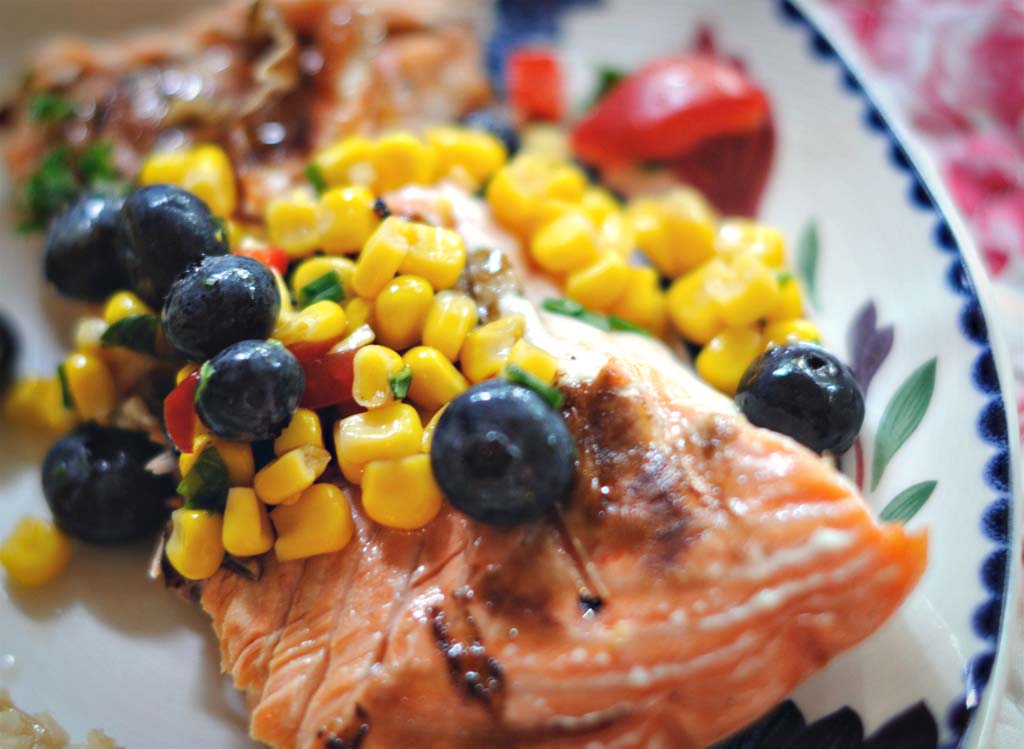 Easy Peasy.  We enjoyed this salsa over grilled salmon (apologies to you non-fish lovers), but I'm sure there are many other ways you might like it.   Happy Weekend!
XOXO,
Anna