Yay!  We're more than half-way through the week.  Even more important, we're at October.  Holy Cow!  September flashed by in a blur.  Fall has definitely arrived here and we're expecting our first frost tonight.  I can hardly wait to break out the hot chocolate!
Once again, I've been BlogLucky!  A few weeks ago Ms. YellowBeachDog had a blog giveaway.  I left a comment but left strict instructions NOT to be included in the giveaway — it was right after my latest rash of winnings and I told her I didn't want to be a hog about it.  Mary Jane promptly ignored a direct order and drew my name out of the pot to win this pretty LuLu yellow bag.  Thank you so much Mary Jane — I love the pretty color and the bright happy stars.  It's such a sunny bag and I'll definitely think of you and California when I use it!
Before my winning streak, I won a giveaway at Dutch Comfort.  I've been a fan of Nicolette's blog almost from the beginning of my blog life — back even when she had a different blog.  Look at the adorable bag Nicolette made!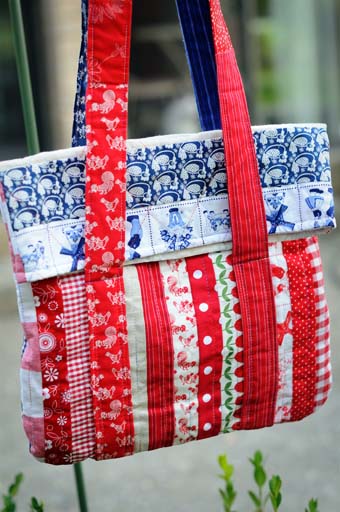 Nicolette also very kindly included three pieces of blue and white fabric.  Just perfect for me!  And look at that adorable dutch fabric!  When we were first married, we had the privilege of living in Germany for three years.  During that time, we were lucky enough to go to Holland twice.  We saw windmills, clogs, tulips and blue delft among other things.  All perfectly represented on this adorable fabric (and I just noticed when taking the pictures that the red side of the bag contains this same print).  Thank you, Thank you Nicolette — I just love it and I'll always think of you and our trips to Holland when I use this bag!
Now, it's been awhile since I shared links with you — here are a few sites I've been enjoying lately:
Felt.  I haven't really done any fun stuff with felt, but a few weeks ago, DottyCookie posted the cutest felt house with flowers that she'd made.  Then she included a link to Checkout Girl who is non-stop felty goodness.  AND, almost at the same time, Laura at Cupcakes for Clara posted THE CUTEst little felt family in a hoop.  I'm smitten by them all!
What would you do if you stepped on the subway in NYC and photographers had set up a photo studio to take your photo?  Would you run?  Switch cars?  Pose nicely?  Find out at Color Me Katie's Subway Yearbook Photos post.  Too Fun!
For those of you with little kids, have you ever heard of Rick Charette?  When our boys were little, Raffi was all the rage for fun songs to sing with children.  We preferred the lesser known Rick Charette.  I was thrilled to find that he has a website and you can get his music on cds (ha! we were back in the cassette era).  I have very fond memories of walking barefoot along dirt paths in Maine with MyDadLovesMeBestSister when the boys were 2 and 4 — and we were all singing Rick Charette songs at the top of our lungs.  You can listen to a few samples HERE.  Some favorites of ours were Alligator in the Elevator, Mud, I Hate to Clean My Room, and Eeenie Meenie Miney Mo, just to name a few.  They're wonderful songs, and I guarantee you can't listen to these songs very often without singing along!
Susan, of the very cool SweetPea site, has posted a spoonful of creativity every day during September.  Susan is an amazing illustrator, and now she's making the cutest little felted bears and mice ever!
Have you ever seen a dog open his own birthday present?  Kitty's cute little pup Danger (what a name!) does just that, and you can see it on the video at the end of THIS post.  That's one smart dog!
And finally…I've really been enjoying THIS site!
Happy October!
XOXO,
Anna