Holy Cow!  Can any of you explain where this month is going?  We're almost half-way through the month already.  How depressing — I have a bunch of Halloween projects I'd like to do and there's no way I'll get to them.  Maybe I should just throw in the towel and move on to C-C-C-nope, I just can't say it.  Sadly, I guess I'll just wrap some of those UFOs back up until next year.  I wish I could remember how many years I've  unpacked them, missed the deadline and then packed them back up.  ???  It's a sickness!
I meant to post last night but I was busy making a few Halloween snacks.  Our public school system has a voluntary tutoring program where they partner with local businesses that provide tutors.  Once a week they bus kids to our workplace and we have an hour to work with them.  Today was my day to bring snacks.
Fortunately, the awesome Rachel at OnePrettyThing posted these Rice Krispy Monster Cookies from Woman's Day last week.  I had started to wonder what I would bring for my snack day and when I saw these, I knew they were perfect.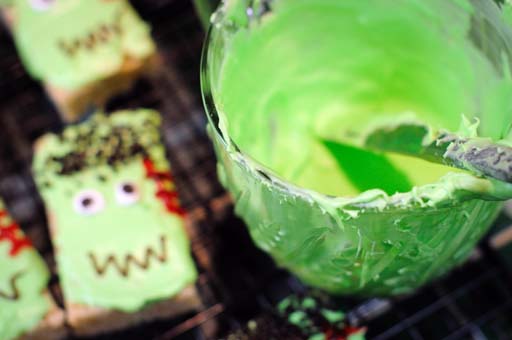 If you remember, I've mentioned here before that Rice Krispy snacks are one of my all time favorites.  And smear icing all over them?  H.E.A.V.E.N!  Mmm…mmmm.  They were yummy.
I have the cutest little guy for my study partner.  We always get our snacks right after the children arrive and then we study while we snack.  The snacks are usually healthy, but we agreed that once a month, we'd relax the rules a little and have something a little more fun.  It was really fun watching my little guy munch on his monster while he read me his homework about Christopher Columbus.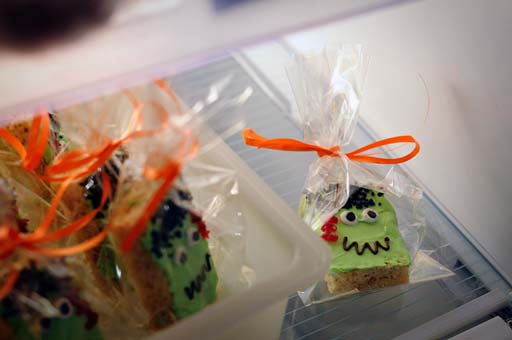 If you have a Halloween snack need this month, these are really fun and easy.  They're a little unruly though.  They squirm a lot when being stuffed into their little bags — you have to be careful … if you bump their scar, they bleed all over.  And we had one escapee.  I put them in the refrigerator last night and apparently he jumped out.  We found him tucked into the back of the fridge when we got home last night.  He only avoided his demise an extra few hours.  ;-)
XOXO,
Anna