Finally, I've managed to get the gingerbread houses together.  I've been a lazy bum this week — just hanging out and not doing much at all.  It seems like I've cleaned a lot, but you'd never know it by looking around here.
This year's competition was pretty tough.  The top players came prepared with a theme in mind, which made it really fun.  The good news is that everyone kept it clean this year (no strip bars or frat houses!)  The bad news is that everyone kept it clean this year — which translates to:  not as funny.  Everyone topped the creativity scales and had a really good time though, so it was all worth it!
TheManoftheHouse and I were the defending champions from last year and we came in Dead. Last. Not one vote.  It was fixed!  We didn't really have a plan, but when I saw the pretzels, I thought we should do a log cabin in honor of our pioneer ancestors.  And every log cabin has a clothesline outside, right?
My nephew brought a guest to the competition (a girl! – she had fun, she'd never made a gingerbread house before) and they made the Tinsel Town Theater.  You'll notice that Up is currently running on the marquis and there is plenty of popcorn and candy for all the people standing in the ticket line.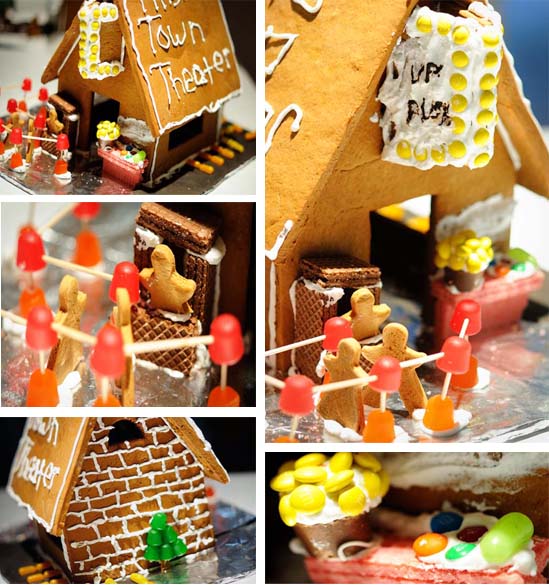 Between the next two houses, I can't remember who came in second and who came in third.  (I'm sure SweetiePie knows though!)   CrazyBIL and my youngest niece teamed together and created Santa's Sleighwash.   Check out the cupcake liner door flaps and the dirty sleigh going into the sleighwash and the clean sleigh coming out of the sleighwash.  So Clever!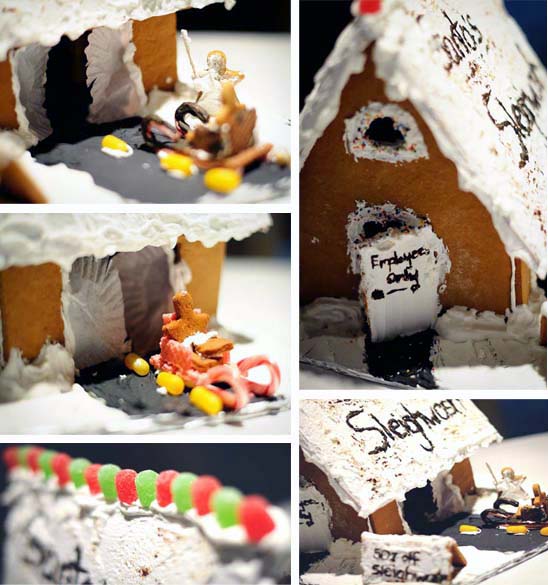 TheFirstChild and SweetiePie always have a theme and this year was no different (we've decided next year that the honeymoon is over and we're going to split them up.)  They made a Jump School to commemorate the fact that they went skydiving in August of this year (and lived to tell about it).  Oh So Cute!  Look at the little skydivers and the airplane.  And doesn't SweetiePie have pretty icing-writing?
And Tah-Dah!  The First Place winners this year were MyDadLovesMeBestSister, BigDaddy, my oldest niece and TheSecondChild. (Ha!  I'm thinking they won due to being the biggest team – I'm not bitter or anything LOL!)  MyDadLovesMeBestSister achieved her Master Gardener status this year, so to celebrate, they created a Garden Shed.   The flower pots and little candy trees on the front are enough to melt any voter.  Not to even mention the compost pile, butterflies on the left side of the house and the Koi Pond behind the house.   Congratulations Team Garden Shed!
I'm so proud of my little family.  When we first started decorating gingerbread houses years ago, they used to slap the frosting on the houses and make a big mess.  I love seeing how much thought and creativity they put into the houses now!
So.  On to the New Year!  I've bemoaned the fact that November and December flew by.  And 2009 too.  But to heck with that.  What happened to the last decade?
Wasn't it just yesterday that we were partying at the turn of the millennium???  As I look forward to 2010, I just have one big wish — I want time to Slow. Down.  That one big wish would facilitate all the little ones (more family time, quilting, knitting, reading, yadda, yadda).
And one other big wish for all of you — a Happy and Healthy 2010.  Happy New Year!!!
XOXO,
Anna