Man…can you believe we're at the end of February already?  Pretty amazing.  I see a lot of people writing about how sick they are of winter and they just want to see spring.  Not me.  I Love the snow.  I love being holed up at home working on projects.  Fortunately for me, winter is hanging on around here — we've had snow flurries all day.  Just like I like it.  I've been holed up working on the monogram quilt.  I'm making good progress, but I can't show you 'cause SweetiePie has informed me that she doesn't want to see it again until it's done.  She wants to be surprised.  I would have loved to completely surprise her, but I had to have her opinion on a few things, to be sure that I didn't take a wrong turn.
Anyway, I wish you lived next door.  I'd invite you to trudge through the snow for some tea and brownies.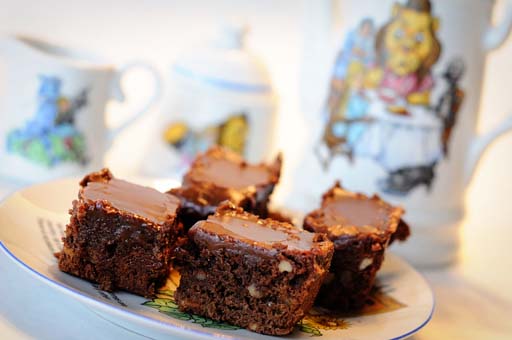 (Hey – wanna see my Wizard of Oz tea set?  There was an occasional little boy tea party when the boys were little, but it's been sitting around neglected since then.)
When I was little, my very favorite treat from the bakery was a brownie with icing on it.  Then, it seems that brownies with icing fell out of favor, or something, because they were harder to find.  For years, I searched for a recipe similar to those bakery brownies, but couldn't really find one.  When the boys were growing up, I would try a new recipe and then fall back to the old faithful brownie mixes.  It's really hard to beat a good brownie mix — they're nice and fudgey, just like I like them.
But a year or two ago, I found a recipe that I really like.  Fudgey, with nuts and with a good, chocolaty frosting.  I'll give you the recipe while you're here having tea with me, 'cause that's what we do — we swap recipes.
Frosted Brownies
Brownies:
1/2 cup shortening*
6 tablespoons unsweetened cocoa powder
2 tablespoons butter
3/4 cup sifted flour
1/2 teaspoon baking powder
1/2 teaspoon salt
2 medium eggs
1 cup sugar
1 teaspoon vanilla extract
1 cup broken pecans
In small saucepan, heat shortening, cocoa and butter until butter and shortening are completely melted. Mix well and set aside to cool.
In small mixing bowl, sift together flour, baking powder and salt. Set aside.
In large mixing bowl, beat eggs with an electric mixer until fluffy. Add sugar and mix to combine, then add cooled chocolate mixture and vanilla. Add sifted ingredients and mix well. Fold in pecans.
Pour batter into well greased 8×8 baking pan and bake at 350 degrees for 30 to 35 minutes.
Ten minutes before the brownies come out of the oven, prepare the
Frosting:
4 tablespoons butter
3 tablespoons milk
2 tablespoons unsweetened cocoa powder
2 cups powdered sugar
1/2 teaspoon vanilla extract
In small saucepan, heat the butter, milk, and cocoa until butter is melted and mixture is bubbly. Remove from heat, stir well and add powdered sugar.  Add vanilla and beat well.   If frosting is too thick to spread, add a little more milk.
Pour frosting on top of brownies while they are still hot from the oven. Cool completely in pan and then cut into 16 squares.
While you're waiting on the brownies to cool, scrape the frosting bits from the bowl, mix with a few rogue pecans and then suck them off of the spatula.  Come on … you know you want to!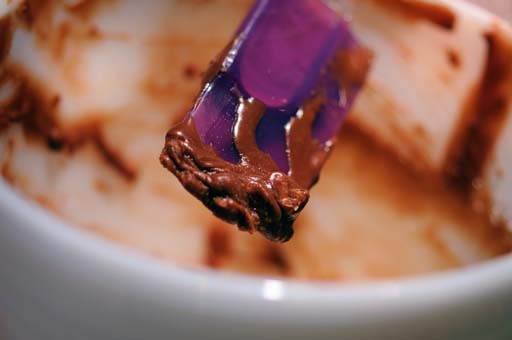 Ooops, I couldn't wait for you to get here, so I took a bite.  Sorry.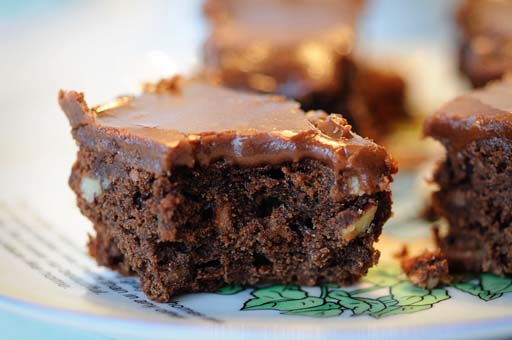 I probably should have asked before I made you these brownies…what's your brownie pleasure? Caky or Fudgy? Nuts or no nuts? Frosting or no frosting? Chocolate Chunks or no chocolate chunks? (If you're a chunky, no frosting, no nuts guest, next time I'll try to make you these yummy looking brownies that Anne just posted today!)
XOXO,
Anna
*I know that some of you are shortening-o-phobes 'cause it's not exactly healthy.  Here's my take on it … you'll probably live longer than me.  But those extra years aren't at the beginning of your life — they're at the end.  The end, when you're drooling and don't know your name.  In the meantime, I enjoyed these brownies during my shortened, happy life!  ;-P
(And please don't be mean to me and my shortened life in the comments — it's a joke!)