@Warning: Long Post Ahead@
The Twins. The *Gulls*. Jan and Kellie. It's so hard to know where to start with these two. Considering I only knew Kellie from blog reading for the last 3 years and I didn't know Jan at all, it could have all gone so wrong. But, instead, we got along so amazingly well and we had more fun than three invisible friends should be allowed to have. Kellie made me laugh non-stop and I adored Jan — we bonded as only ladies-in-waiting to the queen could!
I was amazed at how well The Twins functioned on almost no sleep. I picked them up from the airport at 7:30 in the morning and took them to the hotel to freshen up and take showers and maybe nap? But no, they wanted to power through and adjust to their new time zone. Fabric shopping priorities are international, so we went immediately to St. Croix County Dry Goods in Hudson, Wisconsin for a little fabric shopping. The *Gulls* do appear to be listing a little — I supposed it's understandable if you've been up for almost 40 hours.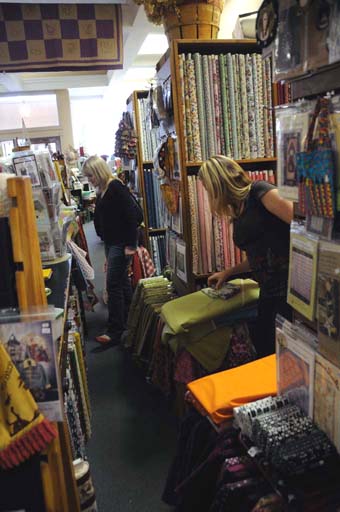 After this first day, the days sort of all ran together for me — I don't think we got any more than 5, maybe 6 hours of sleep any night, all week. On the evening of the first day or early the second morning *someone* let a teeny tiny little naughty word slip and the ice was broken. After that, we were constantly laughing and giggling. The *Gulls* proceeded to make fun of the odd things they saw (the water level in our toilets, our uni-colored currency, MY driving … the list is endless.) So, I defended myself in the only way I knew how….I made fun of the way they speak.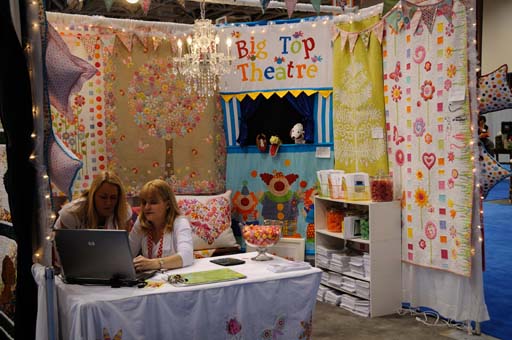 Apparently Australians don't speak English. I got a big kick out of watching people in the booth, as they adjusted their thinking to *AustrALian*. Here are a few clips:
"Kellie uses a *roar* edge applique method."   A What? As they look around the booth — are there lions in here?
"How you goin'?" Which, when spoken in the rapid fire AustrALian method, sounds like "Now you goin'?" I swear, I saw at least one lady step back out of the booth and question if it was time for her to leave. By the end of the show, I actually got Kellie to say "How are you doing?" instead.
"Here's our *PATun*". Your what?
And, not an interaction with customers, but while in the booth, my cell phone buzzed. I looked and it was Kellie calling me. She was standing right next to me, but her phone was in her hip pocket. "Kellie, you're butt dialing me" I said. "I'm *WHOT*"??? I had to explain the term butt dialing. An hour later, it happened again and it went to my voice mail, which was probably an expensive international call. Then, the next day, it happened again. I just looked at Kellie with my phone in my hand and said "Kellie", and she very innocently asked if she was butt dialing me again, except that she got the term "butt dialing" all wrong which sent us all into hysterical fits of laughter that lasted the rest of the week.
Maybe they were only speaking funny because I scared the bejeebus out of them with my driving? In my defense, we didn't have any accidents. And we were talking. Do you know how hard it is to concentrate on your driving with two quick speaking Aussies in the car? All my skills were being used in interpretation. All their skills were being used clutching the dashboard. I almost drove on the WRONG side of the road to put them at ease. One night, on the way to The Mall of America, I missed the exit, so I showed them how to get back on the right road without over-shooting the interchange and turning around. We rode the jughandle rollercoaster.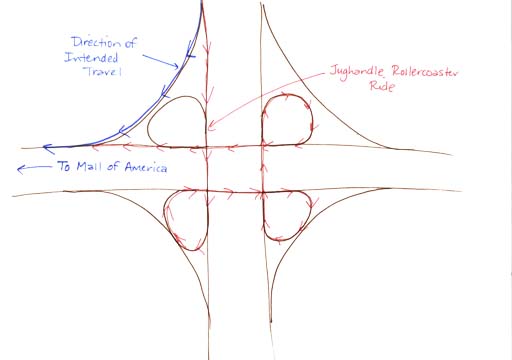 We were all laughing hysterically (hey, nervous laughter on their part counts, doesn't it?) I was just warming them up for the Mall of America rollercoasters. I was laughing so hard while we zipped around those loops that I had tears in my eyes!
But, by far, we had the most fun when we were shopping. We worked like dogs during the day, so our evening shopping excursions were our reward. The Twins were like kids in a candy store at JoAnn's.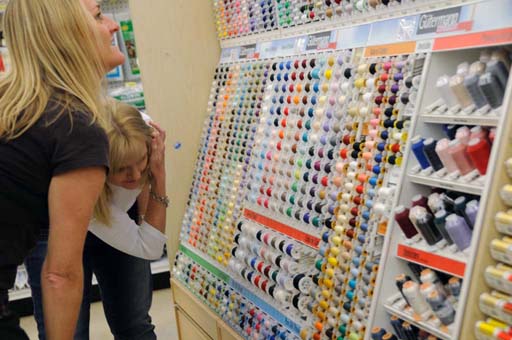 And Treadle was super fun too. Try and get your average American fabric clerk to convert feet to meters.
And Target. The downtown Minneapolis Target is awesome.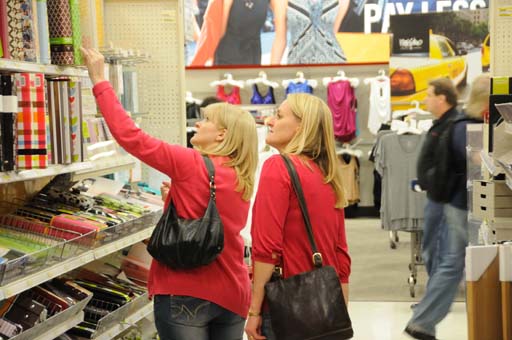 That's Kellie in the red cardigan and Jan in the green one. No need to adjust your monitors. Kellie insisted her hot pink cardigan was red, so Jan and I insisted that Jan's was green. It worked for us! Most of the time, I felt like a mother hen, keeping an eye on my straying peeps who never stood still.
We had SO very much fun. I wish you all could have been with us. Here's a picture of the Twins taking a picture of my feet on a big bear footstool at a Caribou coffee shop.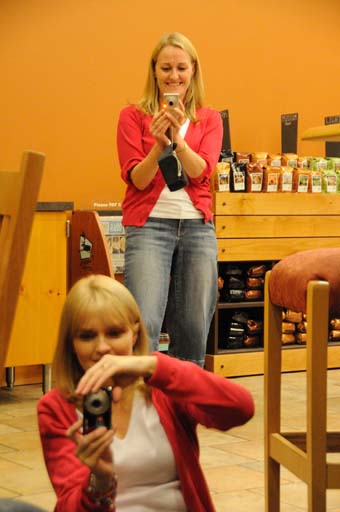 And my feet. My poor tired feet. We got kicked out of the coffee shop at closing time 'cause we were too tired to walk back to the hotel so we were just hanging out. (Sorry for the dark *Nick-on* camera pictures.)
I could write many more posts about these two. About the time when Kellie walked into the hotel revolving door the wrong direction and it chased her around until she exited. (Apparently, just like drains, they go in the opposite direction here?) Or the discovery that our hotel rooms don't have auto-flush toilets. OR the REALLY big discovery on the last day that those two don't prewash any fabrics. The SHOCK. The HORROR! To think that I spent a whole week with people from the wrong side of the washing machine!
I know you're horrified too, so I'll just leave you with a parting shot of the three of us in our cute booth uniforms. (I was too tall for the camera. ;-) ) By the end of the trip, I was starting to feel like one of the *Gulls*. And the last night, it was even confirmed, when we went straight from booth tear down to a restaurant and some goofball asked us if we coordinated our outfits (all white shirts and blue jeans). Smart Alec. If all went well, the Twins should be arriving back home about now. Thank you, Thank you *Gulls*,  for a fantastic time. If you two had half as much fun as I did, then I think the week was a success!
XOXO,
Anna