Apparently, I need to go on a fabric diet.  Yikes!  When I went into the dungeon yesterday, this is what I found: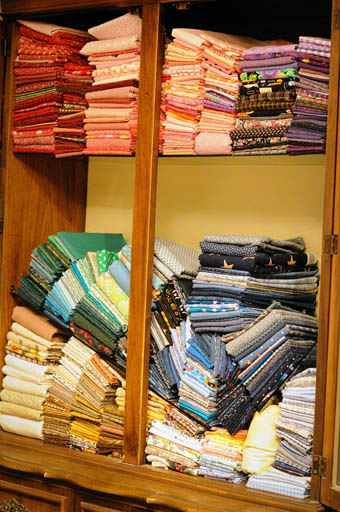 All of my older fabrics were neatly stacked in an old 60′s style china closet.  It has glass-front doors and I love it because it protects the fabrics from dust.  It has faithfully served my fabric collection all these years, but apparently, the new folding method that I instituted a few years ago allows for more fabric per shelf, and the poor shelf finally caved in.  Sooo sad.  ;-(
Not much else going on around here.  I've been pre-shrinking my City Weekend fat quarter pack from market and neatly folding it.  Fortunately, I hadn't planned on putting it in the china closet.
And I've discovered the Dollar Tree.  Those stores have always been so crowded that they gave me a headache.  A new (cleaner) one recently opened up here so I ventured in.  That pretty cherry blossom soap was only a dollar.  I'll definitely be going back — even if it's just for the soap!
Have a good week.  Things will definitely be picking up here by the weekend, so I might actually have something to talk about.
XOXO,
Anna