It's here! It's here!  It's Quilt Market Week! I'm so excited to go to market and see Kellie and Jan again — in the famous words of the Pretty Woman, "I could pee my pants"!  Our booth location promises to be really fun — sandwiched right between (and by between I mean front and back, not side by side) Anna Griffin and Ty Pennington.  (Did you guys know that Ty Pennington has a new line of fabrics out with Westminster???) I fly out tomorrow — hopefully — we have high wind warnings here. On the plus side, we had about 30 minutes of rain today. Weak, but we'll take it.
So, since I have nothing else for you, I thought I'd show some painted boxes for Ms. DottyCookie. A month ago Ms. Dotty posted about things she'd painted when she lived in the states and she showed a piece that was designed by Betty Caithness. I told Ms. Dotty that I love Betty and have painted several things of hers. Ms. Dotty asked to see them…so, here ya go….
This is the box that started my Betty Love. I adore nursery rhymes, fairy tales and children's stories, so when I saw the Humpty Dumpty box, I couldn't resist. I had to paint it.  It's hard to see, but the Humpty Dumpty nursery rhyme is painted around the black band on the side of the lid.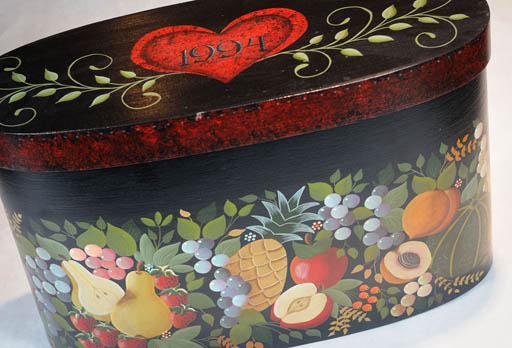 A fruit box that I painted long ago. I'm even sort of wondering if this is a Betty Box, but I think it is.
Another fruit box — can you see the bees?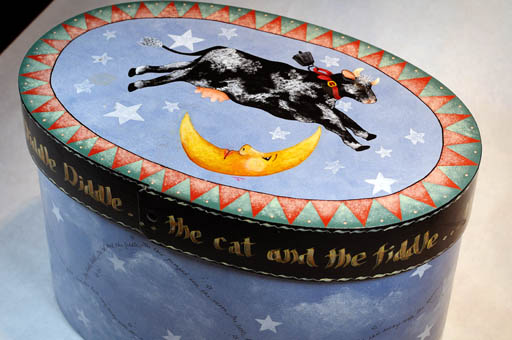 And this box isn't a Betty Box, but it's one that I did by altering someone's used-to-be-country-brown cow jumping over the moon. I painted this as a keepsake box for CuteNiece2 when she was born. I used Betty's style to paint the rhyme around the box band.
And then on the body of the box, I painted the sky with rambling words about my new little niece and more of the nursery rhyme.
Just like Ms. Dotty, I have an unfinished Betty country scene, but it's buried in the basement and I'm in a hurry tonight packing. Maybe I'll dig it out this winter and finish it!
If you're at quilt market this week, be sure to stop by the Don't Look Now booth and say hi to us!
XOXO,
Anna
P.S.  Thanks for all your patience with my comment problems.  Let that be a lesson to you — never never ever complain about blogger.  He will get together with his buddy wordpress and randomly shut off your comments!!!