Did all of you Americans have a nice Thanksgiving? I can't believe it's already come and gone. We had a really wonderful Thanksgiving this year. We had a LOT to be thankful for here in ThimbleannaLand. Not the least of which is that CuteNiece1 was with us. She had a pretty serious car accident the night before Thanksgiving and totalled her cute little Blueberry.
Poor, poor Blueberry. And lucky, lucky us. CuteNiece1 walked away with a few bruises and cuts and it was so lucky that no one was in the passenger seat, as there wasn't much left of it after the accident. Definitely a Thanksgiving that we'll remember!
We also discovered a few unwelcome guests on the day before Thanksgiving. We have a big tree in the backyard that is looking a little poorly, so we called in the tree expert.
It's very grave, indeed. It seems that we're now hosting the famed Emerald Ash Borer. We'd heard about the EAB a few years ago when it was first found in Michigan. Back then, there was a lot of talk that wherever the EAB was discovered, people would be required to cut down their ash trees within a few miles, in order to try to stop the spread of the EAB. They must've decided that was too expensive though 'cause we never heard much more about it. And it's too late now. ;-(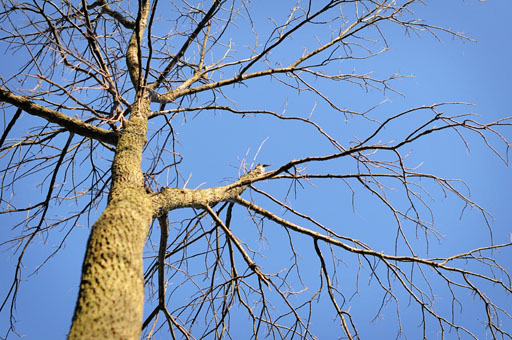 Mr. Tree expert showed us 7 or 8 other big ash trees on our lot. Our sickly tree will come out this week (it's too close to the house to do anything else) and the other ones will eventually die too. I hate having to cut down our trees!  This is a serious infestation, and sadly, if you're in the eastern US, those little critters are probably coming to a tree near you soon. 
So hey — notice how I'm totally avoiding the big event coming up? It's a strategy!
XOXO,
Anna