Thank you so much for all of your great comments about the laundry basket liner.  It was a really fun project to make — and it was lots of fun to be on Moda Bakeshop!
My other fun project for January has been the January Photo Scavenger Hunt, hosted by Kathy.  I had a great time taking my photos, so here they are…
Abandoned Building: I know this one doesn't exactly look abandoned, but it is.  The inside of this fairly new house burned out 2 or 3 years ago and the insurance company, mortgage company, owners and who-knows-who-else have been stuck in legal wranglings since then.  Rumor has it that the battle is near the end and the house will be demolished.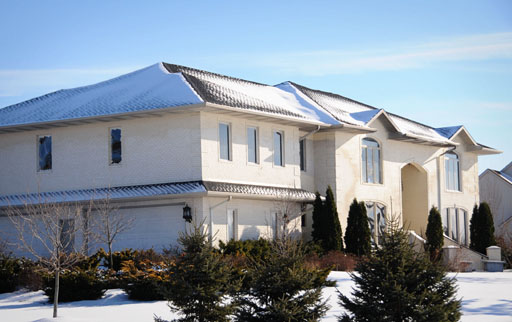 Stained Glass Window: Whaaaat????    This restaurant/chain just opened up in our area in December.  I was in great hopes that the "kilt" in the title meant that there would be a plethora of men in kilts.  Sadly, not the case, but at least the food isn't half bad.
Goldfish: At Walmart.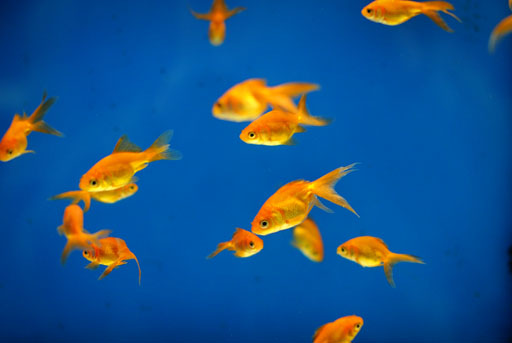 Yarn: Boy, that was a tough one in this house.  ;-)
Playground Equipment: SweetiePie and I found an old little merry-go-round while goofing off at a salvage place one day.
Library: The children's section at our library.  (The library was a fun place to take book pictures!)
Tombstone over 100 Years Old: Thanks to Jenny, I knew where to go and look for a tombstone this old.  I'm always fascinated by childrens' tombstones.  These were from two little girls in the same family — born about three years apart and both about three years old when they died.  You can't see it in the photo, but their names are carved across the tops of the stones.   I didn't notice one name, but the other one was Nellie.  There must be a very sad story there.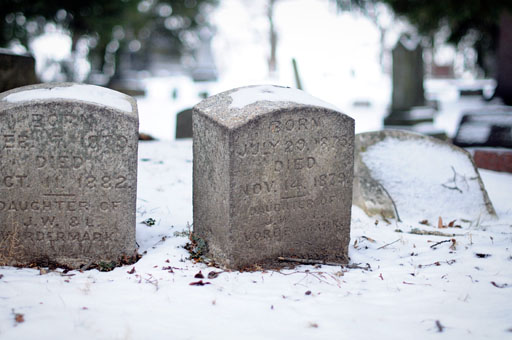 My Front Door: Icky picture.
Reflective Surface … not a mirror: A window on our house, reflecting a house across the street.
Something Out of Place: Bike rack, anyone?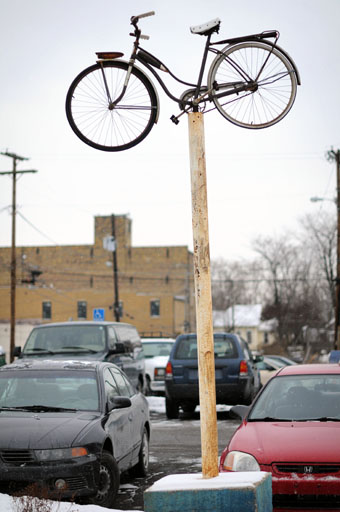 Nature: A squirrel having a winter snack.  MeMum told me the other day that she watches the squirrels out of her window and she's always amazed that they know where they buried their nuts.  They dig in the snow and they always come up with a little something to munch on.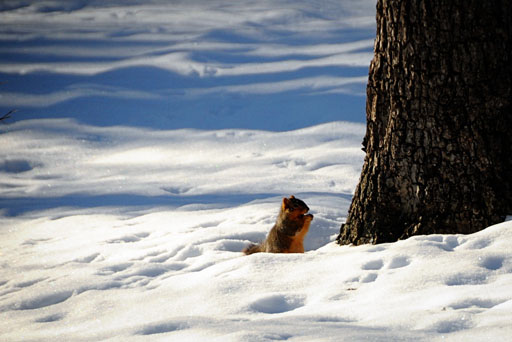 Bubbles: When I grow up, I'll learn how to take fantastic pictures like Kitty Wrinkle (I mean, holy cow…check out this one — I LOVE that shot!)  Until then, a whisk making bubbles in the sink will have to do.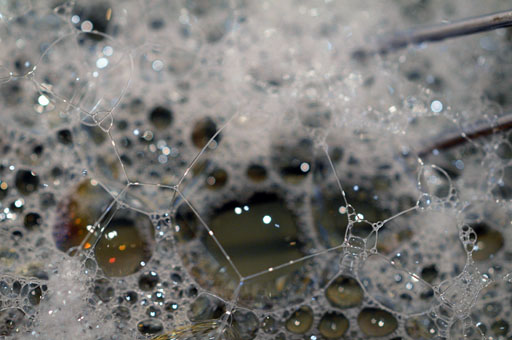 And that's it!  I can't wait for the February challenge!  Thanks Kathy for hosting, and Lisa for telling me about the challenge in the first place!
XOXO,
Anna
Oh, and btw…
HAPPY HAPPY BIRTHDAY DEAR BRIGITTE!!!!