I hope you had a wonderful weekend! We had a nice, quiet Easter dinner with the family, minus the boys and SweetiePie who couldn't make it home.  Boohoo. MyDadLovesMeBestSister outdid herself again as hostess and everything was wonderful.  MeMum made a delicious ham and a corn casserole.  MDLMBS made scalloped potatoes, carrot puff, broccoli salad, fruit salad and a carrot salad.  Yum, Yum.
I made dinner rolls (which I love, but here's a tip — don't try to transport them just before they're set to go into the oven — they'll fall!) and  Ms. Humble's Lemon Marscapone Cream Cake.  The cake was super fun to make –  time consuming, but not nearly as intimidating as it sounds and it was pretty tasty. It's definitely a European style cake though — not a fluffy American style cake.  I would make it again, but, TheManoftheHouse is an American style cake guy, so I don't think he was as excited about it as moi.
As I mentioned in my last post, I'm getting really excited about market.  A few weeks ago, I stumbled upon the Sarah Jane Studios blog and she mentioned that she has a new line of fabric that will debut at market.  Her illustrations are just gorgeous, so I'm super excited to see the fabric.  If it's anything like her art, I'm thinking it will be The Pips on steroids!!!
And one last thing, you're familiar with Despair.com, aren't you?  Here in ThimbleannaLand, we've loved their funny posters for years (probably 15?) — the procrastination poster is our all-time family favorite.  Anyway, here's a knockoff poster for all of my friends who have recently suffered with the Verizon (or whatever they're calling themselves now) shenanigans (Warning:  If bad words offend you, Look Away!)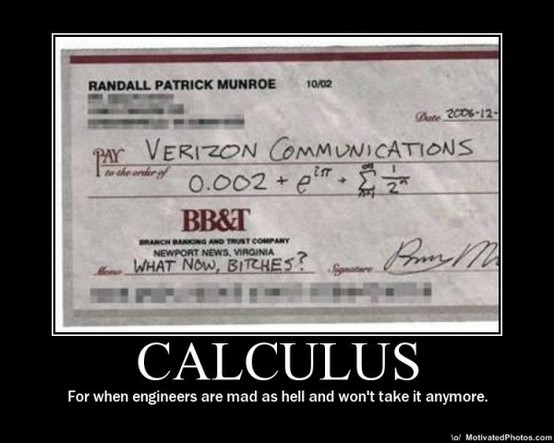 Ok boys and girls — off to bed!
XOXO,
Anna
Edited to add:  Oops!  I should note that the Verizon complaints were from home Verizon users who had their rates raised unexpectedly.  We have Verizon Wireless and love them!