Lucky for you, this is my last market report — my apologies to those of you who are sick of hearing about market.  I thought you might like to see a little of the fabric side of market.  Before the fabric report though, I wanted to clarify my comments about the butt-ugly car from my last post.  I had a comment from Deb, saying how much they love their Cube.  The Gulls and I actually loved the Cube too.  It's zippy, gets great gas mileage and has a ton of room inside.  It was awesome for hauling around all the market stuff.  We just thought it was a little funny looking, thus the nickname LOL!
So, now, for fabric.  I had two fabric "missions" for market.  I REALLY wanted to see Sarah Jane's new line of fabric, and I did.  It's just adorable, and it's moved to the top of my wanty list.  If there had been Sarah Jane fat quarter bundles at sample spree, I would have bought them.  I love that cute little hopscotch print.
My other mission was to see the new Ghastlies print.  I managed to make it to the Alexander Henry booth on the last day of market and I asked about the Ghastlies.  They're reissuing all of the old prints and there's a new print that's super cute.  It's a lot like the main print from the first line — there are several groupings of Ghastlie people doing different things.  And to tell you the truth, I can't remember what any of them were doing 'cause I only had eyes for one little group of women.  They were knitting.  Ghastlie Women (Witches? I can't remember, all I could see was the knitting) Knitting!!!  I can't wait until they start shipping! (Sorry, I didn't even get a picture.)
As for any other fabric, I went to Sample Spree intending to be well-behaved and not really get anything.  And then someone walked by with the Moda Market bag.  If you buy something worth $20 dollars from the Moda table, you get a free market bag.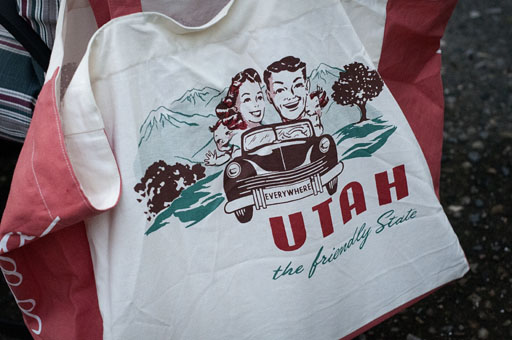 I mean, c'mon!  How could a girl originally from Utah be expected to pass THIS up?  I. Had. to. Have. It!  So, I slipped in between the wild crowd and grabbed the easiest pack of fat quarters that I could get, just to get the bag.  Such a sacrifice, huh?  Ruby — isn't she pretty???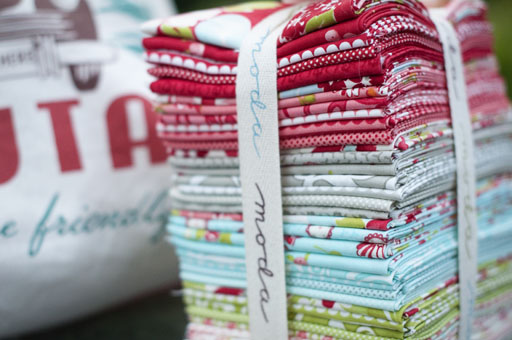 And ok, I slipped up and bought another fabric pack.  I couldn't resist Monica's Mochi Mochi Yum Yum.  The poster on Pinterest sucked me in.
So, that's the end of market reporting from here.  Oh how I wish we could do it all again!
XOXO,
Anna