And just like that, it's gone. The Summer of 2011 is just a blur. According to my archives, with the exception of a few visits with the kids, it wasn't a particularly memorable summer here in ThimbleannaLand. It whizzed by in a cloud of more work than play. I want a do-over! More cook-outs and time to enjoy the flowers and fresh air. The only thing that makes fall's arrival so soon, even remotely bearable, is this: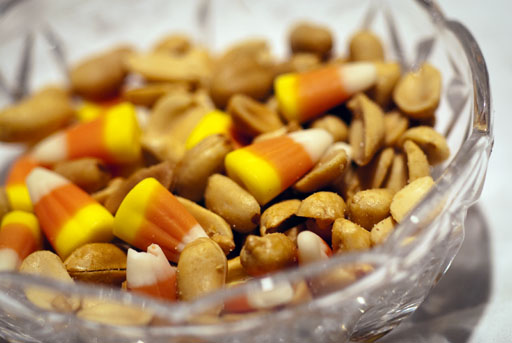 It's candy corn season! I luuuuuuvvvv the sweet salty taste of candy corn mixed with peanuts. I know a lot of you outside of the US can't get candy corn. I think you should call/write/lobby your authorities and demand Candy Corn Equality! You deserve to share the candy Love!!!
Did you all have a nice weekend? It was a three-day-er here and it was a tad bit more stressful than I'd like. That's ok though — the previous weekend was super fun, so now we're weekend-even. I did manage to sneak in a little sewing. I really wanted to work on the Children blocks but I decided that the UFO that screams the loudest will get my attention. And since my Bliss blocks were spread out all over the basement, they won.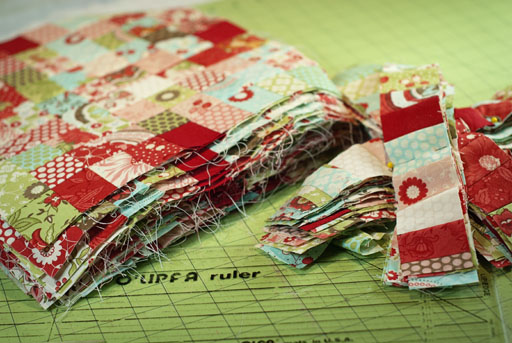 I eeked out about 10 more blocks and have 10 more set up to be put together. It's slow going, but I'm really enjoying it.
One last thing. Julie and I were talking about glass jars being used as cupcake liner holders. She mentioned that she hadn't seen the cookie jar idea so I sent her the link. In case any of you also haven't seen that idea, I took a picture of my cookie jar cupcake liner holder (that's a mouthful!)
I love it. My cupcake liners used to be crammed into a box and it wasn't pretty. Now it's pretty!
Now, go forth and have a good week. Fall is on it's way!
XOXO,
Anna