September 6, 2011 on 9:00 pm | In
Chat
|
50 Comments
And just like that, it's gone. The Summer of 2011 is just a blur. According to my archives, with the exception of a few visits with the kids, it wasn't a particularly memorable summer here in ThimbleannaLand. It whizzed by in a cloud of more work than play. I want a do-over! More cook-outs and time to enjoy the flowers and fresh air. The only thing that makes fall's arrival so soon, even remotely bearable, is this: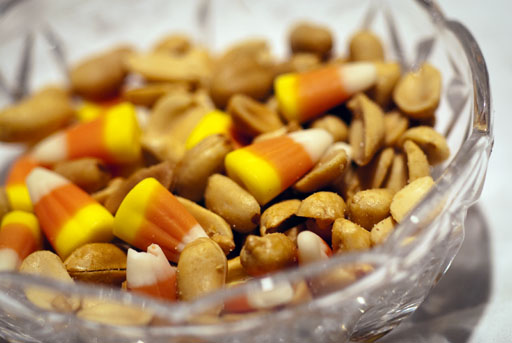 It's candy corn season! I luuuuuuvvvv the sweet salty taste of candy corn mixed with peanuts. I know a lot of you outside of the US can't get candy corn. I think you should call/write/lobby your authorities and demand Candy Corn Equality! You deserve to share the candy Love!!!
Did you all have a nice weekend? It was a three-day-er here and it was a tad bit more stressful than I'd like. That's ok though — the previous weekend was super fun, so now we're weekend-even. I did manage to sneak in a little sewing. I really wanted to work on the Children blocks but I decided that the UFO that screams the loudest will get my attention. And since my Bliss blocks were spread out all over the basement, they won.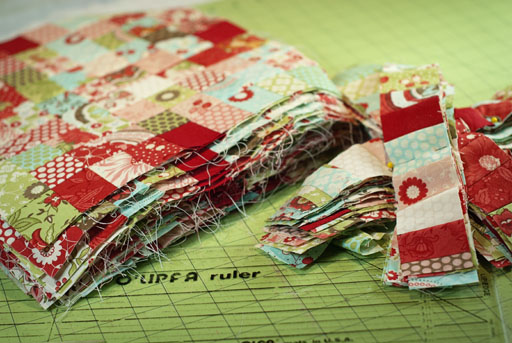 I eeked out about 10 more blocks and have 10 more set up to be put together. It's slow going, but I'm really enjoying it.
One last thing. Julie and I were talking about glass jars being used as cupcake liner holders. She mentioned that she hadn't seen the cookie jar idea so I sent her the link. In case any of you also haven't seen that idea, I took a picture of my cookie jar cupcake liner holder (that's a mouthful!)
I love it. My cupcake liners used to be crammed into a box and it wasn't pretty. Now it's pretty!
Now, go forth and have a good week. Fall is on it's way!
XOXO,
Anna
September 1, 2011 on 8:15 pm | In
Photo Challenge
|
38 Comments
I'm blaming all the kitchen work this summer for the fact that I missed the July Scavenger Hunt. For awhile, I was just going to post it late, but I finally decided to throw in the towel and skip right to the August Scavenger Hunt.  Thanks to Kathy, as always, for hosting.  When I first saw this list I was afraid I was going to have a hard time, but the trip to see the kids last weekend saved my hide!
A Boat.  On the canal in Indianapolis.  See?  I told you it was like Venice!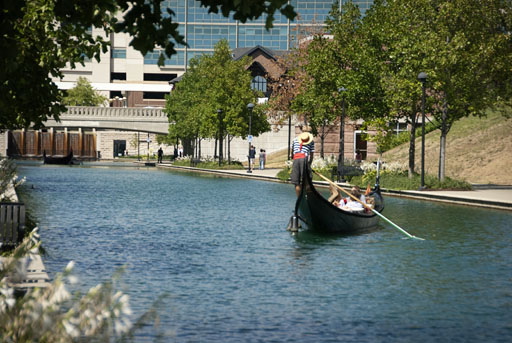 A Festival or Fair.  This year's ill-fated Indiana State Fair.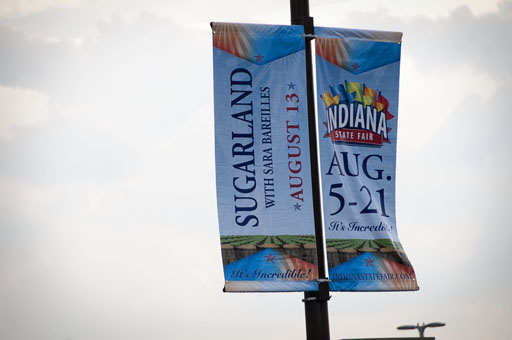 A Fountain.  I had a shot of a fountain along the canal, but on the bike ride back home, SweetiePie pointed out this cute little elephant fountain in someone's beautiful garden.
A Picnic.  We had a late breakfast before our bike ride, so we just had a snack picnic.  Cracker Jacks mandatory.
A Sport.  Hey. Knitting is TOO a sport!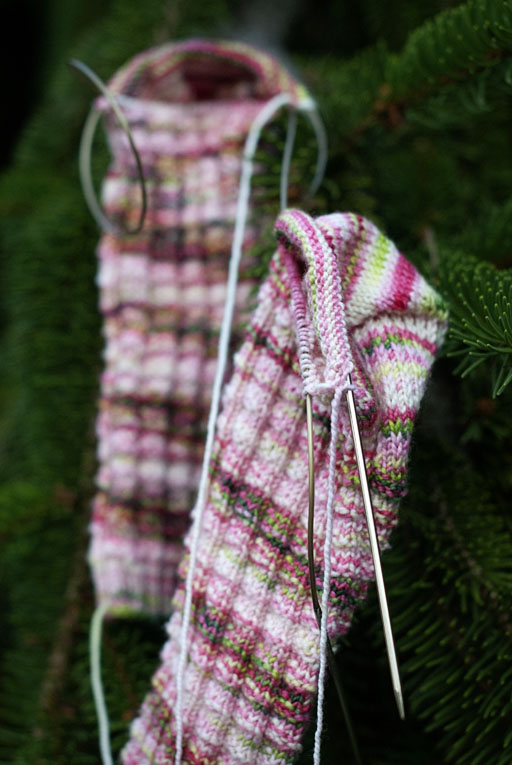 Bread.  I bought those thin bagels to try with the Biscoff spread last week and they were awful.  I put them in the trees for the squirrels to munch on.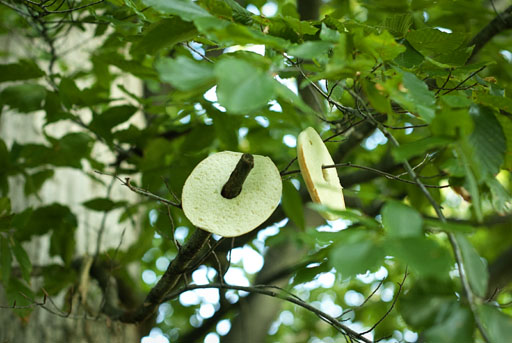 Fabric.  Something we have lots of around here.  I thought this pile of scraps from The Children were very appropriate since their arrival this month caused such excitement here in ThimbleannaLand.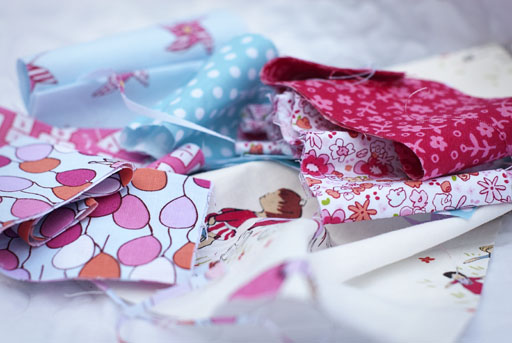 A Market.  Fresh.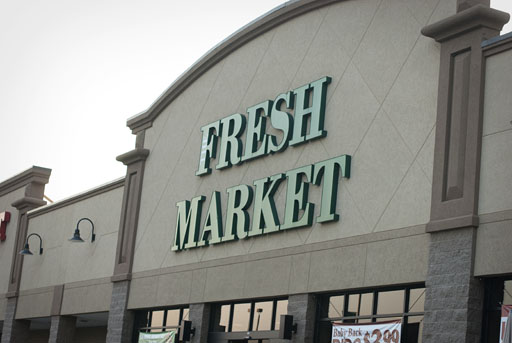 Mountains.  Oh please.  We're not the flat-as-a-pancake plain states, but we might as well be.  I thought about cheating and using one of my mountain pictures from Spring Market, but I try to take the pictures during the specified month.  So, how 'bout mountains of buttons?  This was the cute display in Crimson Tate, the cute new quilt shop in Indianapolis.  I love that they're in a gumball machine!
Something Ancient.  I think we're too new of a country to have anything that I'd consider really ancient.  But I thought this old coca cola bottling company building across the street from Crimson Tate looked pretty cool.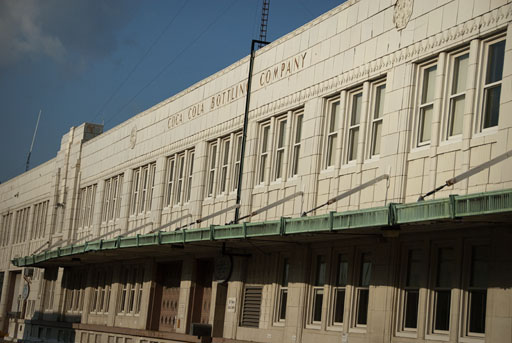 Something Bizarre.  This is three pictures of the same sign on Mass Ave. in Indianapolis.  We call her the Sexy Lady.  She's constantly moving and she dances back and forth, back and forth, all day and night long.  She looks pretty cool at night.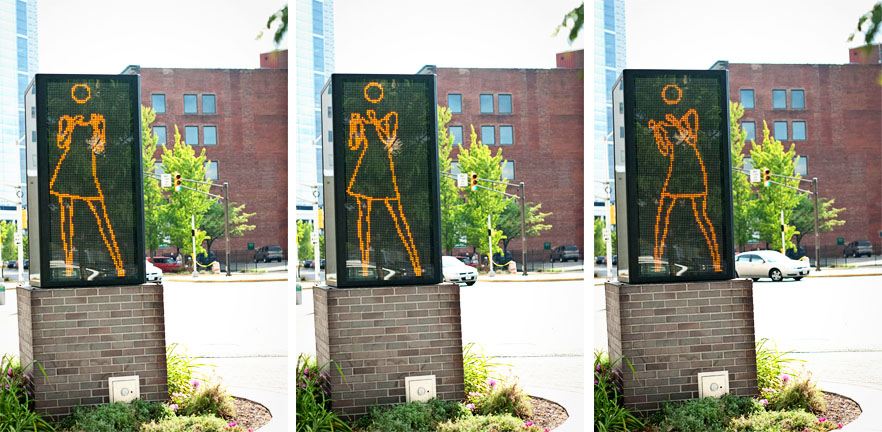 Street Food.  An ice cream vendor along the canal.  (Taken by SweetiePie — thanks SweetiePie!)
So, that's it.  I'm SO ready for the weekend.  We've had a terribly stressful week at work.  We had layoffs again this week and one of my favorite friends got hit.  We'll just say there were tears today as he said his goodbyes.  Our former pod of seven is now down to three.  When our little twin mother is out on maternity leave, the other remaining guy and I are going to put up tiki torches and see who gets voted off the island next.  (Sorry, all we have left is stupid jokes.  Stupid layoffs.)
Have a great weekend — and in the US, a Long Weekend — Yipee!!!
XOXO,
Anna
« Previous Page
Thanks for stopping by!