It's tiiii-iiiime! It's fall quilt market time and I'm almost ready to go. Kellie is already in Houston — I spoke with her this morning and it was so fun to hear that Australian accent again — I can't wait to get there. I'm really sad that Jan won't be joining us this fall — but she has a fabulous excuse. She and her family are in London for a few months! Lucky Ducks! That means Kellie will be bringing us a new Australian partner, so it's all very exciting. There will be a full report when I get back. ;-D
I'm leaving tomorrow, and as usual, I won't blog while I'm at market. Instead, it's been awhile since we've played recipe roulette, so I'll leave you with one of my favorite recipes. I got this recipe several years ago from a friend in my old book group and it's delicious. Since it's fall, you could just as easily substitute apples for the peaches. And don't worry about the sugar and butter — it has blueberries and pecans (superfoods) so they cancel each other out (ha!).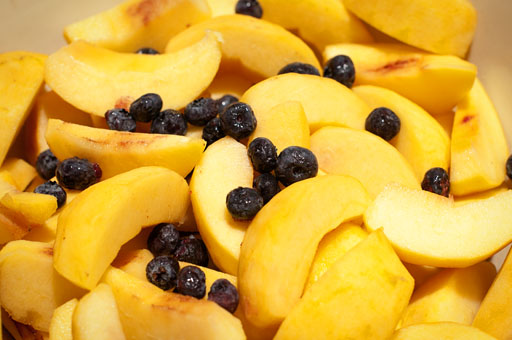 Peach and Blueberry Crisp
Topping:
3/4 c. firmly packed brown sugar
3/4 c. all purpose flour
1/2 c. (1 stick) butter, cut into pieces
1 c. old fashioned oats
3/4 c. chopped toasted pecans
Fruit:
6 tablespoons sugar
3 tablespoons all purpose flour
1/2 teaspoon ground cinnamon
1/8 teaspoon ground nutmeg
3 1/2 lbs. peaches, peeled and cut into wedges
1 1-pint basket blueberries or 2 1/2 cups frozen, thawed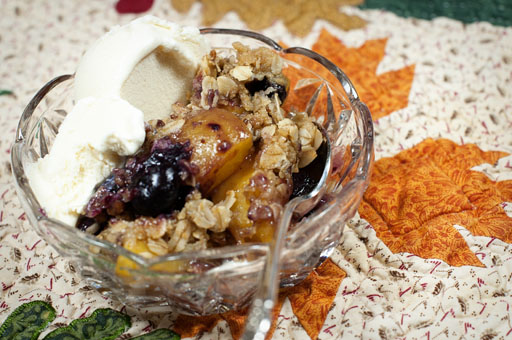 For Topping:
Preheat oven to 350 degrees F. Butter 9 x 13 glass baking dish. Mix sugar and flour in medium bowl. Add butter and rub with fingertips until mixture resembles coarse crumbs. Mix in oats and pecans. (Can be prepared 1 day ahead — cover and refrigerate.)
For Fruit:
Mix sugar, flour, cinnamon, and nutmeg in a large bowl. Add peaches and blueberries and toss to coat. Transfer fruit to prepared dish. Sprinkle topping over the top of the fruit. Bake until topping browns and filling bubbles, about 45 minutes. Cool. Serve with ice cream.
Enjoy! Be good while I'm gone, and I'll see you on the other side!
XOXO,
Anna
Edited to add:  Ohmygosh!  I totally forgot to mention — if you're going to be anywhere near Lehi, Utah on November 18th and 19th, you should check out Pamela's Cool Quilt Retreat!  She'll hook you up with food and all the necessities — you can spend all your time SEWING!  You Utah girls get ALL the fun!!!