A month or two ago, my long-time blog friend Jody posted some cute Cath Kidston shoes on Pinterest.  "Ooooh, those are cute" I thought to myself.  And then I clicked through to the Cath Kidston site thinking it might be fun to have a little look around.  Oh. So. Naughty.  For I had a weak moment and clicked all the way through to the shopping cart and ended up with these little tennies.  (Not the same ones that Jody originally pinned, but I felt the darker color would be safer for picking up dirt.)
They're terribly comfy, but now I have a dilemma.  Nothing to go with them.  I plan on wearing them with jeans, but clearly, I'll need a top that coordinates.  I thought a little check or gingham might look cute, so I went to my stash to try a few things out.  I do love the red gingham.
But the pink is cute too.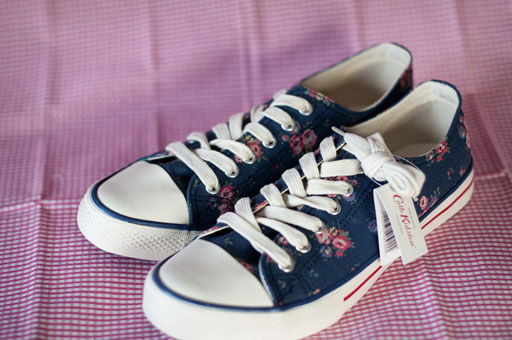 Or maybe my aqua gingham?
The aqua gingham is from my Children at Play stash and I discovered that most of my "children" fabrics would possibly work too.  The meadow….
Or dots.  I have several dots.  Red…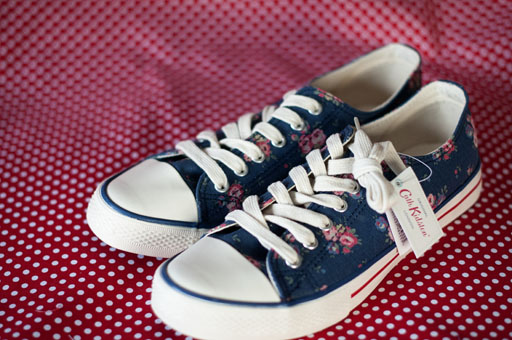 Aqua….
Or pink on pink.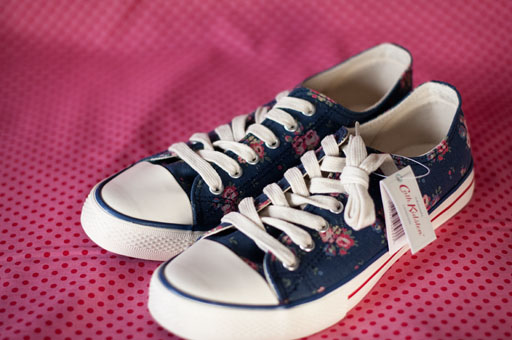 I even like the pink in the hopscotch print with the pink in the roses.
Decisions, decisions.  It's going to be a VERY tough choice — but a good problem to have, don't you think?
In other news, it's a fun weekend here in ThimbleannaLand.  Yesterday was MyDadLovesMeBestSister's birthday.  (Happy Birthday Weinerhead!)  She's 29.  Again.  We had a little get-together for her last night (not quite as exciting as this birthday) — look at the beautiful Italian Cream Cake that MeMum made for a surprise!
Yum Yum Yummy!  And, to add to the excitement, TheFirstChild has surprised us with a weekend visit.  So…I'm outta here!  Have a great weekend!
XOXO,
Anna