Hot enough for ya? I know you ladies down under are jealous of our Hotter than Hades temps here in the midwest USA. 105F (40.5C) is probably just a cake walk for you guys, but dang — it's Hot! In our ~25 years of living here, I don't remember a temp this high. Close, but not 105. I feel a case of the vapors coming on!
Blogging must go on though, so, I've braved the heat and taken a few pics of the Children. The quilt top is finally put together. I stayed in the shade — thus the mottled light and the green grass.
The big stars are 8″ blocks and the little stars measure about 3″ wide.  I debated whether to put a border on the quilt — you don't see a lot of borders being used with more modern quilts these days.  But, my first love in this fabric collection is that little hopscotch print and I really wanted bigger pieces of it — thus, the border.
This quilt top is baby quilt size — roughly 49″ x 58″.  Don't be getting any ideas about babies around here though, the only baby around to enjoy this quilt is BabyDoll.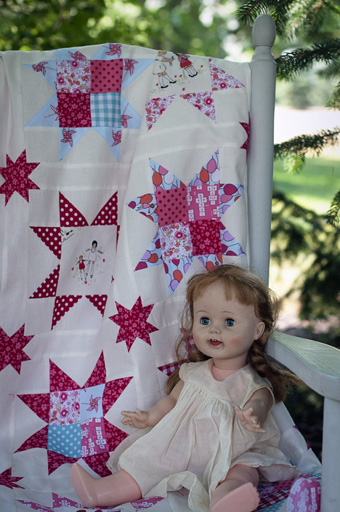 She's wearing her muslin slip to beat the heat.  (She's also wearing her muslin slip 'cause I can't remember where her clothes are — Bad Mommy!)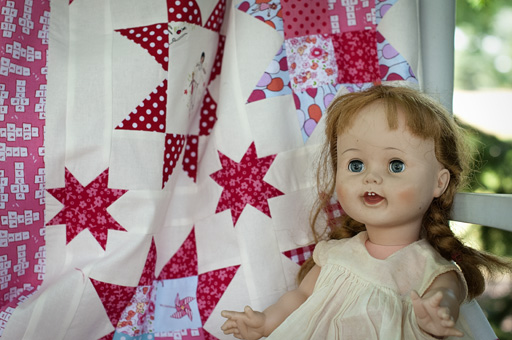 I've decided not to quilt this top now.  The quilting will depend upon the intended recipient, and for now, that is unknown.  So, Children at Play will be the inaugural quilt top in the baby quilt top stash.  I'm sorry, it had to happen.  I love this fabric so much and I just had to play.
(BabyDoll is comparing the size of her hand to the little star — in case you were wondering.  ;-) )
Ok, off to fan myself and get BabyDoll out of the heat!
XOXO,
Anna