Whew!  I hope you've had a good weekend.  We've had a great weekend here in ThimbleannaLand.   Yesterday we did The Color Run.  It was Super Duper FUN!
Here's the motley crew before the race.  Looking all clean, happy and innocent.  Ignorance is Bliss.
It was a perfect weather day.  A little cloudy and breezy and not too hot.  Here's a shot about 2/3rds of the way through the run, looking into Indianapolis.  You can see how crowded the run was.  The red flags on the bridge are where they had a color station.  Every kilometer, they had people positioned to spray color on you as you ran by.  See the dust cloud?  It was dusty at those color stations!
Then, at the end of the race, everyone throws their color packet into the air.  Here's SweetiePie giving her packet a toss.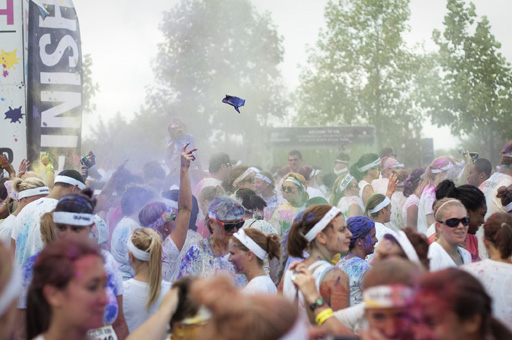 And here's the crowd.  SweetiePie took this picture — my shots of the final blowout didn't turn out — (so sad!)
It's a big, fun, messy business.
Here's the aftermath.  Everyone is still really happy, but no longer clean.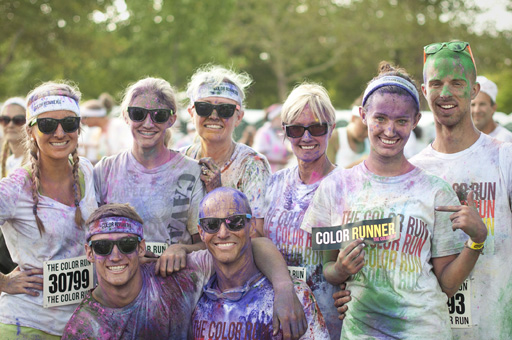 As usual, CrazyBIL kept us entertained.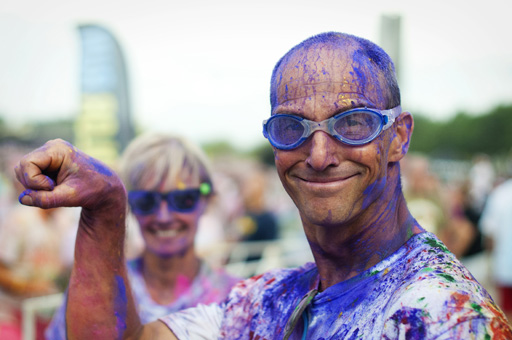 He's such a goofball.
There were 10,000 runners.  The race was amazingly well organized.  They had water for everyone at the half-way point and again at the end.  I tried to make a water fountain like CrazyBIL, but I ended up with water all down the front of me.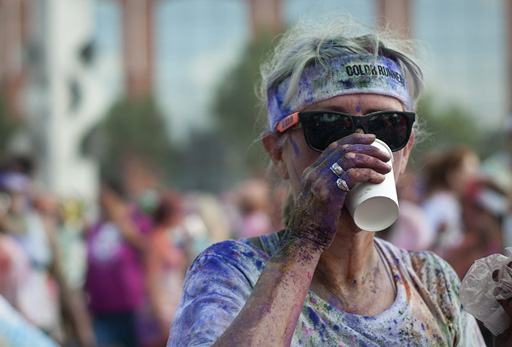 If you ever get the chance to do the Color Run, you should do it.  You don't even have to run — I was amazed at the number of people who walked.  We all ran, some WAY faster than others LOL.  And, sadly, TheFirstChild wasn't able to run with us, but he photo-bombed us instead.  That's my boy!
Now, I'm off to finish a birthday cake for BigDaddy. (Btw, we named our team Color Me Bob — in honor of BigDaddy. He's the original runner in our family and today is his 81st birthday.) Happy Birthday BigDaddy!!!
XOXO,
Anna