Happy Monday.  Ha.  Did you have a good weekend?  Mine was quiet — with a little baking and a lot of quilting.  Perfect.  When I made my first batch of madeleines years ago, I thought I'd found the perfect recipe.  Light and crispy on the outside and soft and tender on the inside.  Then, I promply lost that recipe.  In the years since then, I've searched through my cookbooks and elsewhere for a decent recipe, but they're always tough and heavy like rocks.  (Sorry Martha, I didn't like your Madeleines.)  Over the weekend, I decided to try the Madeleine recipe from the book Laduree: The Sweet Recipes.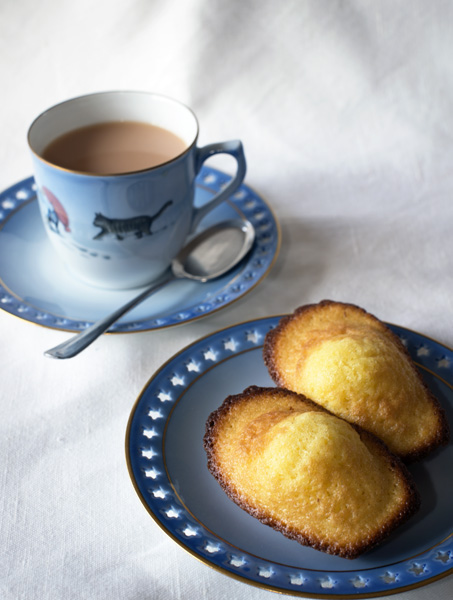 They were pretty darn perfect, crispy and light, just like I think they should be.  I know you're probably thinking that I burned them.  And what are those funny humps?  Well, that's how they're supposed to look — see, here's the picture from the Laduree book.  (I still might take them out a bit earlier next time though.)
If you'd like to try them, you can find the recipe here .  They're really best eaten the same day that they're baked.  They still taste good today, but the crispness is gone from the exterior.  (Any tips or hints to keep them crispy on the outside?)
Hey, wanna see MeMum's little teacup up close?  Isn't it cute?
I also machine quilted this weekend.  A Lot.  And my arms are sore to prove it.  I worked on the foundation quilt for all the yoyos.  I finally got up enough nerve to try it and the quilting went well.  Look Ma, no walking foot!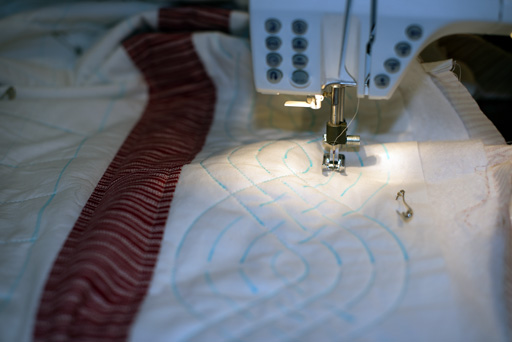 I do love my little Hester. Viking has an even feed feature on some of their machines (maybe all of them for all I know) and it makes quilting SO much easier. More on the yo-yo quilt in the days to come. The machine quilting is done, but she's still a long way from being finished!
XOXO,
Anna