August 16, 2010 on 9:43 pm | In
Bunnies
,
Sewing
,
Store
|
47 Comments
Those of you who have been hanging around here in ThimbleannaLand for any amount of time know how much we Looooove our Bunny Pincushions.  Love, Love, Love them!  From time to time I make a batch and have a giveaway or sell a bunch in the Thimbleanna.com store.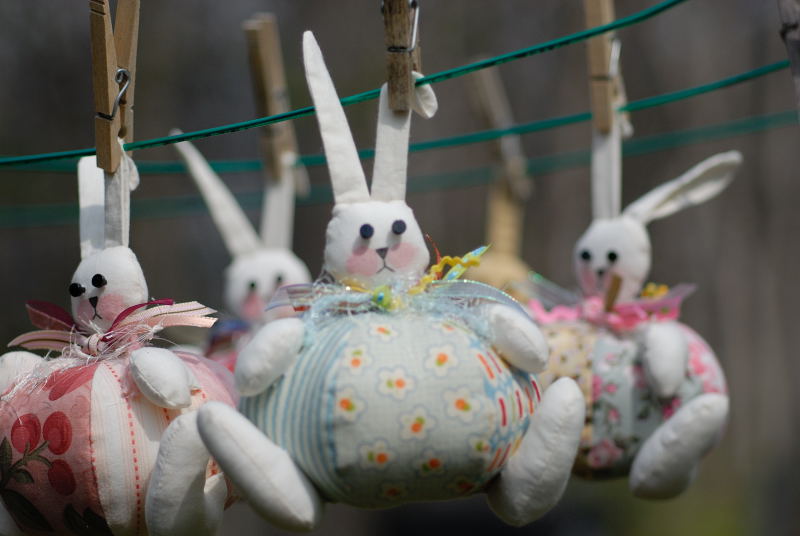 And almost every time that happens, someone asks me for a pattern for the bunny pincushions.  Sadly, I always have to say that the pattern is a 1989 pattern by Lori Karper and it's copyrighted, so I can't give it out.  Then, I'll usually do an internet search, just to see if any information on Ms. Karper has popped up since the last time I did an empty internet search.  All I ever find is maybe an ebay link or two to one or another older pattern by Ms. Karper.

So.  Imagine my GREAT excitement and surprise one day last spring, when I got an e-mail from THE Ms. Karper herself.  Only there's been a name change which is why I couldn't find her.  Lori Karper is now Lori Valley and it's been my great delight to be able to get to know the mother of all my bunnies!  Lori  has had an unbelievable 20+ years since the original bunny pattern was published — full of ups and downs and she's come out on this end as one of THE sweetest people you'll ever meet.  AND, BIG BIG exciting news — she's re-issuing the bunny pincushion pattern AND she's added a Kitty, a Bear, and a Puppy.  WOOHOO!!!
It's so funny, because, over the years, I'd always thought how fun it would be to make other little pincushion animals.  I had a chance over the weekend to make up a Kitty.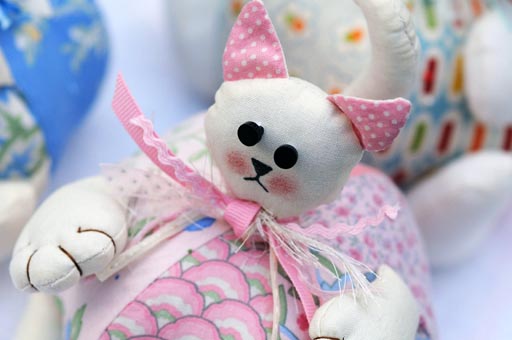 And a Bear.  The original bunny pattern had the stitching on the paws, but I always made my paws plain.  For the kitty and the bear, I did the extra stitching and I love how it turned out.  (Both the Kitty and the Bear are made from City Weekend by Oliver + S.)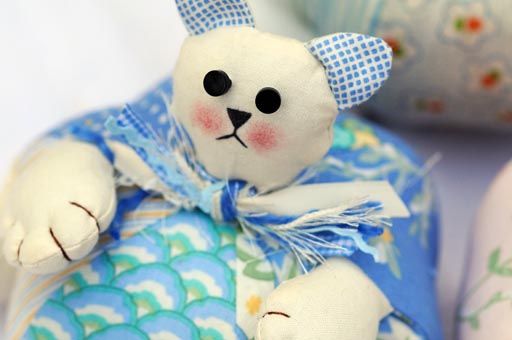 One of my favorite things about the bunny pincushions over the years has been the fact that the ears can be used to hold needles.  The Kitty and Bear ears are big enough to do that too.  (And you thought your teen had ear-piercing problems.)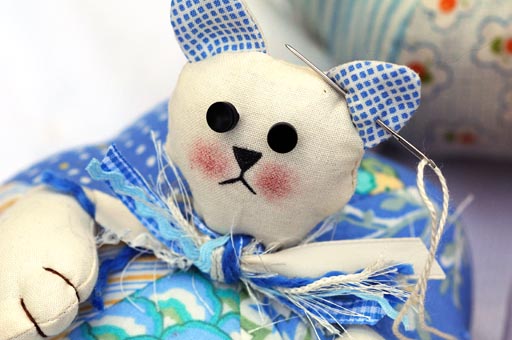 Look how sweet — the kitty (and the puppy, who I didn't have time to make) both have little tails.  Those might make good needle holders too.
Another thing I love about Lori's patterns is that you can make them your own.  My faces are a little different than Lori's.  And I thought this time I'd have some fun experimenting with a contrast fabric on the inside of the ears.  I really like how they turned out.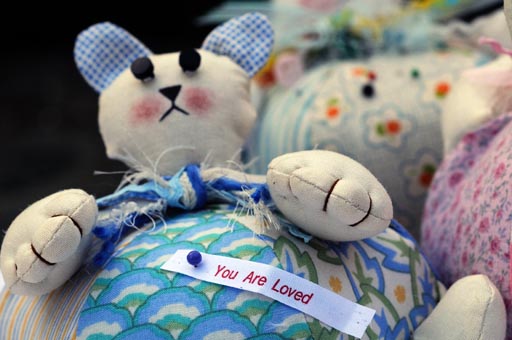 And one last very special thing.  Lori calls her patterns "You Are Loved" Patterns and she's included a "You Are Loved" tape that can be sewn into the side seam of each pincushion.  The whole time I was making the kitty and bear, I kept telling myself "Don't forget the You Are Loved Tape".  So, of course, you know, I forgot it.  I pinned it on the side of the bear though, so you can see how cute it's supposed to look, sticking out of the side of the pincushion.
I'll stop talking now.  I'm sorry this sounds like a big sales pitch — I really don't want it to be.  You know how much I Love my pincushions, and I know many of you have been wanting these patterns.  Lori is working on her own website (which I'll link to when she's done) but until then, you can buy them in the Thimbleanna.com store.  You can also get extra "You Are Loved" tapes in case you want to make more than one pincushion with a message in it's side.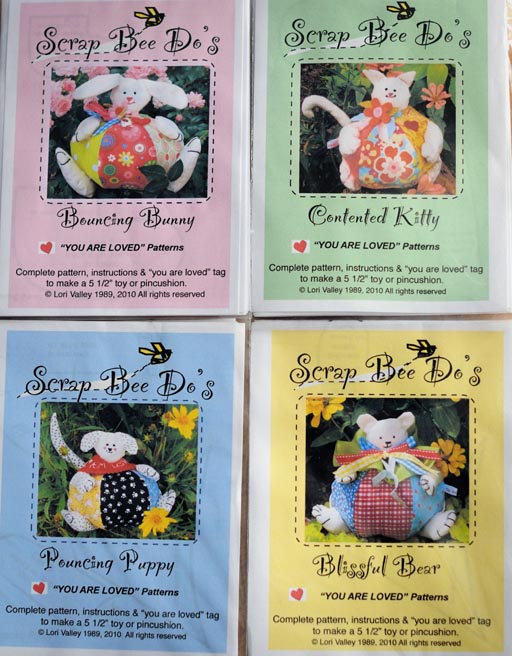 'Cause Christmas is coming soon and I think these make great gifts for all of your crafty friends!  ;-)
XOXO,
Anna
47 Comments
Sorry, the comment form is closed at this time.
Thanks for stopping by!