October 28, 2007 on 1:06 am | In
Chat
|
17 Comments
I've been tagged by the lovely Jade to do the crafty meme. Go check out Jade's fun answers to this meme, then come back here so I can put you to sleep!
1. When did you start to create and make craft?
I learned how to do most of the things I love to do when I was a little girl. Embroidery was probably first at around age 7 or 8. Then, I probably learned how to sew, knit and crochet when I was between 8 and 11 or 12. MeMum gets all the credit for my sewing skills — she has the patience of a saint!
I remember the first little article of clothing I ever made — it was a little wrap-around dress. Does anybody remember those? It was the perfect project for a beginning sewer — cut out a dress front, dress back, then two side pieces that were really more like 1/3 of a front and 1/3 of a back. Then sew the side-back to the front, the front to the back, then the back to the side-front. It made one long piece with three armholes. Then put bias binding around all the raw edges — that's it! No set in sleeves, pockets, zippers, or anything complicated. When you put it on, you would put your left arm through the 1st armhole, your right arm through the 2nd armhole, and your left arm through the third armhole. The dress overlapped on the left arm. It's really hard to explain but it was cute and spelled instant success for an impatient little seamstress. And was I ever impatient! There were many ripped out zippers and seams accompanied by SCA-reaming fits in the early days. Practice makes perfect though, and nowadays, ripping out is a breeze with nary a tear! I dabbled in lots of other crafy things back then too — anyone remember raffia flowers done on the little looms? Or the big tissue paper flowers that Martha has taken to the bank these days?
I also learned several things from my aunt when we would visit her. She taught my cousins and I decopage and gold leafing. And for my 14th birthday, she gave me a cake decorating set that I still use today. She taught me the basics of decorating cakes. Tole painting came when I was in college, smocking was shortly before the birth of TheFirstChild, and quilting while I was on maternity leave with TheSecondChild.
2. Why did you start creating?
I have no idea. Maybe because I was bored? Probably because I had a very talented mother and aunt who were so willing to teach me whatever I wanted to learn. We moved a lot when I was growing up, so I was the loner type of kid. My sewing machine was my friend! It's not as dismal as it sounds — there were friends here and there, but really, I was happier when I was making something. Making new friends every few years was a lot of work — sewing was much easier! And now, the irony of it all is, that all this crafty stuff has made the best friendships possible! I have non-crafty friends, but it's not quite the same — I think you all know just what I mean.
3. Why do you create?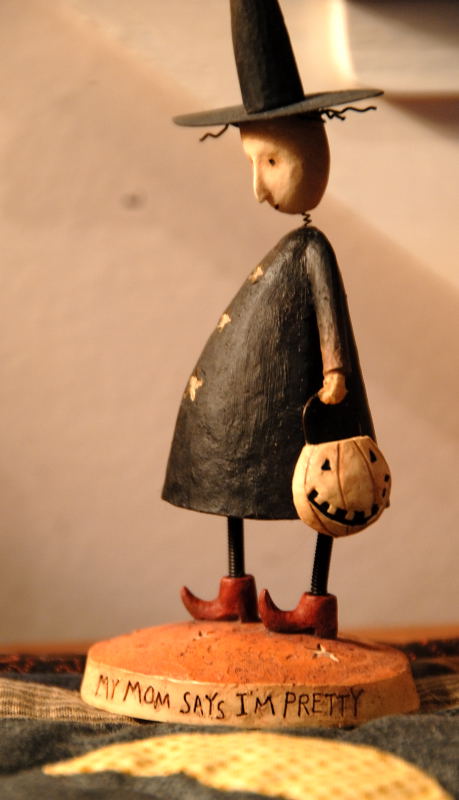 I think I'm obsessed. Or maybe that's possessed (it is that haunting time of year after all.) I really can't imagine a life without making stuff. Sometimes I wonder what my non-crafty friends who don't really have any hobbies do all day. And they probably wonder why I can't stop making "that crap"! But, I really enjoy it and I can't stop. It drives TheManoftheHouse crazy that I can't just sit and watch TV without something in my hands. But, after almost 30 years, I think he's finally giving up.
4. What do you create?
I make mostly clothes and bags and gifts that can be sewn. And I knit here and there and make an occasional quilt or papercraft..
5. Has this changed since you began crafting?
Nope. When I was growing up most of my time was spent sewing. I would knit and crochet and do other things, but not as much. That's still the way it is today.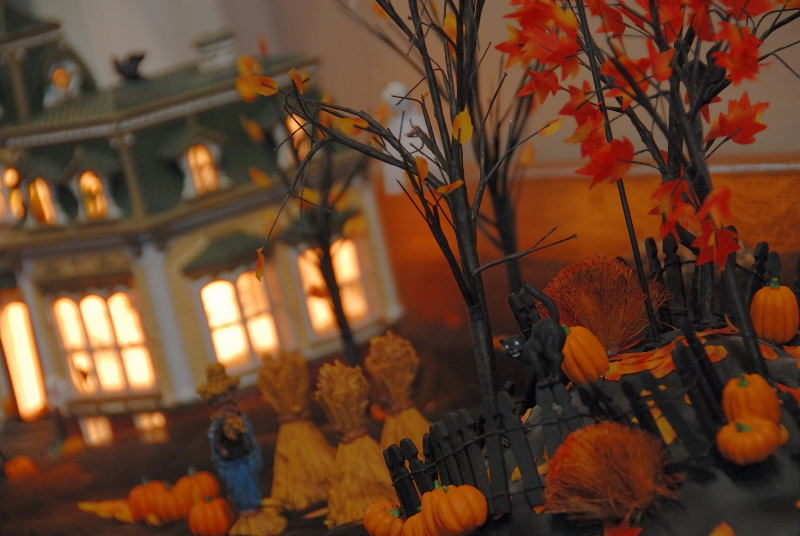 The pictures are a few Halloween things around here. I took the first picture this afternoon around 4:00. The sky was so dark and brooding, the picture doesn't really do it justice.
Hope you're having a good weekend!
XOXO,
Anna
Edited to add:  Oops!  I forgot to tag someone for this meme — how 'bout the first three commenters (not counting Nicollette, who has already been tagged) — so that means Lucy, Connie and Sarah!  I'm really interested to read their answers!
17 Comments
Sorry, the comment form is closed at this time.
Thanks for stopping by!