November 25, 2010 on 9:55 am | In
Holidays
,
Recipes
|
42 Comments
I know that we usually say that pie day is 3.14, but here in ThimbleannaLand, Pie Day is today.  (Well, it waaas today, but now it's yesterday 'cause tech support and I had a little overnight session trying to view my pictures, but we're not talking about that.  Just pretend it was today.  ThankYouVeryMuch.)
(The Keep Calm part is especially important given all the website problems here in the last week!)  Anyway, I've spent the day (yesterday, ahem) baking our usual pies for Thanksgiving. Apple, pecan, pumpkin and this year, I've added pumpkin praline.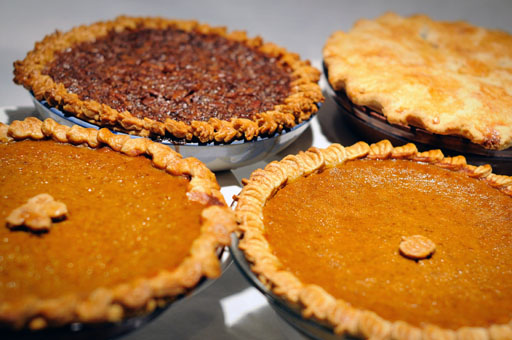 A friend at work suggested it. You take your favorite pumpkin pie recipe, but before you add the pumpkin filling, you spread a praline layer (1/3 c. chopped pecans, 1/3 c. brown sugar, and 2 Tbsp. soft butter mixed together) on the pie shell and bake it at 425 degrees for 10 minutes. Then remove it from the oven, pour the pumpkin mixture on top and bake like you normally would for your pumpkin pie. The hot praline layer under the pumpkin mixture causes little air bubbles to come to the top of the pie, but that doesn't really matter. I'm betting it will still taste good.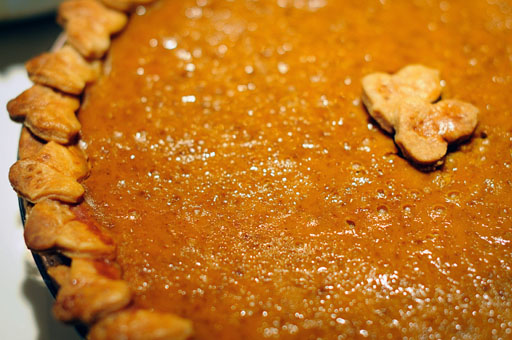 I also had fun with my little Williams-Sonoma pie crust shapes again this year — I love those things!  (Btw, I added the little acorns on the pumpkin-praline pie after the praline layer was baked — otherwise, they'd be burned.)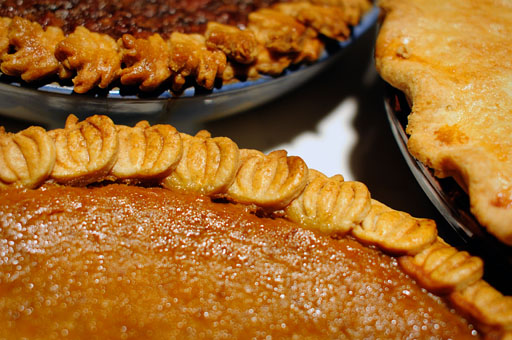 I ran across this Pies That Kill article this morning. Whew! None of these pies are from any of those sources — I'm thinking we've dodged a bullet. Homemade pies are low calorie — right?
Wishing a Very Happy Thanksgiving to all of you in the US!
XOXO,
Anna
42 Comments
Sorry, the comment form is closed at this time.
Thanks for stopping by!