June 18, 2008 on 12:14 am | In
Recipes
|
40 Comments
I'm in New Jersey this week again for work, so when you add that to my Wonder Weekend of Windows (thanks for all your happy ladder wishes!), not much sewing or crafting has been going on in my neck of the woods.
So, what to post?  The other day I was looking on my recipe page, and I noticed an appalling lack of appetizers in my collection.  In fact, there are no appetizers in my collection.   The shame!  So, I decided to tell you about my boys' favorite appetizer.  It's a Tex Mex Dip that they ask for every time we have a family get-together.  Many of you probably already have this recipe — when I made the cookbook for our family a few years ago, one of my cousins submitted this recipe too — neither one of us knew that the other one had the recipe.  TheFirstChild loves this recipe so much he can eat it all himself — oink, oink.   When we had his high school graduation party, I made 10 of these dips and all those kids practically licked all the dip out of those pans!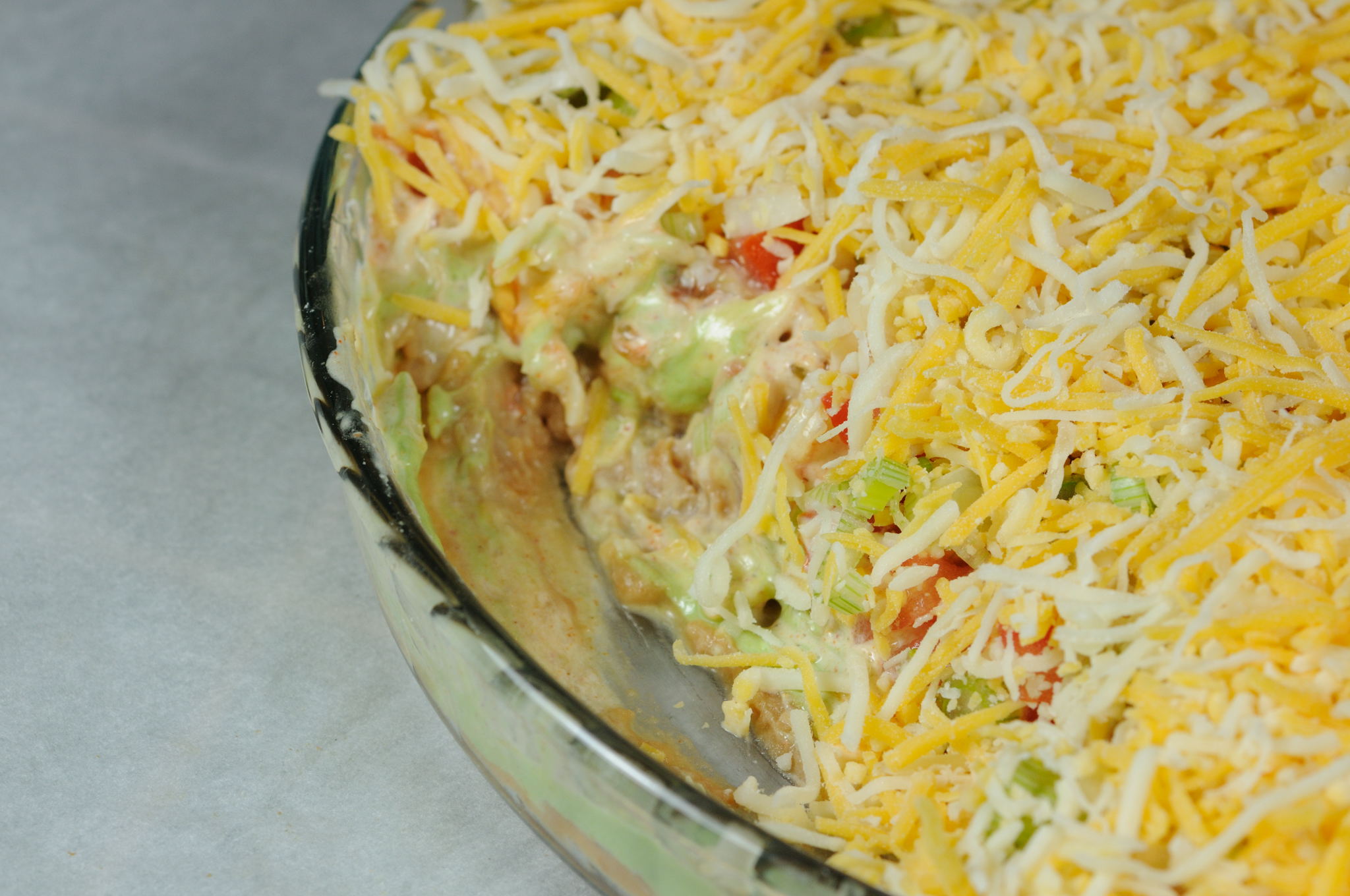 Tex Mex Dip
3 ripe avocados
2 tablespoons lemon juice
1/4 teaspoon salt and pepper
1 cup sour cream
1/2 cup mayonnaise
1 package taco seasoning mix
2 cans (10 oz.) bean dip
1 bunch green onions and part of tops, chopped
3 medium tomatoes, chopped
8 oz. shredded sharp cheddar cheese
Mash avocado with lemon juice, salt and pepper. (Or, if you're lazy like me, just buy the pre-made avocado dip LOL!)
In separate bowl, mix together sour cream, mayonnaise, and taco seasoning.
Layer in a 13 x 9 dish: 1) bean dip, 2) avocado mixture, 3) sour cream mixture, 4) tomato, 5) onions (Ok. Fine. Sharon and Quilty Peep Junie, you can just leave this layer off!) and 6) grated cheese.  Serve as a dip with tortilla chips.
1/2 of this recipe fits perfectly in a round quiche dish and, if you you'd like, you can freeze the 1st three layers.  (And please note Kim, there are no mashed potatoes in this dip.  Although, I'd like to apologize to those of you not in the US, as you might have a hard time finding some of the ingredients.)
TheManoftheHouse would like to offer you a bite.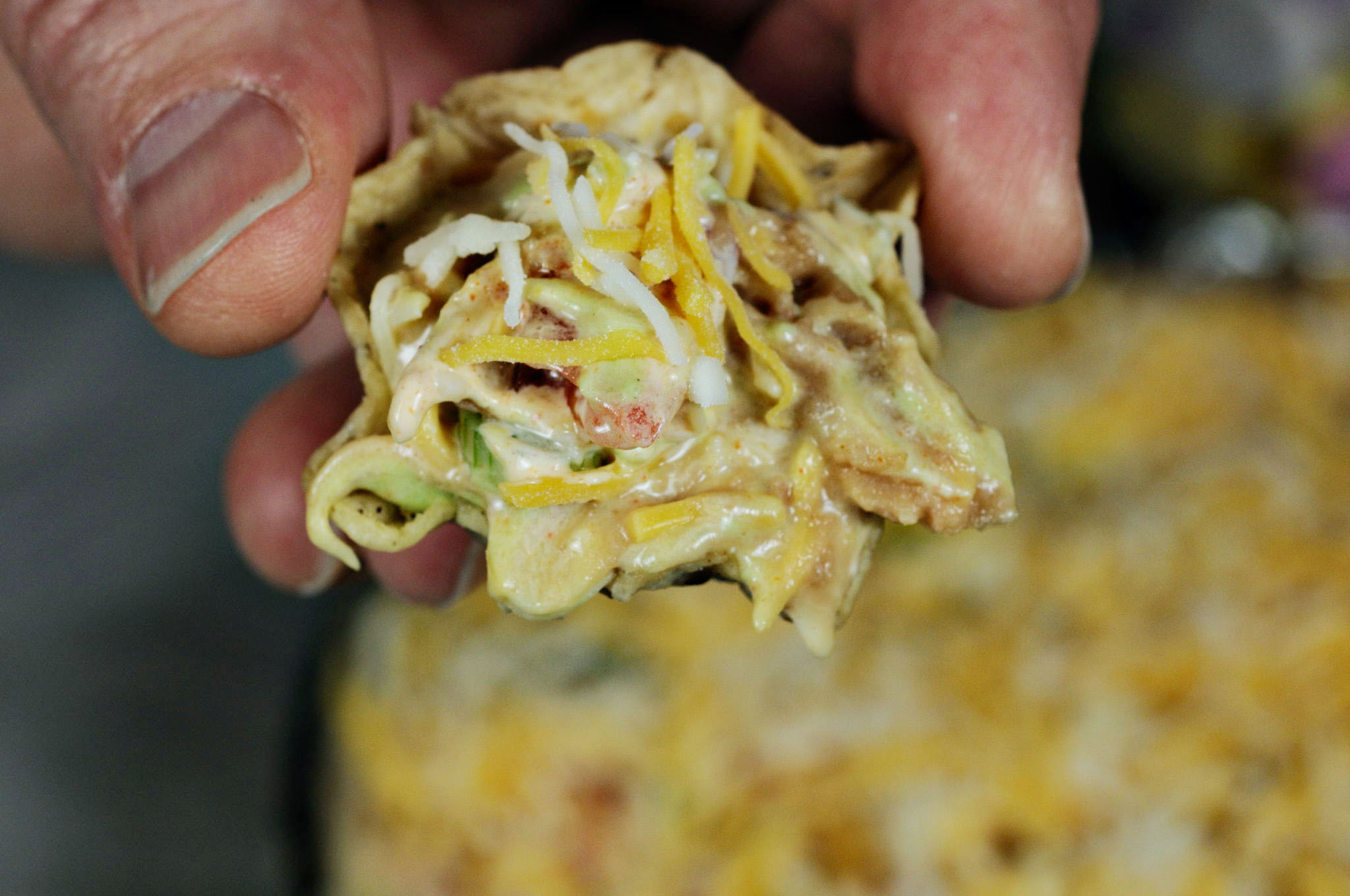 Three more things:
I'm sure I'm not the first to tell you, but check out the fantastic giveaway Jackie has going on.  She'll quilt a quilt for you, up to a twin-size.  Wow!
If you're interested in vintage hankies, Rebecca has found some fun ones.  Check out the rest of her vintage goodies in her etsy shop while you're there!
So, what do you suppose is going on with bloglines?  Suddenly tonight, bloglines dumped posts for the last 5 or 6 days from about 10 of you into my account.  Sorry I missed you all weekend!
XOXO,
Anna
40 Comments
Sorry, the comment form is closed at this time.
Thanks for stopping by!