October 9, 2008 on 8:52 pm | In
Sewing
|
38 Comments
I'm not saying anything earth shattering when I tell you that winter is on the way.  (Well, I guess it would be big news to you guys in the southern hemisphere — you can ignore all this talk of cold weather and revel in your coming warmth.)  Already tonight, I've read two blogs that have mentioned a chance of snow this week.  Aaack — I'm barely adjusting to the idea of fall, but I know it's coming.
So, during the sewing frenzy of last weekend, I managed to make some new flannel jammies from some fabric that had been aging in my stash.  ('Cause I couldn't be caught wearing old ragged jammies with my new caterpillars, could I?  And btw, should I be making these things for myself?  No.  I.  Should.  Not.  I'm not going to tell you how close Christmas is 'cause you already know, but I have gifts to make and I'm starting to get nervous.  This is my stall tactic.)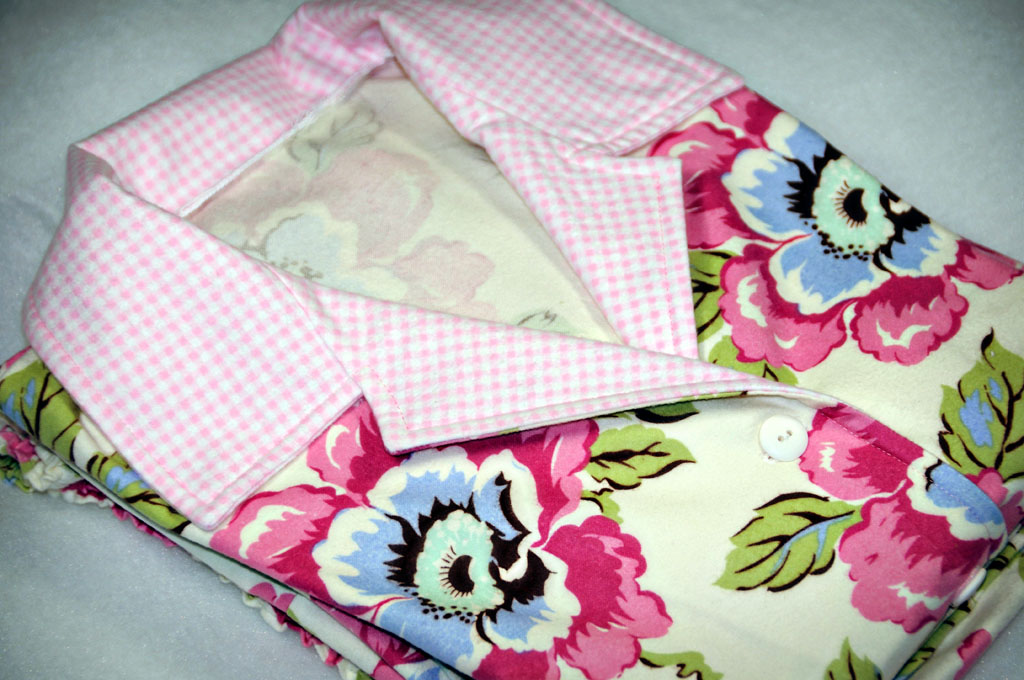 Fortunately for me, No-Mash Kim happened to blog about some CK jimjams that she received for her birthday, and even though she couldn't keep them very long, she had them just long enough to inspire me.  I loved the fact that the collar was a different fabric from the main body.  (And coincidentally, I also just happened to be very short of the main floral fabric (Amy by Free Spirit.)
Do you sew-ers (I have to put a hyphen in there 'cause otherwise it reads like the place where you flush your waste and that just bugs me!) out there have a serger?  I LOVE my little serger — it lets me make clothes 3 or 4 times faster than I did in my pre-serger days.  These jammies only took a few hours to complete (not counting cutting out.)  People are often intimidated by sergers, and I have to admit, I am too.   Mine will do several different stitches, but I'll bet 95% of the time, I use the same stitch — the 4 thread overlock.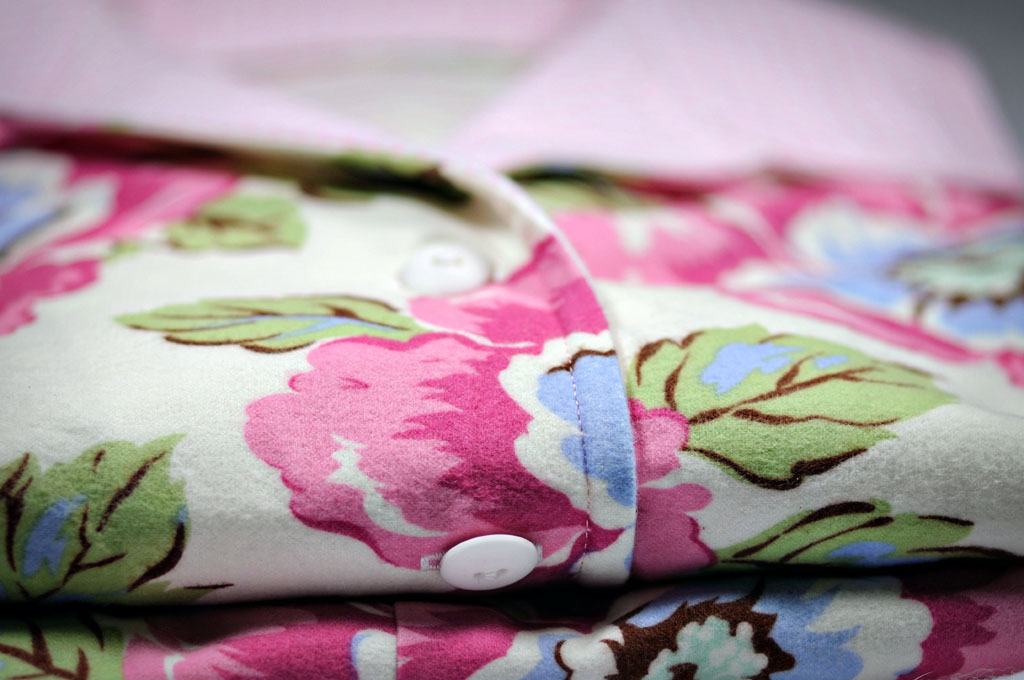 C'mon Old Man Winter — I'm officially ready for you. That's not true — the yard and house are still a mess, but we won't talk about that.
So, let's change the subject. I want to wish two of my bloggy friends the very best of luck with their fantastic new adventures: Sweet Nan has opened up her new online pattern and supply shop Nanny's Quilt Patch.  And Adorable Karen has opened her everything-you-could-want-for-woolens online shop, Farm House Woolens.  (I can't wait to get my hands on some of those needle punch kits.)  You Go Girls!!!
Speaking of You Go Girl, you know how you see an idea and you scream Eeeek! and fall in love and think about it day and night?  That's how I feel about this adorable little patch that Cassie has made.  I.  Love.  It. — so very clever.
I hope you all have a wonderful weekend!
XOXO,
Anna
38 Comments
Sorry, the comment form is closed at this time.
Thanks for stopping by!