October 12, 2008 on 10:44 pm | In
Bunnies
|
56 Comments
Did you all have a good weekend?  It's been  pretty busy around here, but last night TheManoftheHouse, BigDaddy, MeMum and I all went to see The Duchess.  I.  Loved.  It. {Very Big Sigh}  If you go, you might want to take a box of kleenex.  ;-)
I spent most of the rest of my weekend in the dungeon.  While I was sewing, Mama Bunny was busy tending to her new batch of babies.  They've been pretty quiet and well-behaved up until today when Mama Bunny made the mistake of letting them read a few blogs.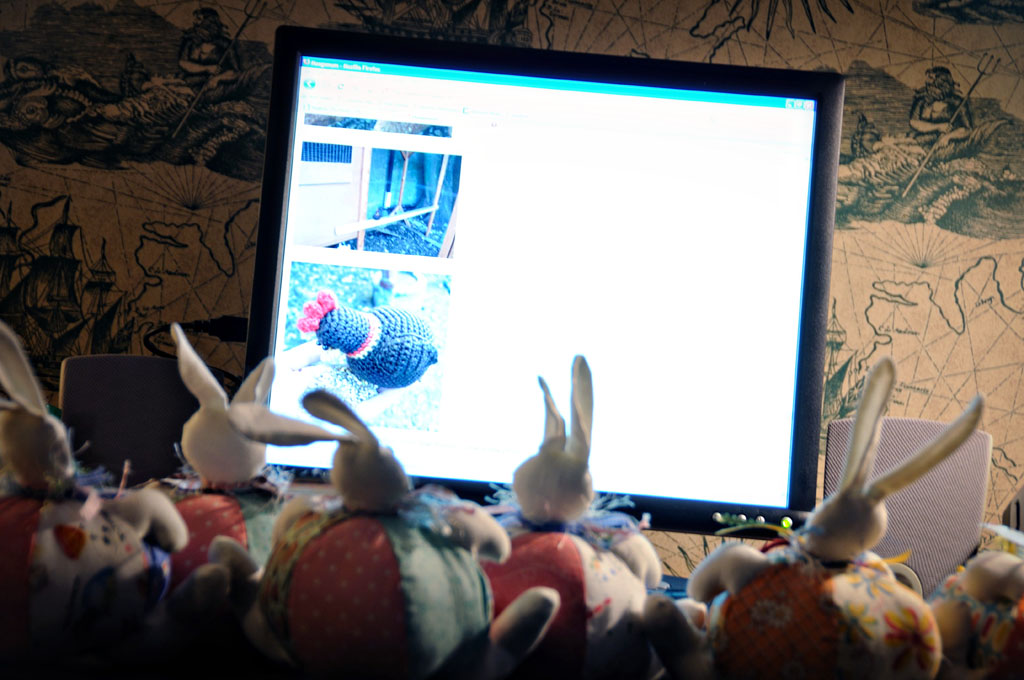 After reading all about the adventures of Lesley's newest chicken,  the bunnies begged and pleaded with Mama Bunny to take them outside.  As we don't have chickens to visit, they decided they wanted to jump in the fall leaves.  That would have been ok, except the leaves are still on the trees.  So Mama Bunny came up with another plan.
She lined them all up on the hedge and let them practice jumping off the hedge into a makeshift trampoline.  It was the best she could do on short notice, and now they'll be all ready for jumping into the leaf piles.
They jumped and jumped for about an hour.   Everyone was laughing and cheering and having a good time.  On DickandJane Bunny2′s 6th jump, he landed on his back.
Cupcake Bunny1 wasn't paying attention and she was so excited for her next turn that she leaped off of the hedge before DickandJane Bunny2 could get off of the trampoline, and she landed on his head.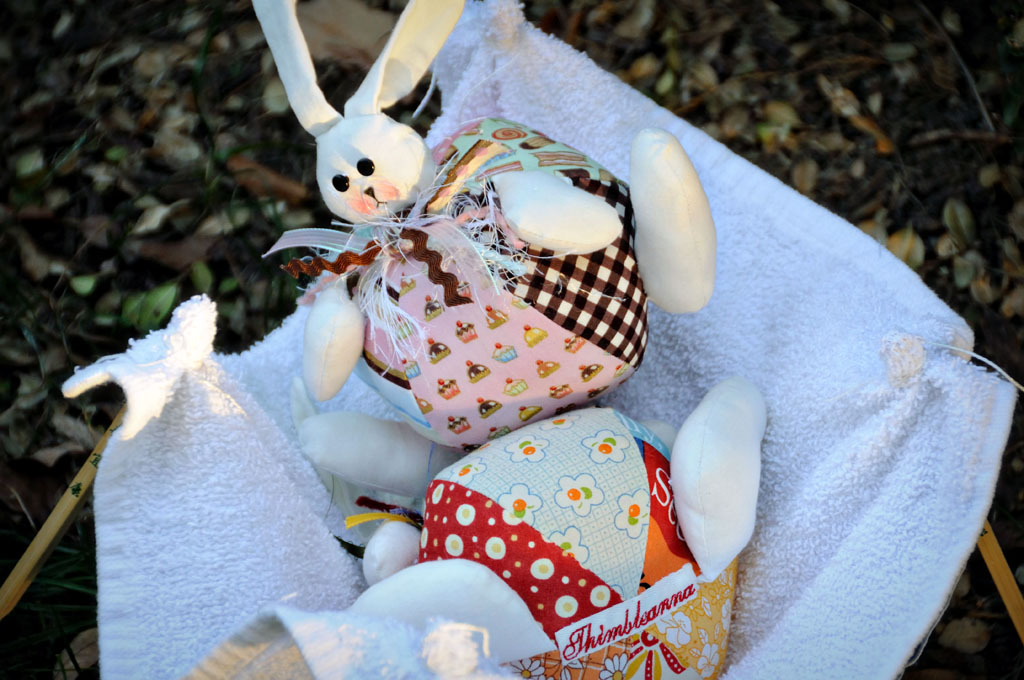 This resulted in lots of screaming by DickandJane Bunny2 which brough Mama Bunny to the edge of the hedge to yell down at those two bunnies.
By now, all the bunnies were getting tired and Mama Bunny decided they needed to settle down.  She made them get down off of the hedge and they all hopped over to the garden, where they listened to CementGirl read them a story.
After the story, it was naptime, so Mama Bunny made them come inside.  They were pretty stinky from all that playing around, so Mama Bunny made them hover around the beautiful Strawberries and Cream Cupcake Sachet that just arrived from Alison this week (Thank You Alison!).  It's a fantastic sachet and after a few minutes near it, the bunnies smelled nice and clean.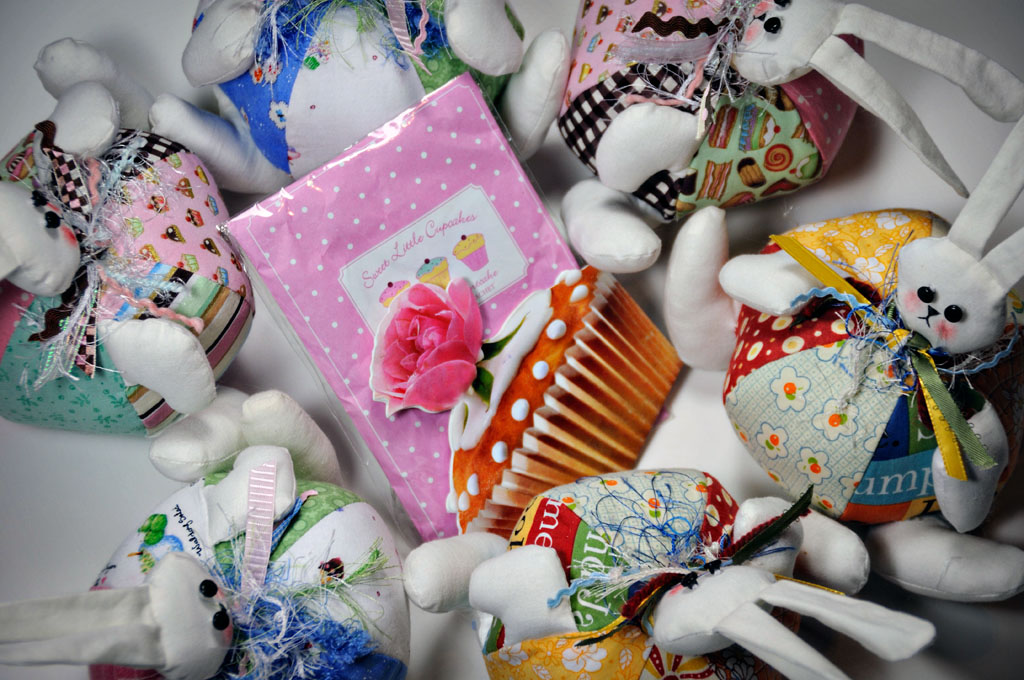 Mama Bunny tucked them all up under a quilt for their nap.  There was a lot of giggling and squirming, but they finally fell asleep.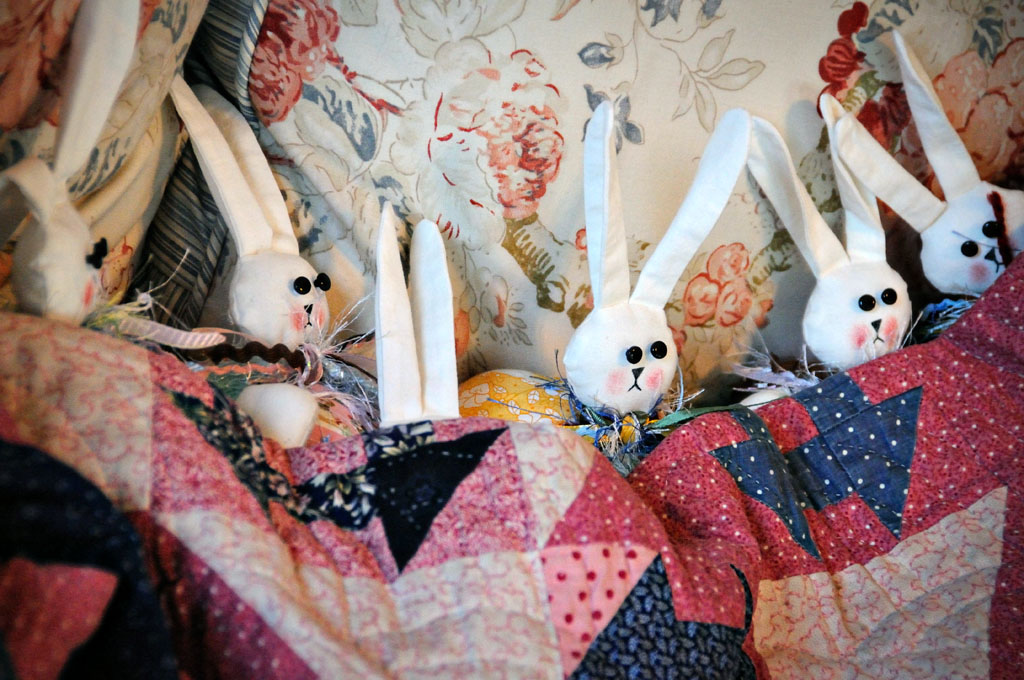 Just looking at them makes me tired, so I'm off to bed!  I hope you all have a Happy Monday!
XOXO,
Anna
P.S.  Thanks to everyone who let me know that my comments on the last post were closed.  Sometimes wordpress resets them for some odd reason.  There must be something causing it, but I don't know what it is.  Hopefully they're all fixed now.
56 Comments
Sorry, the comment form is closed at this time.
Thanks for stopping by!