January 29, 2011 on 1:58 am | In
Sewing
|
63 Comments
Hi Kids!  Remember that little Sunkissed sneaky peak from a few weeks ago?  Well, it's finally finished. But first, I thought I should tell you that I've found a new favorite thing. I LOVE the vintage-looking wire laundry basket from United Notions.  I love that it's on wheels.  I have a fairly small laundry room, but there's just enough room for this laundry basket.  I like to put my newly-dried clothes into it and wheel it out to my kitchen table where I fold all of our clothes.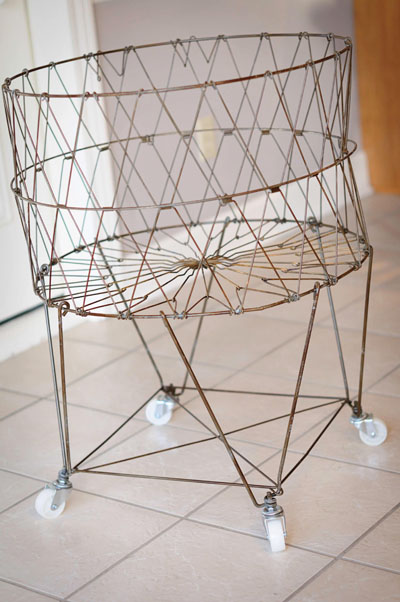 I thought it might be fun to add a liner to the basket so I played around with my Sunkissed fabrics. I really had fun with the grommets too — there are 18 of them in this liner and it's kind of fun to beat them into submission with a hammer!  I added a rope to the liner, but you could easily use a big ribbon.  I also left the knot on the outside, but it could be put in between the layers of the liner too — that way it would be hidden from view.  There are so many different ways you could make this liner — ruffles, scallops, ric rac — I really had to control myself.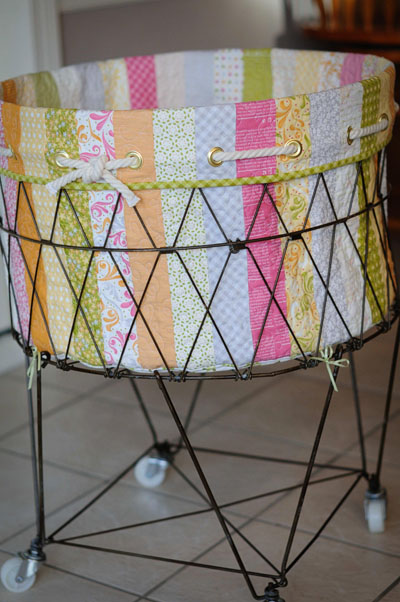 So, two really important things about this laundry basket:
You can get the instructions on how to make it at the Moda Bakeshop, and
I've listed the laundry basket in the Thimbleanna.com store on my Fun Stuff page. That's the page where I list my very favorite things.
Have a great weekend!
XOXO,
Anna
63 Comments
Sorry, the comment form is closed at this time.
Thanks for stopping by!