December 17, 2008 on 2:24 am | In
Crafting
,
Sewing
|
48 Comments
It's nuts here, just like I'm sure it is where you are.  If you're even there — you're probably too busy working to even be lurking here.  I've noticed it's been a lot quieter in blogland these days — how fun to think of all the exciting holiday preparations going on out there!  I've been cramming to finish up some projects that need to go into the mail tomorrow.  Think there's any chance they'll make it before Christmas?
I made a few machine embroidered kitchen towels.  The Jolly design is from Embroidables.com and the towels are from Crate and Barrel.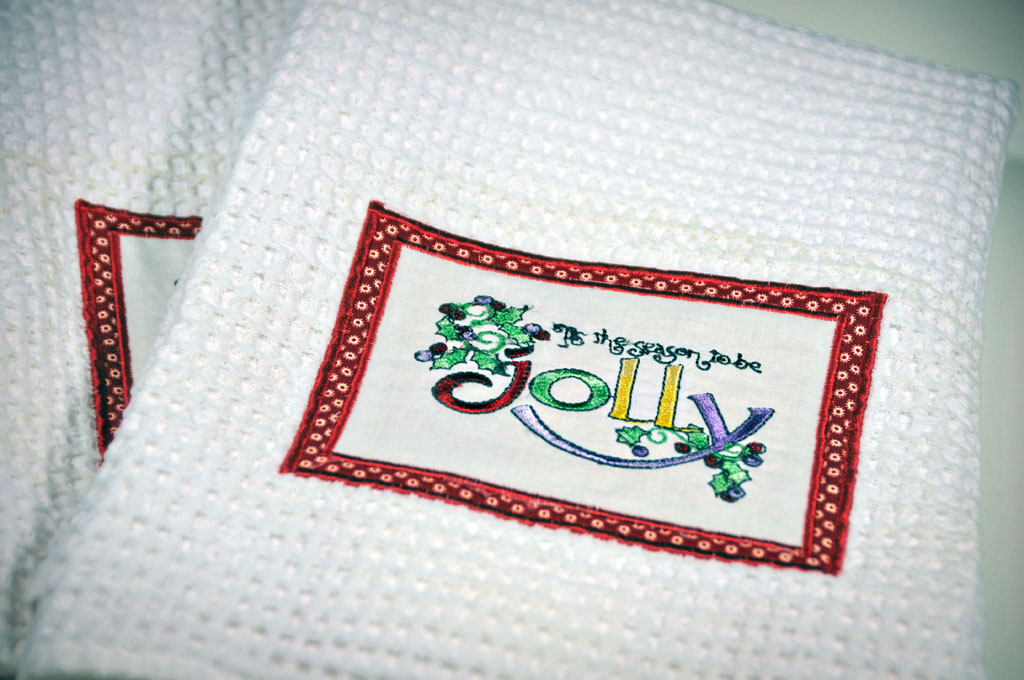 Then, some Keep Calm and Carry On pendants that I did in my soldering frenzy last week.  Speaking of which, did you see this fantastic Keep Calm and Carry On knock off design?  Procrastinate Now and Panic Later.  That's. Awesome.  (We have a big thing about procrastinating here in ThimbleannaLand.  When I made college quilts for TheFirstChild and a few of his friends, he insisted that I put "Hard work often pays off after time, but laziness always pays off now" on the backs of their quilts.  So the girls got nice motivational sayings and the boys got procrastination.  Nice.  It caused a few raised eyebrows and laughs.)  I'll definitely have to make this new Procrastinate saying in a soldered pendant.  Too bad I didn't know about it earlier — I would have put it on the flip side of these pendants.  Thanks to One Pretty Thing for bringing that knock-off to our attention!
And I think these are going to be my new favorite pincushions.  They're giant (see the thimble sitting on top of that first one for scale?) and they're perfect to sit on your sewing table.  Thanks to Darlene for the awesome hint about using crushed walnut shells to stuff pincushions.  It's great and it gives them some weight.  I made these pincushions from the Posy Pin Pie pattern by Jill Finley.  Its finished size is 6″ in diameter by 2 1/2″ tall.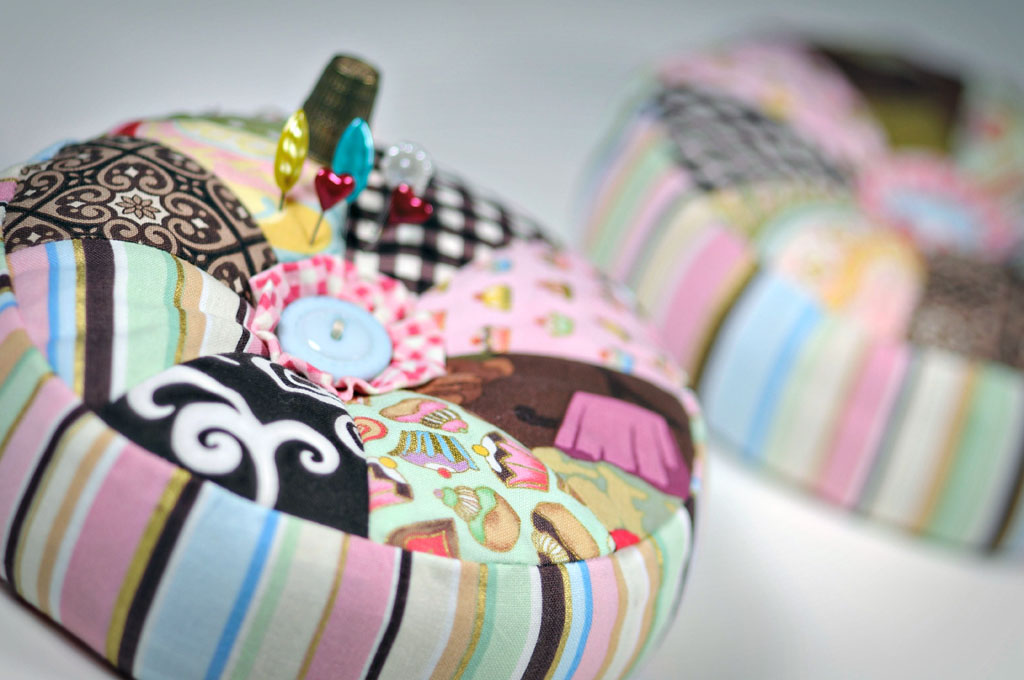 So, off to bed for me — it's pretty late here. But wait! Looky Looky….She's Baacckkkkk!!! WooHoo!!!
Oh, and Hell might as well have Frozen Over this morning, because CrazyBIL had a heart attack. I know this is a VERY serious matter, but you'd have to know CrazyBIL to know just how crazy this really is. He's the most … MOST fit person I know. He does EVERYTHING right. And, at not even 45, he had a heart attack. He's in good shape tonight, and we're all feeling VERY grateful to still have him with us. Poor guy though, he's going to have to endure a lot of harassment — those of us who are more sendentary have been telling him for years that all of that working out was going to kill him and now…well, it happened while he was working out.
We LOVE you CrazyBIL — slow down and get well soon!!!
XOXO,
Anna
48 Comments
Sorry, the comment form is closed at this time.
Thanks for stopping by!