January 20, 2009 on 9:25 pm | In
Chat
|
31 Comments
Thanks to those of you who let me know that my last post was all goofy.  It seemed to be a problem for those of you who use Internet Explorer for a browser and I wasn't around to fix it until Sunday night, 'cause real life took over and I was busy running around.
On Friday and Saturday, the Quilty Peeps (minus 1 — we missed you Gurney!) and I headed south (in hopes of warmth) to visit Cami and the girls at Clementines.  We had a fab, relaxing afternoon knitting at the shop and ordered Chinese take-out for dinner.  Then, the girls decided they'd try to kill us by taking us on a "pub crawl."  Apparently I'm getting too old for that behavior, 'cause I'm still tired!  And because I'm an idjit and forgot my camera, I'm borrowing Cami's pics.  Here, we're posing (Wilson style, of course) in front of Clementine's in approximately 10 degree F weather.
L to R, that's Melly, Robin, Moi and Cami – Noemi is our photographer.  (Btw, Cami, thanks for calling me a blond.  Gray-haired women everywhere love you!)  After the freezing pose, the ladies took us to "The Willard".  We had a great time, and in true Cami Peep fashion, we learned several new things, including a new verb that can't be put in print, because, well, this is a family blog LOL.  Here's a pic of the Quilty Peeps and I considering our menu.
L to R this time is Junie, Jewels and Moi.  After The Willard, we ended up at a karaoke bar where we suffered mightily at the hands of LOTS of bad singing.  Except, of course for Melly.  They should have muffled everyone else and let Melly sing all night — that woman can sing!  You'd be very proud of Cami and I too — we sat in those "pubs" and whipped out our knitting.  We looked kind of funny and the other girls wimped out but it was really fun.  Thank You, Thank You Cami Peeps — we had a wonderful time and we're already looking forward to the next visit — AND the new pub crawl rules!  Oh, and Jewels will be planning something to top flashing all of us!
The rest of my weekend was a blur.  Got home on Saturday night and went to Last Chance Harvey (Loved It! – Dustin Hoffman and Emma Thompson — what's not to love?) with TheManoftheHouse.  Then on Sunday, I traveled to see TheFirstChild and SweetiePie for a belated SweetiePie birthday (gift coming soon).  Then back home and off to NJ yesterday with a quick trip into NYC for dinner with SweetiePie's best friend.  I was so tired by the time I got to my hotel room last night, I couldn't even turn my computer on.  So, hopefully, I'll be able to catch up with some blog reading this week.
In other news, here's the result of my annual Amazon Christmas gift card:
Not sure I'll ever make anything from Home Sewn, but it's a pretty book.  And Cookie Craft is very cool — I REALLY want to make cookies like the ones in the book.
And finally, whether you're beside yourself with Joy in the knowledge that our new president will lead us into a new and brighter future, or you're wondering how the American people could be duped by a guy who promised change and is now appointing a bunch of Washington re-treads, you have to ask yourself … How CA-UUUTE is this picture?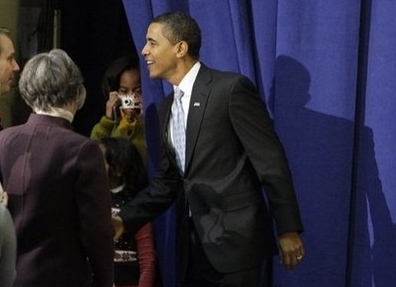 During the inaguration, I noticed Malia Obama taking pictures of the enormous crowd with her camera. Apparently she's been documenting the inaugural week.  Can you imagine how very exciting it must be to be 10 years old, have your own little point-and-shoot camera, and be able to take up-close-and-personal pictures of your Dad on the biggest day of his political career?   So, so Cool!
XOXO,
Anna
31 Comments
Sorry, the comment form is closed at this time.
Thanks for stopping by!