January 22, 2009 on 8:20 pm | In
Sewing
|
53 Comments
I've been trying so hard to catch up on all your blogs this week, but I suffered a setback with the season premiere of LOST last night.  I'm sorry, but, as much as I love you, I love Sawyer more.  I was thrilled to see that the writers finally came to their senses and provided some excellent Shirtless Sawyer Scenes.  I might have drooled on the remote control, just a little.  Ok, a Lot.  If you're fairly new to this blog, you've missed my affair with Sawyer.  It all started when I saw this.  (WARNING:  Fabric Fondling.  Clicking on that picture will make you fall for Sawyer, but you should know that he's MINE.  I declared it long ago.  Even Hot Monica acquiesced way back when, for fear of an Ugly Sawyer Throw Down.)
Ahem.  Just a moment while I straighten my skirt and re-gain my composure.
There.  As I mentioned in my last post, I had a belated birthday with SweetiePie last Sunday.  She requested a new wallet for her birthday and since my wallet had a few holes in it, I decided to make a new one for me too.
SweetiePie picked her fabrics and I thought hers turned out pretty cute.  She loves monograms too, so I put her monogram on the front and an embroidered star on the back — 'cause (cornball alert!) she's a star for taking such good care of TheFirstChild while he's in school.  I put buttons on the back of my wallet.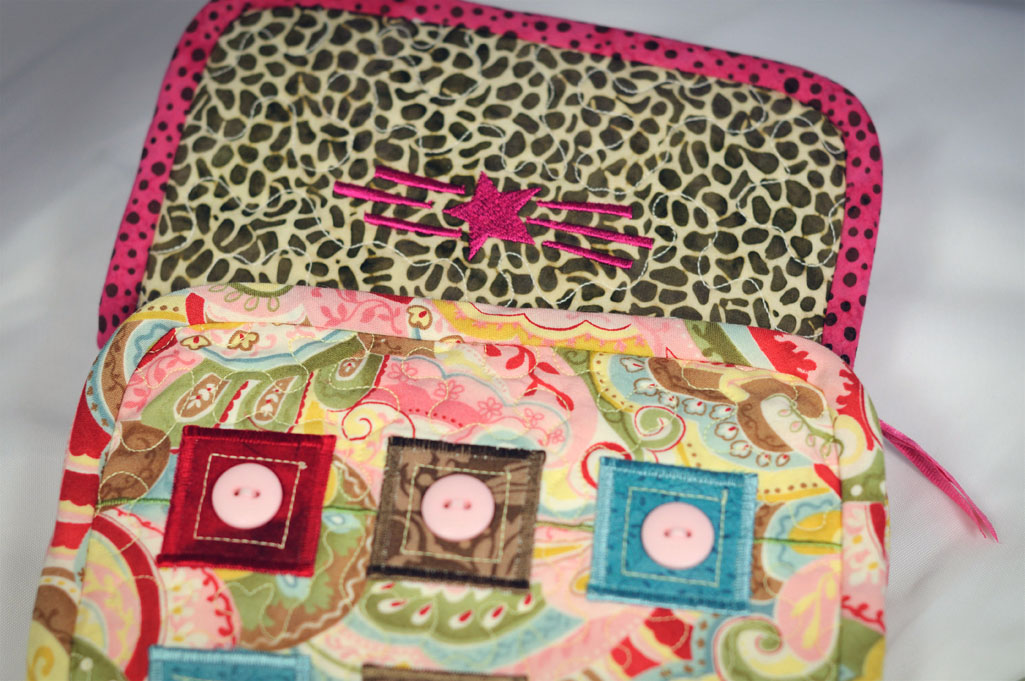 The pattern is called "A Safe Place" by My Favorite things.  I love all the little pockets on the inside, but I made one big change.  The pattern calls for a velcro strap across the top and that would never work for me, as I'm the kind of person who crams receipts and papers into my wallet.  So, I put zippers around the edges.   It's a huge pain to get that zipper sewn in there (because the wallet won't lie flat on one end), but it's very worth it to me.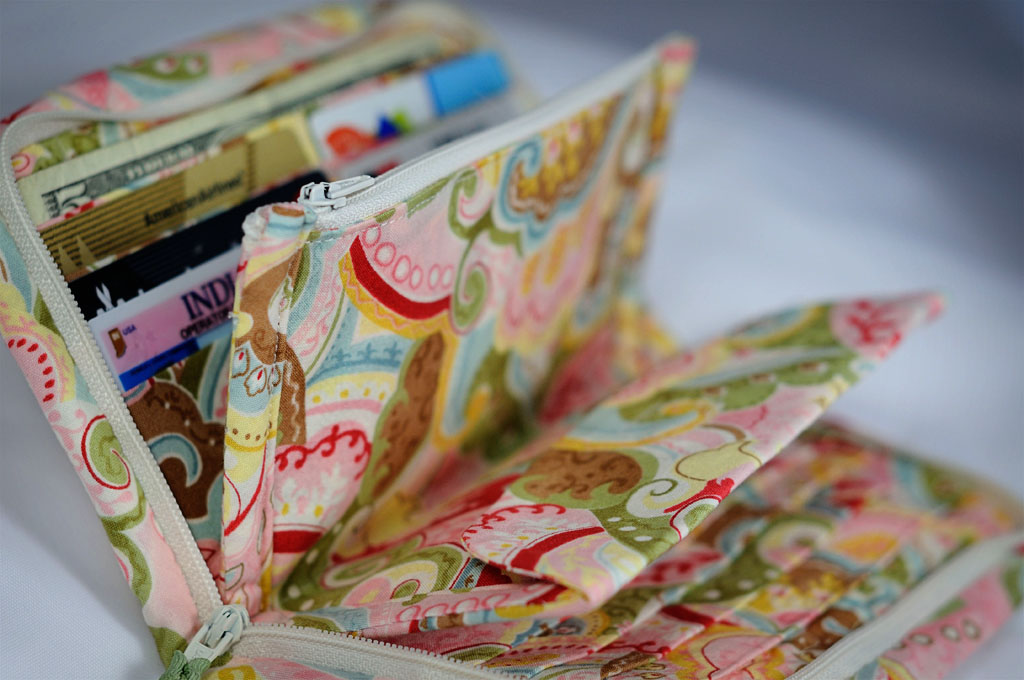 Below is the inside of SweetiePie's wallet.  I like how her fabrics coordinated.
My old wallet lasted about three years.  The edges (where the zipper ribbon is below) along the binding fray and wear out.  I suppose I could have tried to replace the binding on the old wallet, but it was faded and besides, I was ready for a fabric change.  I love my posh fabric.  I'm thinking maybe I should hoard some of it.
I like having a bigger wallet for everyday, but for special occasions, I like a smaller wallet, so I grab the one that Lucy made me. Which also works, 'cause I don't want to wear Lucy's wallet out.
Now I have three years to rest until he next wallet. Yipee! Have a good weekend everyone!
XOXO,
Anna
53 Comments
Sorry, the comment form is closed at this time.
Thanks for stopping by!