February 19, 2011 on 5:22 pm | In
Knitting
|
51 Comments
If you can believe it.  It's been SO long since any knitting has happened on this little blog — what a sad state of affairs.  I finally finished the socks that I've been working on  forever.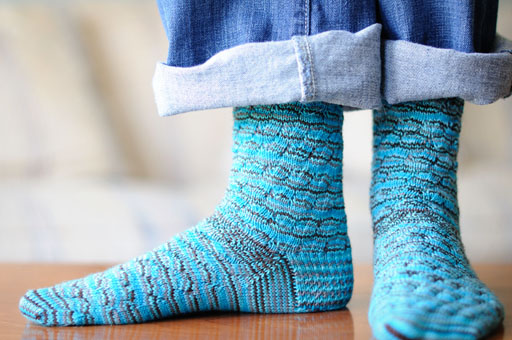 The yarn is the Lorna's Laces custom dye that I picked up at Cami's shop (sadly no longer in business) a few years ago.  The pattern is the Mockery Sock free download.  I've used this pattern before and I love it.
I've always had a love/hate relationship with Lorna's Laces yarn.  It's VERY comfy and it wears and washes like a dream, but I always have problems with pooling.  The pooling in these socks wasn't too bad — except for the area where the sock gussets were being created.  That's the area where the skinny brown and white stripes are on top of my foot.  Otherwise, I love the way this yarn played out.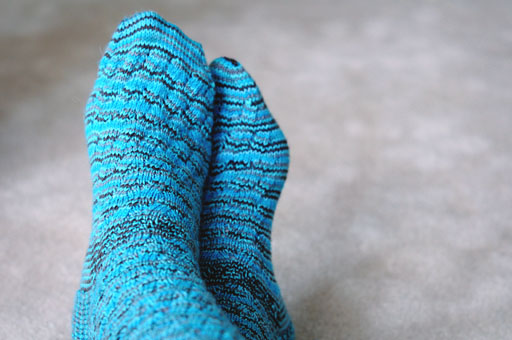 Don't ask me what the heck I did to those heel flaps.  I did half of the flaps and then the socks matured in my stash for a few months.  When I picked them back up, I though I was doing a different heel pattern.  I was too lazy to rip them back and fix it.  It's a little easier to see the mistake in the first picture.    Anyway, it's nice to have them done and dusted.  They're really cozy and I know I"ll get lots of wear out of them.
Sorry for the absence this week.  It seems like lots of things have been breaking and needing attention around here (to include this happy little blog — she suffered a few fainting spells earlier in the week.)  I'll make it up to you this coming week though — Tuesday is Randi's Recipe Box Swap and on Wednesday, I'll be participating in Pat Sloan's Aurifil Blog Hop.  There will be prizes.  Should be fun!
Have a great weekend!
XOXO,
Anna
51 Comments
Sorry, the comment form is closed at this time.
Thanks for stopping by!