February 22, 2011 on 7:14 am | In
Recipes
|
26 Comments
It's time for our monthly Recipe Box Swap, hosted by the ever-so-sweet Randi, at I Have to Say.
Randi has chosen "Your Favorite Recipe" as our theme this month so I decided to make one of TheManoftheHouse's favorite dinners, Teriyaki Steak.  I have a few different recipes for this dish and I've kind of combined features of them all for this recipe.   I love this dish — it's perfect for a dinner to make someone feel special or for a busy weeknight dinner (30 minutes start to finish — and it only takes that long because of the rice.)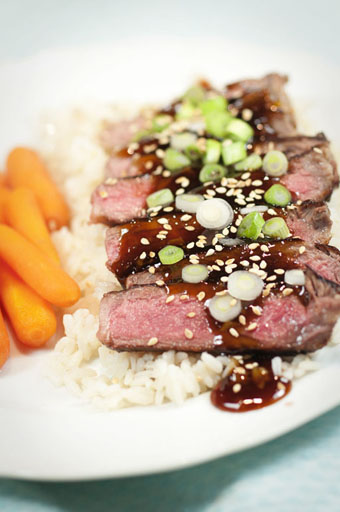 Teriyaki Steak
1/3 cup sugar
1/2 cup soy sauce
3 minced garlic cloves
2 T rice vinegar
1 T grated fresh ginger (I've also used the dried spice with equal success)
2 t. cornstarch
2 strip steaks, about 1-inch thick
2 T vegetable oil
3 scallions, thinly sliced
2 t. toasted sesame seeds (cook in dry skillet over medium heat, stirring often, until golden and fragrant — about 5 minutes)
Whisk sugar, soy sauce, garlic, rice vinegar, ginger and cornstarch in a medium bowl.
Heat oil in skillet until just "rippling". Cook steak until well browned and cooked until desired doneness — 4 – 6 minutes per side. Transfer to cutting board and cover with foil.
Wipe oil out of skillet and pour in soy sauce mixture. Simmer over medium-low heat until thickened. Slice steak thinly and place slices on top of bed of rice. Pour sauce over steak. Sprinkle with scallions and toasted sesame seeds. Serves 4.
Enjoy! And don't forget, tomorrow is my day with the Aurifil blog hop — stay tuned for more!
XOXO,
Anna
26 Comments
Sorry, the comment form is closed at this time.
Thanks for stopping by!