June 27, 2011 on 9:22 pm | In
Around the House
,
Chat
|
37 Comments
Well, all the fun guessing over my stove knob colors has come to an end.  You guys are SOOO funny.  I decided to add some Divine Twine with a little pair of scissors to the Ruby charm pack.  (The Ruby charm packs should be here in about 2 weeks.)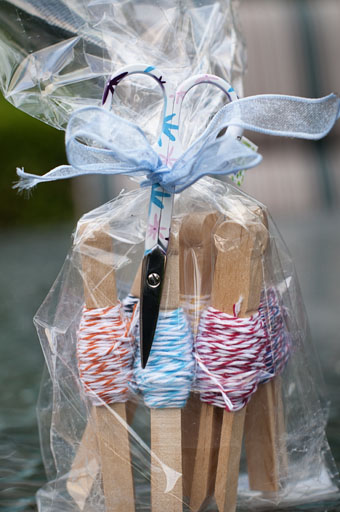 So….what color did we get?
RED!!!
I swear…I have no idea how it happened.  I think I wanted black and TheManoftheHouse somehow talked me into red.  I was really surprised when that stove arrived with red knobs — I thought for sure we'd ordered black, but I checked the invoice and sure enough, Bigger than Dallas, it said r.e.d.  Black would certainly have been a better match for our kitchen — there's going to be a lot of brown (the thoughts of which make me want to throw up), but Red it is!  I'm thinking I'll probably love them and they'll take my mind off of the sea of brown.  I hope so anyway.
And the winner?  I took all the red guesses and copied them into a word file (did you know if you do that it will automatically number them for you?) and made TheManoftheHouse Random Number Generator yell out a number.
"What for?"
"Just Do It."
"Fourteen!"
Miriam Yellow Roses, Come on Down!  (And send me your address!)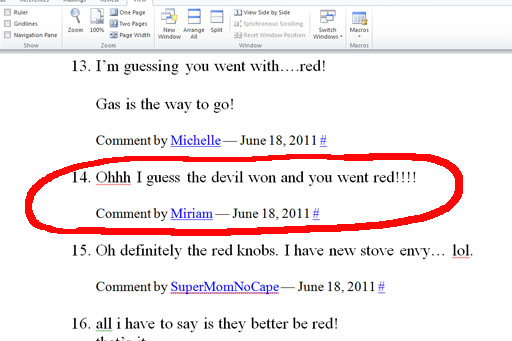 And theeennn, because I was just as surprised as you are, I decided to give all you black guessing girls a shot, since you said such nice things.
"Do it Again."
"Twenty-two!"
Melissa Life's Been Good to Me Sew Far (haha) you win for the black team.  Send me YOUR address too.
Thanks everyone for playing!  Now, do you wanna see our new thermostat?
Hey — I heard you say "not really".    I'm going to show you anyway, 'cause it's really sexy.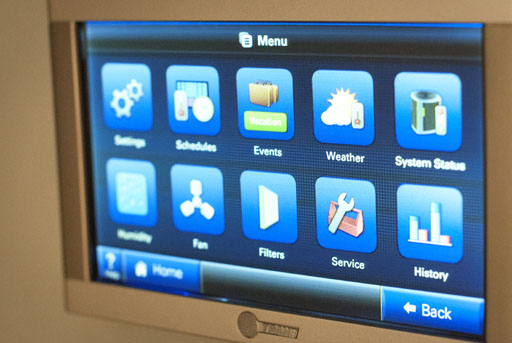 I have no idea why we have a new thermostat.  It's a man thing.  We got a new furnace last fall and last week they showed up and put this new thermostat in.  Something about needing to train the technicians on this new technology.  There were several people here to learn the ropes (I hope that's not a bad thing).  All I know is I think it's pretty cool.  See that 4th icon up there?  Weather?  (Sorry for the poor light pictures.)  It has wireless internet and it goes out and gets the current temp, forecast and lots of other stuff like the radar map.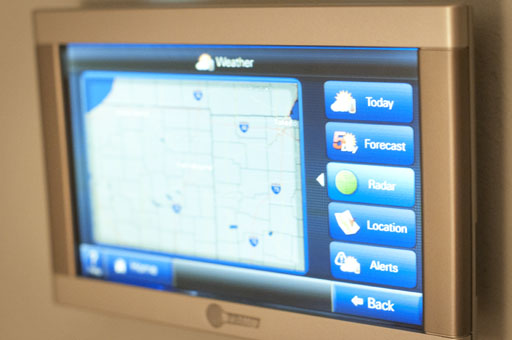 Which I'm going to LOVE.  Whenever I go to mow the lawn, if it's cloudy I always have to wait while the computer comes up to check the radar map and see if there are any storms around us.  Now I just have to hit the weather button — no waiting!
Now I'll go sit in the corner while you all find pity on the poor person who gets all excited over a dumb ol' thermostat.  ;-D  Have a wonderful week!
XOXO,
Anna
37 Comments
Sorry, the comment form is closed at this time.
Thanks for stopping by!