August 22, 2011 on 9:20 pm | In
Knitting
|
45 Comments
I've been to sock yarn heaven and lived to post about it! Oh. My. Gosh. Our little hometown is on the sock knitting map! Look at this adorable storefront:
Have any of you ever heard of Simply Socks Yarn Company? It's a BIG on-line sock yarn company and she is local. Who knew? Two weeks ago, my quilty friend Gurney sent us peeps an e-mail to let us know that the on-line company would be opening a real-life store front. (Thanks for the awesome tip Gurney!) Allison is the owner and she had her grand opening on Saturday. All week long, that's all I could think about (well, that and the Children LOL) ! This is the view just as you enter the front door. I LOVE that checkered floor. Not to mention ALL that sock yarn!  (Please ignore the finger — I was too excited to pay any attention to the location of my appendages.)
I've never seen so much sock yarn in one place.  Holy. Cow.  Just look at all the solid colors.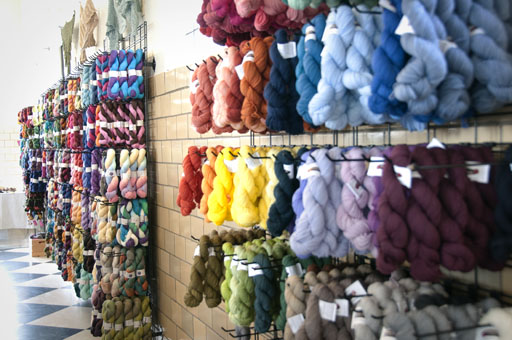 I was particularly interested in the solid colors 'cause I'll admit it.  I saw these socks on Allison's blog and they're what drew me in (among other things).
ANNE!!!  LOOK!!!  IT'S SHEEPIES!!!!  I'm sorry.  I AM screaming!  It's SHEEPIES!  How perfect for a pair of socks.  The pattern is free on Allison's blog and you know that yarn had to come home with me.  I would have been haunted for weeks if I'd left it there at the shop.  (Oooh, I got a color card too — I forgot to take a picture of it.)
The grand opening was really fun.  Allison was just as sweet and helpful as could be.  She greeted me when I entered the shop (in spite of many other customers) and helped me find those sheepies right away.  After that, I took a look around.  Look at this awesome idea — a table where you can try several different yarns and see if you like them.  (Or maybe Allison is brilliant and this is a way to get some socks knitted LOL!)
There was so much yarn everywhere and there are several pictures that I didn't get.  I missed the food tables.  Lots of yummy looking cakes and cookies.  But really.  Who can think about food when faced with such a fab selection of yarn?  Look at these cute things.  You buy the gradiated (methinks that's not a word) yarn in groups…
so you can knit something like this.  Yummmmmy.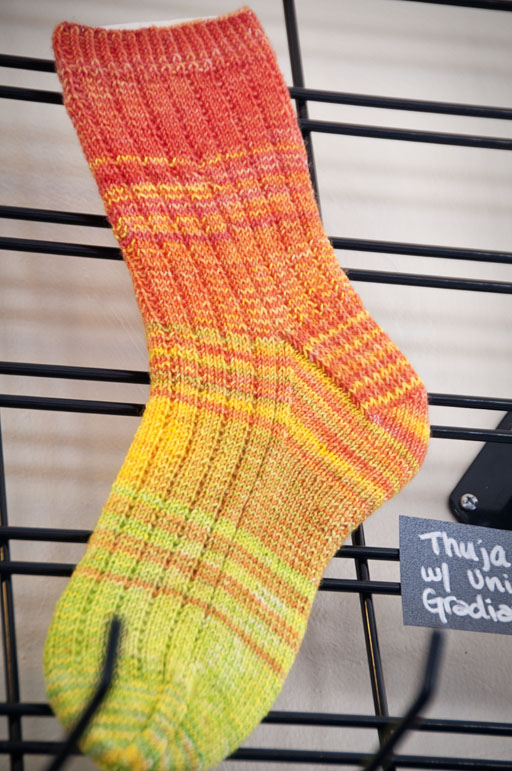 Lots more yarn that caught my eye.  I'm looking forward to visiting the shop again.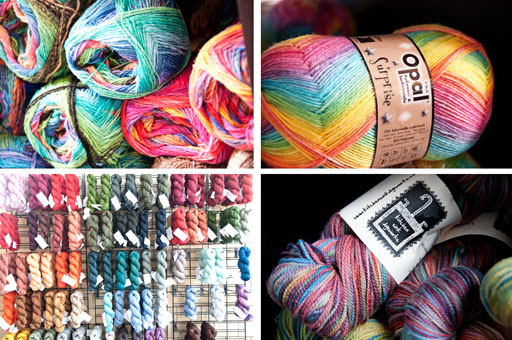 Simply Sock Yarn Company is still primarily an internet business and she has pretty limited store hours, so if you decide you need a little road trip, be sure and check the hours on her blog.  It's WELLLLL worth the trip. (Plus there's a bakery and chocolate shop in the same neighborhood and two other yarn shops in town.  And, well, Jenny and I are here — what more could you ask for???   If only we had a quilt shop, we'd be THE destination!!!)
Ok, one last thing — I suppose you'd like to know who won the Children at Play giveaway??? I made TheRandomManoftheHouseGenerator a good dinner tonight, so he faithfully performed his duties and burped up 27.
WooHoo – Ms. Periwinkle, Come On Down!!!! (Haha, maybe it was the dinner that made him pick a number from the UK.)
Have a good week!
XOXO,
Anna
45 Comments
Sorry, the comment form is closed at this time.
Thanks for stopping by!