September 25, 2011 on 2:49 pm | In
Knitting
|
35 Comments
I'm a lucky girl and I have some really good friends. Some are even invisible. One of my oldest (as in longest known) invisible friends is the famous Ms. Brigette (aka SpiderWoman). Brigette leaves fabulous comments, aids and abets my fabric obsession, and sends me sock yarn gifts. Some time ago, she sent this pretty pink and green sock yarn and I've just now finished these socks. (I know, I should be knitting pretty fall colors, but I'm always a season behind.)
I'm not sure what kind of yarn it is. It's so soft and comfy though, and it behaves just like Lorna's Laces (note the pooling), so I'm guessing it's a Lorna's Lace Sock Yarn.
The pattern on the main part of the sock is actually from a man's sock pattern in the book Knitting Vintage Socks by Nancy Bush. I chose it because it reminded me of half-square triangles. Can you see them if I zoom in on the sock?
The half square triangle look is pretty much lost with this yarn, but that's ok. I still think they're pretty. I'm hoarding a piece of Meadow from the Children at Play fabric line so that I can make a matching shirt next spring.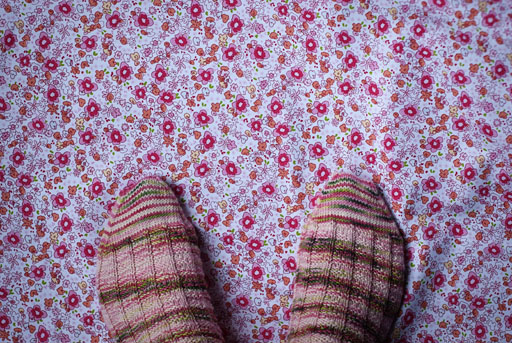 Dear Brigette,
Thank you for the beautiful yarn! But Really. You didn't need to go and get that spider to bite for us all to call your SpiderWoman. I've always thought you are AMAZING and I'm REALLY glad you're finally feeling better. So, no more death-defying acts — ok? We're perfectly happy with your awesome recipes and beautiful quilts!
XOXO,
Anna
35 Comments
Sorry, the comment form is closed at this time.
Thanks for stopping by!