November 16, 2011 on 9:39 pm | In
Chat
,
Scruff
|
34 Comments
By the time we get to Wednesday evening every week I'm ready to start partying — we're over half-way through the week and the weekend will soon be here. Especially this week — only one more day of work and then I'm off work for over a week — BIG WooHoo!!! I can't wait — I have tons of stuff planned, probably only 10% of which will actually be accomplished. There's sure to be lots of cooking and cleaning and I can't wait. The kids will all be home for Thanksgiving. That means lots of fun too!
Do you think I should start by removing the laundry basket from the edge of the sofa?
Fatso has decided that his perch should be on the back of the couch and it's ruining the cushion.  Anyone have any bright ideas for Fat Cat Training?  Here's Mr. Portly himself.  Looking rather guilty if you ask me.
In other news, I'm almost done with my Bliss quilt.  (More WooHoo!)  It's halfway put together — just a few more hours and it will be ready for quilting.  It used almost a whole fat quarter tower — there were strips that were 4 or 5 inches x 18 inches left of each print.  Too small for my quarter yard stacks in the stash, but too big for my scrap boxes.  So, I folded them all up and squished them together into a cubby.  I really like them there — so pretty.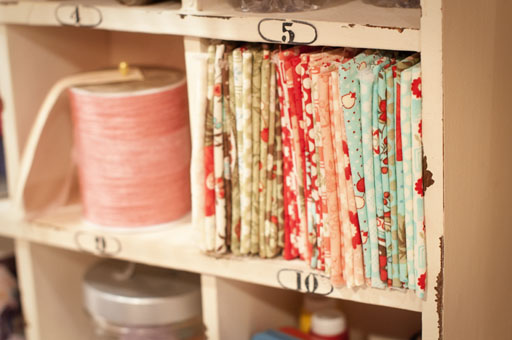 Ooooh, and while I'm in the sewing room, look at this adorable 2012 Flash Card Calendar that I just received.  Isn't it cute? It's just like those old-timey flashcards — you know, from way before my time LOL.   I'm going to take it to work to hang over my desk — hopefully it will add a little cheer to my boring workspace.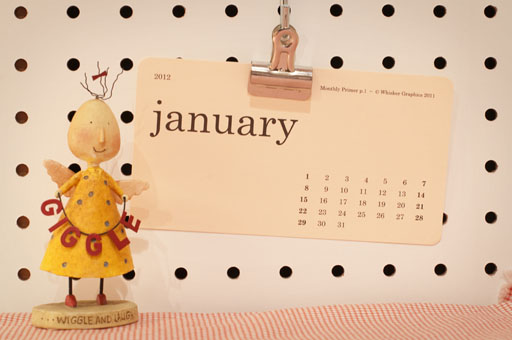 Ok. Back in a few days — hopefully with a quilt for a change!
XOXO,
Anna
34 Comments
Sorry, the comment form is closed at this time.
Thanks for stopping by!